Our Philosophy
Our Investment philosophy is premised on capital preservation, investing for the long-term and value discipline. Our Asian Fixed Income team believes that markets are dynamic, often prone to economic "noise" and not always perfectly efficient. Therefore, outperformance can be achieved by applying a systematic approach to top-down macro and bottom-up credit research. Our team believes that all three factors of ESG — environmental, social, and governance — are inherent to long-term value creation, are core factors behind sustainable investment, and should be considered in investment decisions. The team applies this consistent investment philosophy across client portfolios.
ESG is integrated in our investment process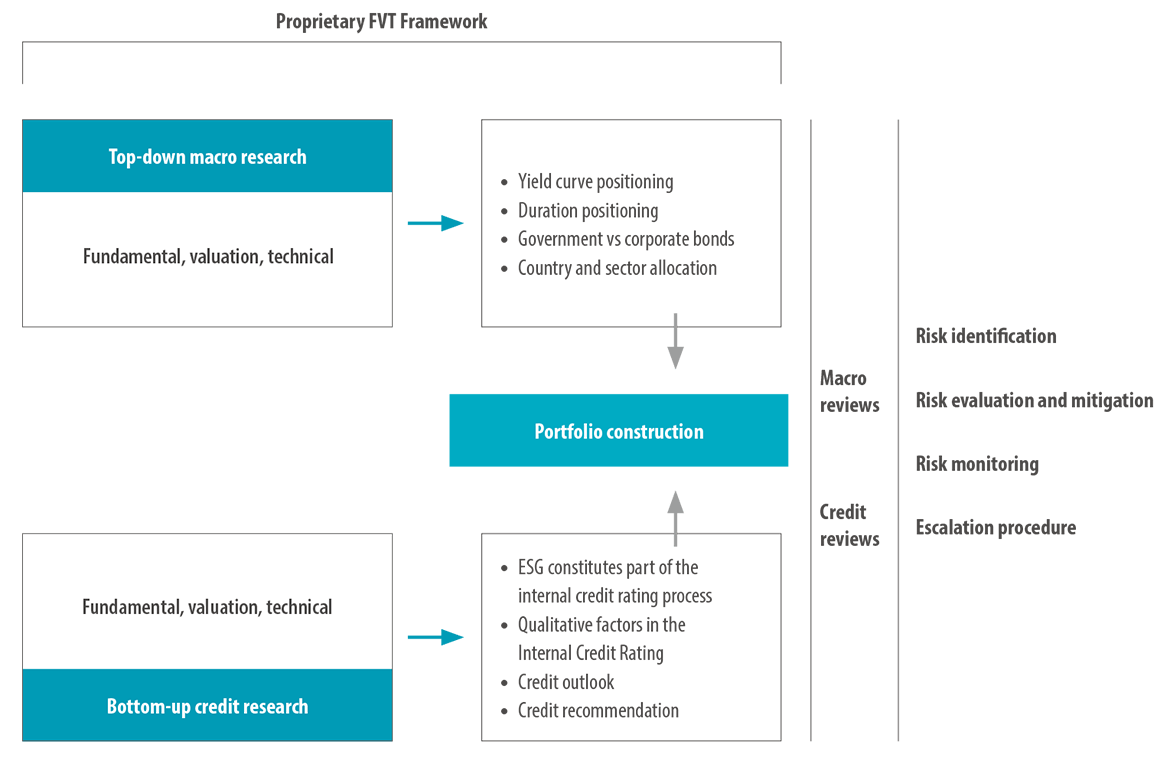 ESG Implementation
Our proprietary Fundamental, Valuation, and Technical (FVT) Framework, which is applied to our top-down and bottom-up research, is the foundation on which we construct high-conviction portfolios that seek to deliver returns through multiple sources of alpha. With regard to our robust credit research, the most important output from our team of dedicated credit analysts is the Internal Credit Rating (ICR) model.
The ICR process is the first pillar of our bottom-up credit research and enables the credit research team to assess quantitative and qualitative aspects of each issuer, independently of external credit rating agencies. ESG risks and opportunities are assessed and scored as part of this qualitative assessment within the ICR. Considering ESG factors is an important way to identify potential downside risks that may impact the borrower's credit profile.
At Nikko AM, ESG factors are an important aspect of the team's credit analysis and an integrated part of the team's investment process. The investment team researches and scores companies, taking into account both qualitative and quantitative factors. ESG factors are identified by their materiality and potential impact on companies' credit profiles. The ESG factors of individual companies are determined by leveraging our research team's keen knowledge through bottom-up fundamental analysis. Their ESG scores are then incorporated into our overall credit score, which will influence the final credit rating of a company. The credit rating of the company will help to determine the appropriate risk premium to apply to the bond valuations to justify an investment.
CHART HERE
Back to Sustainability