For October, on a seasonally adjusted YoY basis, Japan's October YoY Industrial Production (IP) result was better than both US Manufacturing IP and US Total IP. It likely surpassed Europe's too.
It should be noted that Japan had a notably weak (post VAT hike) base last October, but all said, the MoM increase was very strong, beating consensus (3.8% vs 2.4%), and was very V shaped.
Production was led by capital goods and automobiles, with the latter reflecting the strong upturn in global auto sales, especially in high value-added luxury and SUV segments, which also happen to be very profitable for most automakers. The capital goods improvement, meanwhile, is a good indication of machinery capex growth in many countries' CY4Q GDP statistics ahead.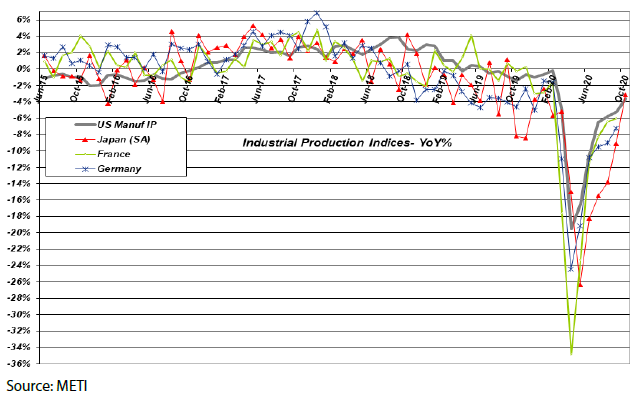 This chart of IP levels is rebased to 100 in October 1998 and shows both long term and short term trends, in particular the recent V shape of Japan's IP: