Nikko AM has been dedicated to improving both internal company culture and policies as well as broader society to create an environment where LGBT individuals can live and work fairly and equally for many years. For Pride Month, we asked our employees the importance of creating an environment where LGBT individuals feel supported.
Below are remarks from members of our senior leadership.
Stefanie Drews, President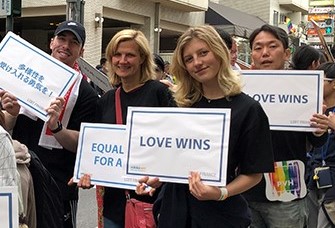 Stefanie at 2019 Tokyo Rainbow Pride Parade with her daughter and fellow employees.
Nikko AM and the LGBT Working Group have made great strides in changing the company's culture to create a more accepting, inclusive environment where employees are able to be their authentic selves. Our Diversity & Inclusion initiatives were originally kicked off by the LGBT Working Group in 2017, and we have continued to evaluate and re-evaluate our internal policies and initiatives to ensure that they are fair to all employees, and never leave anyone behind.
Yutaka Nishida, Executive Chairman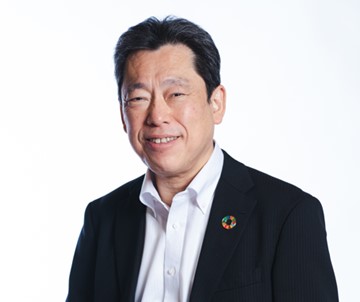 Nikko AM is committed to supporting a diverse workforce, and this of course includes our LGBT employees. Receiving the highest "Gold" rating for the "work with Pride" PRIDE Index three years in a row is testament that we are leading the way in the Japanese asset management industry for extending rights and benefits to all employees regardless of identity, as well as supporting the movement to recognise marriage equality in Japan.
Voices from our LGBT Employees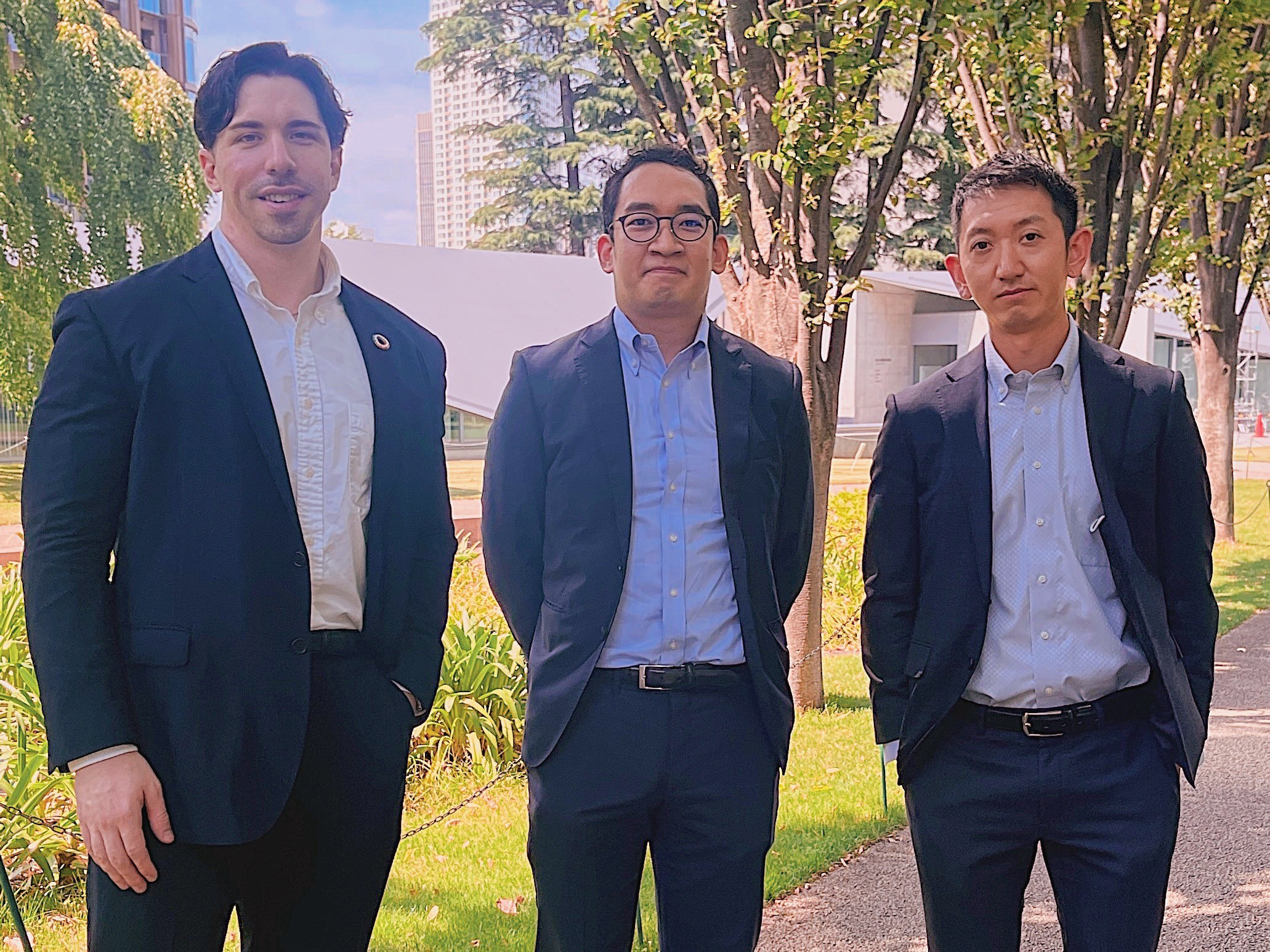 Neill Peterson, Yosuke Aoki, and Rui Liu stand outside Tokyo Midtown office
What do you like about working at Nikko AM?
---
Yosuke Aoki, Vice President, Project Management Office: I like that I am able to speak freely with many of my colleagues, both on and off work.
Rui Liu, Vice President, Technology Solutions: The fact that diversity is respected and that I can work as my authentic self is invaluable and the most appealing aspect for me.
Neill Peterson, Assistant Vice President, International Business & ETF Planning, Corporate Sustainability: I'm able to work totally as myself here - I can talk openly and propose ideas without hesitation. It makes it all the more rewarding to know that your ideas will be considered seriously (one of those ideas was to start our LGBT Working Group!).
What do you think about coming out and working at Nikko AM (which is still rare in Japanese companies)?
---
Yosuke Aoki: I don't feel particularly uncomfortable, and I feel like a member of our company. That said, it's also true that I have been asked questions that I am not comfortable answering, such as questions about marriage. Considering that the company has over 800 employees globally, you could say that this is proof of the closeness between employees, but I think there's still work to be done.
Rui Liu: If Nikko AM was a company with a lack of understanding and discrimination against LGBT people, I feel I would not be able to grow in my career, nor be able to grow as a person, no matter how rewarding the work may be.
Respecting each other, recognizing each other, encouraging each other, helping each other.... All of these things are essential to our work as an organization, as a group, and as colleagues. The reason why Nikko AM offers all of these essential things is because our company has a corporate culture in which communication is based on mutual respect, without any sense of discrimination. I hope to grow through my work at Nikko AM.
Neill Peterson: When I first joined the company, I didn't feel as though I needed to come out. However, when I would go out to lunch with my colleagues or attend work parties, naturally the subject of my personal life would come up. I would often be asked whether I had a girlfriend. In responding, I knew I had two choices ... lie or tell the truth. And while the truth may be risky, I felt it would be much more daunting and stressful to live a lie at work, so I came out.
While some of my colleagues were very supportive, initially others had their questions. With that said, the worry about being outed completely disappeared, and I felt as though a huge amount of stress was lifted off my shoulders. It took me some time to get used to it, but it gradually became easier and easier to work, and as a result, I am now able to work completely on my own terms, without any worries about my identity.
Is there anything that Nikko AM should be more proactive about regarding LGBT employees?
---
Yosuke Aoki: To respect diverse values and engage in constructive discussions. I also think that we should update our vision and code of conduct throughout the company in response to changes in society.
In terms of doing more for LGBT people, I think we need to make our personnel system more inclusive, make the company a place where everyone can work comfortably, and respect others while being aware that our business is supported by people with diverse backgrounds and values.
Rui Liu: I believe we should set up a help desk.
When struggling with your sexuality, I think having someone to talk to about various issues can help avoid viewing LGBT in a negative light and allows for both parties in the conversation to see each other more positively.
Neill Peterson: I think promoting diversity is a great, but it cannot simply be just words with no action. I do think it's necessary to better understand if HR policies are sufficiently inclusive by listening to the opinions of LGBT employees and revising them as necessary.
Voices from our Allies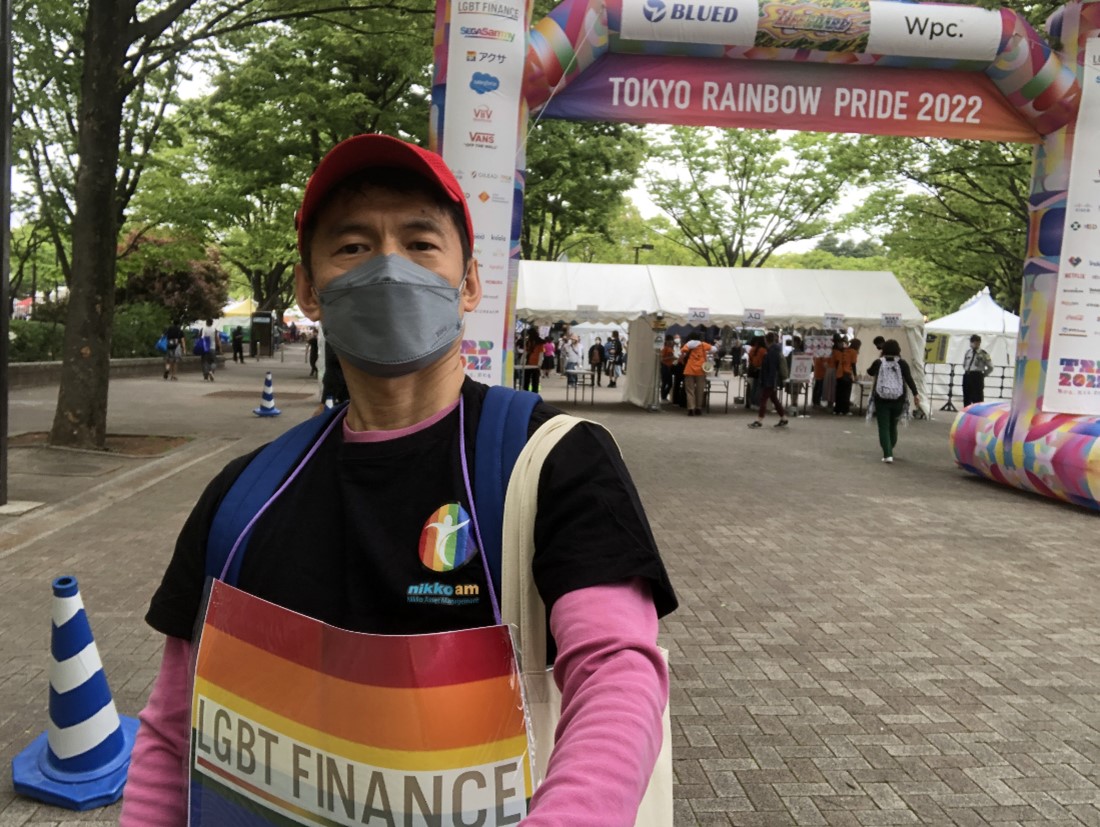 Yukitoshi Akao, Co-Lead of the LGBT Working Group at Tokyo Rainbow Pride 2022
What is the importance of supporting the LGBT community?
---
Yukitoshi Akao, Global Head of IT, Operations and Technology: My starting point for LGBT support at Nikko AM was at the Idea Generation Forum on January 24, 2017, when I stated that it was critical we make a commitment to society as a company that we understand and support LGBT people in order to welcome like-minded and talented individuals into our company as colleagues.
A company that respects diverse individuals can be expected to produce high quality results when each individual working there is able to work in their own way. Diverse ways of thinking always sparks innovation and growth in a company's business.
Nana Hayashi, Assistant Vice President, Human Resources: Supporting the LGBT community is very important as we strive towards the goal of promoting Diversity & Inclusion and Sustainability.
By deepening our understanding of the LGBT community through our support activities, we can develop ideas and concrete initiatives to create a more comfortable work environment for our diverse workforce. We also believe that increasing diversity within the company, not just LGBT, will strengthen the organization and contribute to providing diverse and innovative solutions to our customers
What can individuals do specifically to support the LGBT community, and more specifically LGBT employees?
---
Yukitoshi Akao: As co-lead of the LGBT Working Group, we have been making efforts to create a workplace where both those who are LGBT as well as those who are allies are able to work in their own way. This year we held a movie event and talk show with a trans individual which proved hugely enlightening and was organised by our working group members.
I am also an active participant in a networking group called LGBT Finance, which is a group of Tokyo-based companies in the finance industry. Through this network, I learn about examples of what each company is doing, jointly plan and execute events, and coordinate joint sponsorship of events such as Tokyo Rainbow Pride.
Nana Hayashi: I believe that each person involved in the LGBT community has different concerns and needs different support. The LGBT Working Group, with the cooperation of Yosuke Aoki and Neil Peterson, is currently working to establish a consultation service for LGBT issues.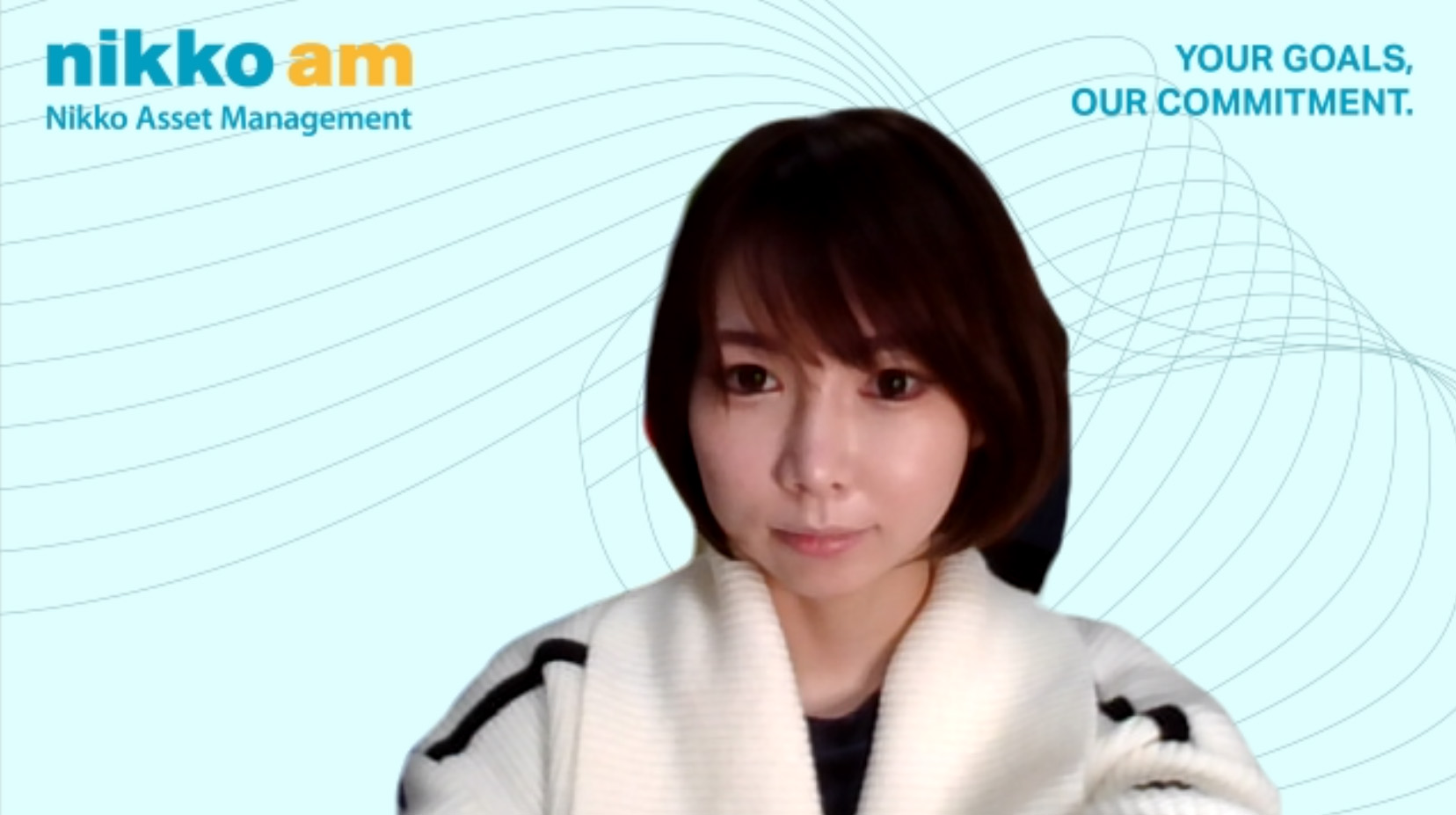 Nana Hayashi
Do you believe Nikko AM provides a workplace where anyone can work as their authentic selves?
---
Yukitoshi Akao: I would like to think that it is getting better every year. In fact, some of our employees have decided to come out, and I heard that one of our applicants declared themselves as non-binary during the interview process - specifically selecting Nikko AM because of our efforts in LGBT.
Of course, there are still areas where we are lacking, but I am always looking to learn more so that the company can grow.
Nana Hayashi: Nikko AM has various working groups in addition to LGBT groups and is making visible efforts to create an environment that embraces diversity, such as setting specific target ratios for female managers (our #30by2030 initiative) and providing benefits to employees who have same-sex partners in the same way as those who are married to someone of the opposite sex. We are working to create an environment that embraces diversity in a tangible way. I believe that there will always be challenges, but I myself am working on my daily duties with a strong awareness of creating a workplace where various people can play an active role with their own individuality.
Back to Sustainability