Nikko AM's 2019 Outlooks
The potential hangover from the monetary binge of QE continues to weigh on global equity markets as we head towards 2019. The turning of the calendar will do little to change this. Politicians have generally done little to help either. Irrespective of these risks, our focus remains to seek companies that deliver superior returns over the longer term, and we do this by picking companies that meet our Future Quality criteria.
Markets are – as ever – expending a lot of effort Fed-gazing in an attempt to work out how much US interest rates are likely to go up over the next 12 months. As bottom-up investors, we have no strong view, though we suspect that the majority of tightening has already taken place. Mortgage rates are ticking higher, the stimulative effect of US tax cuts will wear off next year and – despite this stimulus – inflationary pressures still appear relatively well contained.
Regardless of the future path of rates, the market has lost its mojo – particularly if you exclude the Information Technology sector. This has been the case ever since the Fed started to trim its balance sheet.
Figure 1: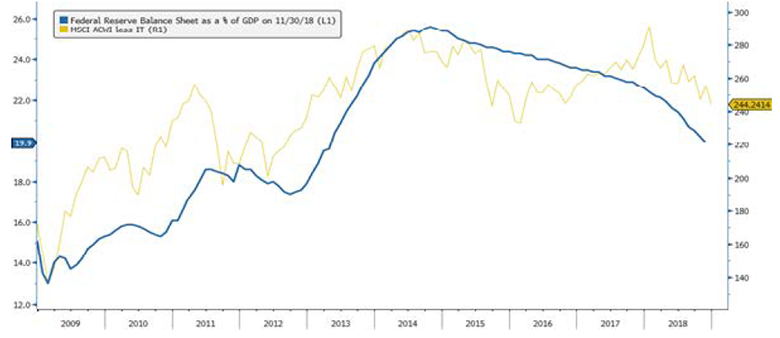 Source: Bloomberg
Part of the problem for global markets has been the divergence in economic momentum between the US and its trading partners in the second half of the year. This has doubtless been partly driven by short-term phenomena, including US tax reforms, at exactly the same time that China is deleveraging and Europe remains beset by political problems. Part of this also speaks to confidence levels regarding the ultimate 'winners' of any trade war.
Figure 2: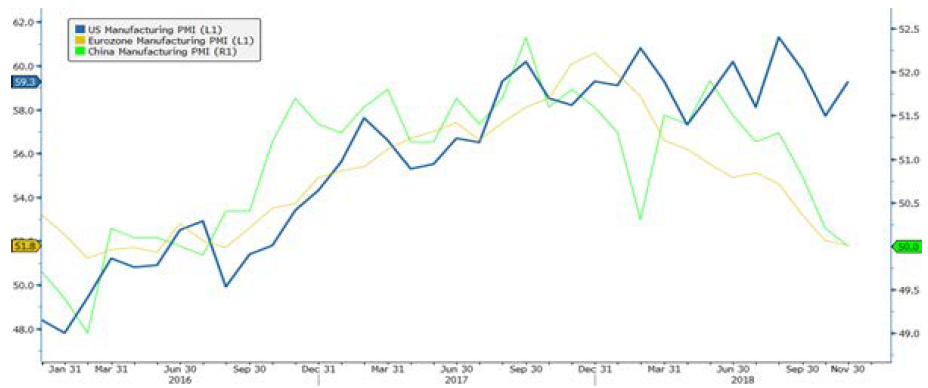 Source: Bloomberg
Foreign exchange markets have been quick to reflect the differing activity levels noted above and the likely expected path of interest rates. As a result, the USD has continued to rally. The resultant increased cost of US exports has drawn a predictably aggressive response from President Trump's Twitter account, commenting that he sees the Fed as "a much bigger problem than China." Developing economies with USD denominated debt likely aren't enjoying this much either.
European politics have proven an unwanted source of uncertainty this year – impacting consumer and corporate confidence, even though employment remains reasonably firm and balance sheets relatively strong. Brexit, German politics, disquiet over French reforms and the Italian budget saga remain sources of risk until the end of Q1 at the earliest.
That is not to say that economic bust is inevitable, or even our base case – just because this economic expansion has lasted longer than most (shortly entering its 10th year). The well-known adage that bull markets don't die of old age, but rather they are killed by the Fed, speaks to exactly where we are now. If the beneficial impact of tax breaks fades in 2019 and wage inflation remains restrained by rising participation rates, it is not obvious to us why Chairman Powell would want to raise interest rates above a neutral level, threatening growth in the US. If expected rate rises fail to materialise and the pressure from USD appreciation on some emerging economies eases, 2019 could still be a good year for equity markets. This would be particularly true if global trade fears recede and (arguably more fancifully) if Europe's politicians could get their house in order.
Irrespective of the economic situation, our focus remains looking for companies that fulfill our Future Quality criteria. For instance, 'Quality of Management' is a key attribute of the companies that we look for. At times like these, when the path between a slowdown in economic growth or an inflationary boom looks pretty narrow, tight control over your cost base and prudent capital allocation are imperative. Our recent acquisition of Danaher is a great example of these characteristics. Management here have a long track record of reducing costs and reinvesting the savings made in investments in research and development (to accelerate organic growth) or in acquisitions. The business also generates extremely strong cashflow and enjoys a strong balance sheet, both of which are critical late in the economic cycle.
It is always important to separate cyclical factors from those that are more secular in nature and have a clear view of the relative valuation that you are willing to pay for these sources of growth. This is especially true where valuation multiples are elevated relative to history and investor positioning crowded. Despite profit-taking this quarter, the Information Technology sector remains the most glaring example. Our portfolio is only slightly overweight relative to the index, partly because of these considerations. History suggests that when the economic tide goes out on the cyclical parts of the sector, the performance impact can be significant, and we are seeing that play out in the semiconductor sector. We continue to prefer recurring revenue profiles on offer in software names like Red Hat, Microsoft and (to a lesser degree) Accenture.
With economic expansion looking more threatened than in the recent past, wage costs rising and debt servicing becoming more pricy too, 'doing more with less' is becoming increasingly important. We continue to like companies whose products or services make processes more efficient as a result. Within Healthcare, for instance, we continue to like managed care organisation Anthem, which remains well placed to help deliver necessary reform in US healthcare, paying only for treatments that actually benefit the patient. In IT, Hexagon's sensor technology and data management make construction much more cost effective. Finally, there is Ecolab, whose products are all about increasing the water and energy efficiency of their customers.
As always, careful stock picking and a disciplined approach to valuation remain key for maximising returns across global equity markets.