Nikko AM's 2019 Outlooks
The year after the correction
Credit markets didn't perform in line with the expectations we set at the beginning of the year and disappointed most investors. We have critically reviewed the past couple of months and have defined the intended path for 2019.
In terms of excess returns, 2018 has been the third worst year on record over the past 10 years, only beat by 2008 and 2011. In both of those years, the major developed economies were in or near a recession. In addition, these led to increased default rates in those years. Therefore, investors had good reason to reduce their credit exposure and demand higher premiums.
However, what about 2018 and potentially 2019? Neither Europe nor the US are close to a recession, not even after global leading indicators have weakened over the past couple of months. Furthermore, weakness in the latter hasn't found its way into corporate fundamentals. For example, in US HY we saw significant price weakness in Q418, and this sector of the market continued its multiple year path for lower leverage and higher interest coverage ratios (Figure 1).
Figure 1:

Source: Credit Suisse as at 30 September 2018.
Given the healthy level of macro as well as micro fundamentals in the US, it's hard to justify the valuation correction that we have experienced in 2018. Nevertheless, it would be too easy to conclude that the market is now just cheap. As a result, a deeper and more defined analysis into the driver of the correction becomes necessary. By looking through the ups and downs of the credit market this year, it becomes clear that there wasn't a single culprit that caused the weakness, but rather several idiosyncratic events, which drove it. Some of them were more important than others.
Top of this list has been the trade war that has dominated the headlines for most of 2018. This was sparked by the Trump administration and now is mostly focused on the future trading relationship between the US and China. However, the introduction of automobile import tariffs would also have negative implications for Europe. Further down on the list in politics, uncertainties in Italy and the U.K. have also unsettled the market in 2018.
The trade war and political difficulties have created follow-up problems extending the list of drivers for this year's credit market weakness. One of these has been weakness in the cyclical sectors. In particular, car manufacturers and industrials, such as General Electric, have been vulnerable.
Another spillover effect has been credit outflows, with some credit markets, like EUR credit as well as US HY getting hit harder than others. The outflows combined with central bank monetary policy tightening have heavily weighed on credit market liquidity. Furthermore, the recent decline in oil prices caused pressure on spreads in the energy sector.
The crucial question for investors over the coming months will be how to reconcile the still sound fundamentals with the long list of negative credit drivers. Our answer would be to rank all drivers by importance and assess how interlinked they are, and to evaluate our investment themes and their interaction with the drivers.
We take the view that the most important driver going forward for credit will be the implications of the trade war. Although the truce reached between the US and China at the G20 summit in December is supporting credit markets, erratic communication from both sides will keep volatility elevated. We would advise an increase in the use of derivatives as the most cost-efficient tool to combat trade market volatility, as well as underweighting the auto and industrial sectors, which have a greater proportional impact because of the trade war.
We also see vanishing liquidity as a major problem. Central banks have tightened liquidity globally and investors have pulled money from credit markets (Figure 2). However, we would think that central bank action should be priced in. With regards to credit outflows, it isn't obvious where the money has gone. For US investors, money markets have become an attractive option. However, this option doesn't exist for EUR and JPY investors and therefore, we would expect some of the outflows to return to the credit market in 2019.
Figure 2: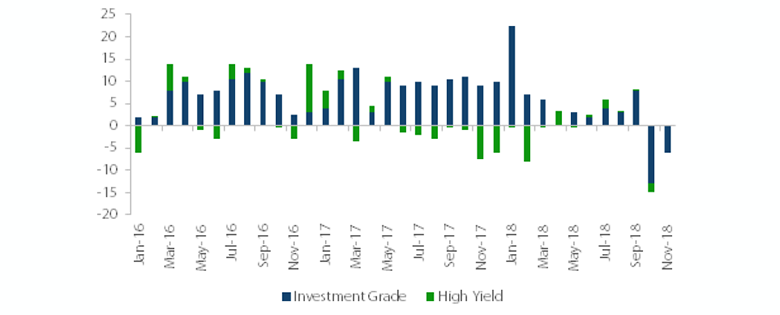 Source: Credit Sights, ICI
Finally, we would like to highlight continued heightened political risk. Although the situation in Italy is improving as the government signaled a willingness to comply with EU budget rules, the situation in the UK remains highly uncertain and we would refrain from taking significant exposure in either market.
Market drivers
As outlined above, market drivers still need to be reconciled with our investment themes to define the strategy going forward. In order to do so, we will gradually replace some of our 2018 investment themes, to be more focused and relevant to the ever changing environment in global credit markets.
Going forward, we will be more active in the use of CDS indices for portfolio construction and risk management, in order to facilitate higher volatility and lower liquidity in credit markets. We will also reduce our position in rising stars and HY, and thereby underweight the auto and industrial sectors, and stay cautious with credit exposure in Italy and the UK.
Out of the last seven years, six (except for 2016) have seen more rising stars than fallen angels. We view it as prudent to take profit and focus on the identification of fallen angels, rather than rising stars. Additionally, we are going to reduce our HY exposure, although not leaving it entirely, as the fundamentals still look solid. In recent years, it has been a theme that more traditional Investment Grade investors have increasingly sought HY names in order to enhance returns. We envisage the risk that these investors will exit in 2019 as we approach the end of the credit cycle. This theme started in 2018 and will probably continue next year. Both reductions will lead to a more conservative sector allocation and imply reduced exposure to cyclical companies, i.e. auto and industrial.
Although we're going to change some of our investment themes, we will keep others. We still like the short end of the US credit curve and think that yields of over 3.6% offer solid compensation. Furthermore, European hybrid bonds and financial bonds remain high on our buy list. In addition, A-to BBB-rated Chinese SOEs on the front end of the curve look attractive.
Investment themes
For 2019, we anticipate low to mid-single digit returns. We expect the rate sell-off of 2018 to moderate considerably as we are closer to the end of the Fed's hiking cycle. Moreover, spreads in credit markets, which were pushed up significantly this year, offer risk compensation and moderate prospects of excess returns going into 2019.
But what are the other risks to credit besides our rather benign expectations for 2019? The main one is the trade war. If the truce between the EU and China doesn't last and the US continues to impose tariffs, this will certainly have an impact on inflation. The Fed might be forced to accelerate its move toward higher rates, which will also increase finance costs for the corporate sector. At the same time, higher import prices due to the tariffs will hit companies' P&L's. The finance costs, as well as higher import costs, will weaken micro fundamentals, which is one of our main rationales for remaining credit bulls. Another risk factor will be market liquidity, and in particular how the market copes with the end of the ECB buying program and the Fed's balance sheet reduction.
In order to be sure-footed in 2019, we will shorten our investment horizon from 12 to three months and become, like the Fed, more data dependent. As a result, financing and input price inflation will be our focus, as well as market liquidity.