Nikko AM's 2019 Outlooks
One thing is for sure, 2019 will not be a dull year. We expect more headlines and drama on trade but would pay more attention to underlying policy direction at both the Federal Reserve and Chinese authorities, as bigger markers for improved fortunes across Asian markets. At the local level, almost half our markets have general elections next year and although most are expected to yield investor friendly results, these can present undesired surprises. Against this uncertain backdrop, focusing on the first principles by investing in quality franchises benefiting from structural tailwinds is the way forward. Valuations remain extremely attractive across large swathes of the Asia ex-Japan universe, particularly in China, Indonesia and select areas within India.
Figure 1: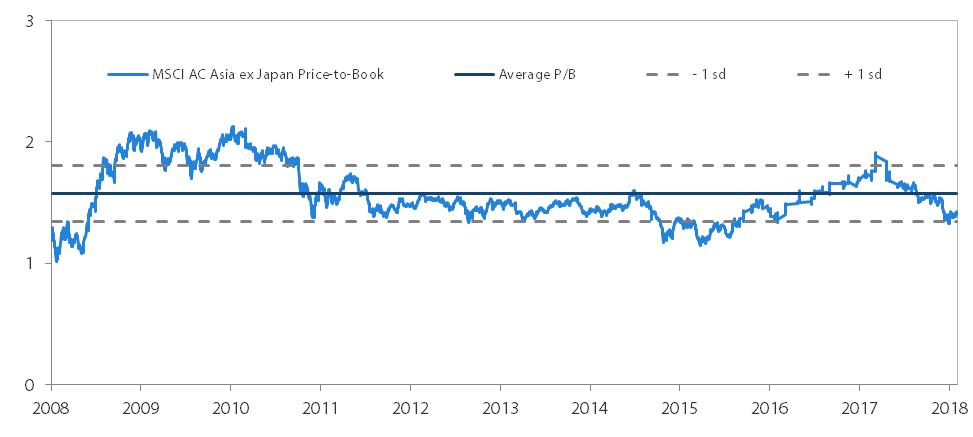 December 2018 marks the 40th anniversary of Deng Xiaoping's famous reform drive, finally opening up China to the world and setting the country on a path to greater development and prosperity. Despite some slight easing on the ongoing deleveraging campaign, we expect the current regime's push for quality over quantity to persist, with some support to consumers. A number of sub-sectors have endured regulatory headwinds this year which has resulted in some very attractive valuations in what should be structural growth areas. We would also highlight the possibility of accelerated A-share inclusion to major global indices next year as another potential catalyst for investors. The Fund has added software to other core long-term holdings of insurance, healthcare and select consumer sub-sectors.
India, as always, remains a story of contrasts. The macro narrative remains tepid, with slowing growth, persistent core inflation, and rising political risk, even as the companies themselves are singing a more bullish tune. We retain our structurally positive view, given a number of reforms in recent years, but have tempered our positions on account of stresses within the financial sector, rich pockets of valuation and growth uncertainty in the run up to national elections. We remain focused on strong private sector banks and the real estate sector, where we believe regulatory led consolidation will yield huge opportunities for the strongest players.
In South Korea, President Moon's approval ratings are languishing, even as conciliatory moves toward the North show some progress, owing to a lacklustre domestic economy. Furthermore, the government's populist policies remain a concern. The move to increase minimum wages has in part been responsible for the uptick in unemployment rates. In addition, the politically driven crackdown on chaebol, via an extraordinarily hawkish stance on the economy's promising nascent industries, could have further negative ramifications on the economy in the long run. In the tech sector, trade issues together with waning demand growth and capacity expansion are likely to lead to further downside in both the memory and hardware sectors, which are large components of the Korean and Taiwanese markets. Hence, we remain selective across both markets with a focus on healthcare, some niche technology companies and electric vehicles.
ASEAN offers dichotomous paths. Incipient consumption recovery and potentially easing political torpor in Indonesia offer promise, while the opposite is true in Malaysia, which we continue to observe from the sidelines. Delayed monetary tightening in the Philippines is yet to work its way through the economy, which warrants a wait-and-watch approach. On the other hand, signs that Thailand might hold elections next year, even as a healthy balance of payments will allow it to handle macro headwinds in the form of a stronger USD or lower oil prices, makes it a good candidate for further investment.