Global credit markets added another very good year of performance in 2017. Despite rising rates, returns across different markets remained very positive. We currently have a positive view on the Global credit market. We have observed an uplift in Global trade over the last several months, which gives our team confidence in macro and micro conditions. We still currently view technicals as solid, although an increasing supply pipeline makes us somewhat cautious in some markets. In 2017, we have seen spreads tighten globally, but we still see some relative value opportunities in subordinated bonds, US High Yield and Chinese SOEs. Volatility is now expected to be low, which was against the prediction we made at the start of 2017 when we thought a lot more volatility would create trading opportunities.
Table 1: Nikko Asset Management Global Current Team initial Market Assessment

Source: Nikko Asset Management
Overall, we believe that the fundamental credit environment remains strong and that it is a good time to invest in credit given solid company results and low default rates. Moody's is forecasting default rates to fall below 3% in the US and below 2% in Europe.
Chart 1: Falling default rates in US & Europe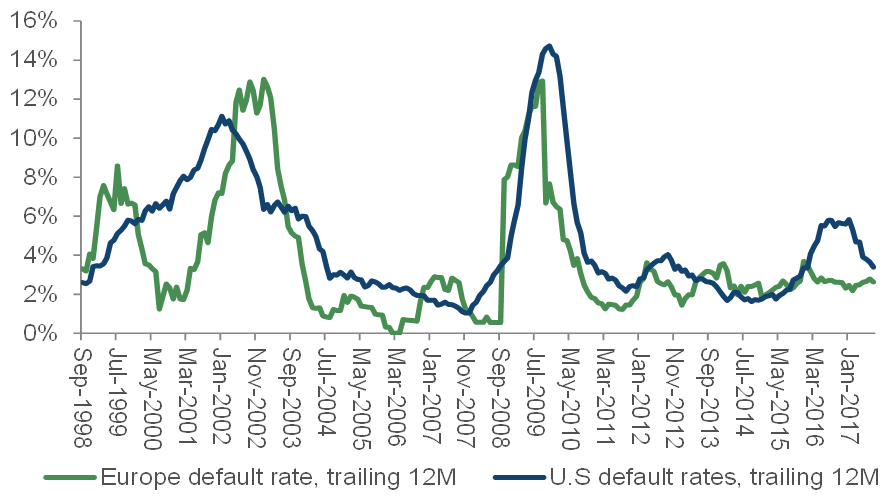 Source: Moody's Investors Service
We would argue that credit markets still have upside as long as fundamentals remain supportive (and markets tighten to pre-crisis levels). We acknowledge there are still positive fund flows into credit and central banks are continuing bond buying programs. We see the central banks being a key factor in the performance of credit markets in 2018 and beyond, with any change of course likely affecting the market.
Investment Themes for 2018
We see the key investment themes to drive performance in Global Credit in 2018 to be similar to last year. Using the output of our initial market assessment seen in Table 1, we have developed our investment themes: Long US High Yield, Long Chinese Tier1 SOEs, Long European Hybrids, Long European Financials, Long Rising Stars.
1. Long US High Yield
Despite holding a cautious view on US credit as a whole due to the maturity of the credit cycle and that US High Yield saw its first negative absolute performance in 11 months, we still like US High Yield. Stabilisation in the energy sector has sent default rates lower and now supports the US credit market. Inflows into US High Yield have come down, yet the risk adjusted high yield spreads still support the investment case, but it is important to note that security selection is still critical. In terms of sector allocation, we are currently negative on retail and telecommunications, but see value in homebuilding and automotives and our focus lies in finding opportunities in these sectors.
Chart 2: US High Yield default rates & US Rating Drift

Source: Nikko Asset Management
2. Long Chinese Tier1 SOEs
When investing in credit globally, we take the view that it is important to allocate to Asia, as it accounts for 80% of global growth. The growth of the Asian Credit market has created a grey area between emerging and developing markets, as it has become an asset class in its own right with a $700 billion market capitalization. For example Asia Credit's Sharpe Ratio is 1.9 (period: Jan-2009-Sep-2016), which is better than other markets, such as US Credit. Valuation in Asian Credit is currently tight, but value remains attractive at the higher rated credit spectrum and is more attractive than US credit. After the recent widening of Chinese SOEs, we view current levels as attractive.
3. Long European Hybrids
The European Hybrid bond sector still offers one of the highest carries within the European Investment Grade market. Purchasing a hybrid bond, which combines both debt and equity characteristics, allows one to gain exposure in solid credits cheaply. Supply might increase as M&A activities in Europe pick up; however, the hybrid call schedule should be supportive in 2018.
4. Long European Financials
Another theme that we like is European financials, in particular the subordinated section of the capital structure. We expect there to be limited supply, as banks are reaching AT1 and T2 issuance limits. European banks have delivered solid earnings over the last two quarters with capital ratios and profitability both improving. Meanwhile, some long outstanding issues are getting addressed. Italy's Non Performing Loans are declining, as weaker T2 banks are getting bailed-in. The regulatory backdrop is easing and the impact of Basel IV has been most likely eroded. In terms of relative value, European financials also currently look favourable compared to US financials.
5. Long Rising Stars
The Borderline space between a BB to BBB rating offers a sweet spot in investment terms and the relative value is obvious. Bonds crossing this line grasp a substantial spread tightening and become "rising stars". Increased global economic growth, which is expected to continue this year, will lead to an increasing number of rising stars and we therefore predict 2018 to be a good year for this trend to continue.
Chart 3: Quarterly Rising Star Counts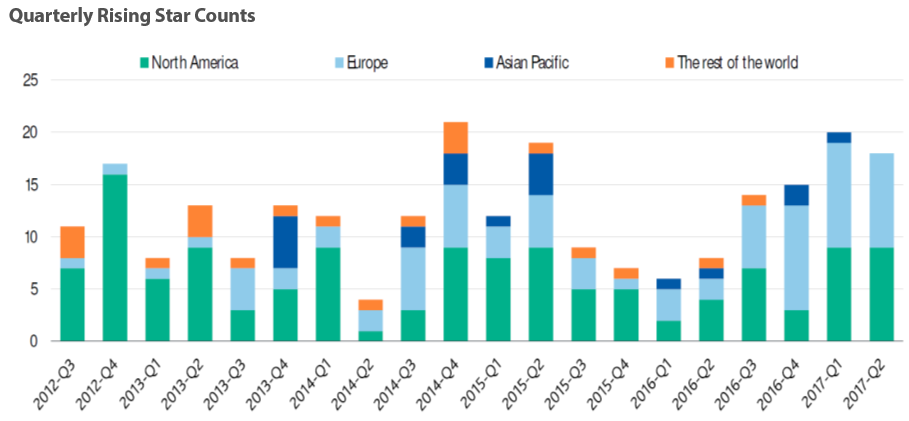 Source: Moody's Investors Service
General Observations
Overall we are currently facing a time in credit investing where bond spreads seem expensive when compared to the past, with a number of credit assets classes trading close to post crisis tights. However, given the current positive economic environment and default rates remain low both in US and Europe, we see the potential for spreads tightening even further.
It is worth mentioning a key risk for global credit is the action of central banks going into 2018. It is accepted consensus that central banks have been a catalyst to global growth. The stance taken by global central banks for low interest rates and quantitative easing has helped fuel the recovery, but now facing a situation where they are backed into a corner with limited ammunition, it will be important to monitor the future course that they will take.