Over the past five months Canada has begun an interest rate tightening cycle, delivering two rate hikes in July and September to take the cash rate to 1%. From an economic perspective Canada and Australia share some common features which make them comparable for international investors as 'developed commodity producing countries'. As such, it is often expected that the two economies will have similar timings for their interest rate cycles, with the direction for rates being broadly similar in both countries. We would caution against this view and note that the current performance of the Australian economy is substantially different to the Canadian economy, making comparisons of interest rate movements more nuanced than generalisations would suggest. This partly reflects the fact that Australia has become increasingly exposed to Asia (and in particular China), while Canada remains exposed to the United States which is currently seeing cyclically strong growth. This suggests that Australia and Canada are not in fact the same.
What are the similarities?
Canada and Australia share a number of similar structural features and this often leads them to being compared. This includes the reliance on commodity prices, levels of household debt, GDP per capita, currency performance and exposure (via exports) to large external economies.
From a broad perspective the two economies have similar levels of Gross Domestic Product (GDP) at USD 1.5 trillion for Canada and USD 1.2 trillion for Australia, with comparable sized populations of 36 and 24 million people respectively. When defining this in GDP per capita, it shows two economies which have similar levels of income and have largely been on the same trajectory for 40 odd years, as shown in Chart 1. In both cases GDP per capita grew rapidly from the year 2000 to 2011 as commodity prices fuelled strong growth. While Australia outperformed Canada for a number of years after the Global Financial Crisis, it has subsequently moved back towards the low USD 50,000 per capita range reflecting the fact that Asia showed strong growth from 2010 to 2013 where Australia has greater exposure than Canada.
Chart 1: GDP per Capita (USD)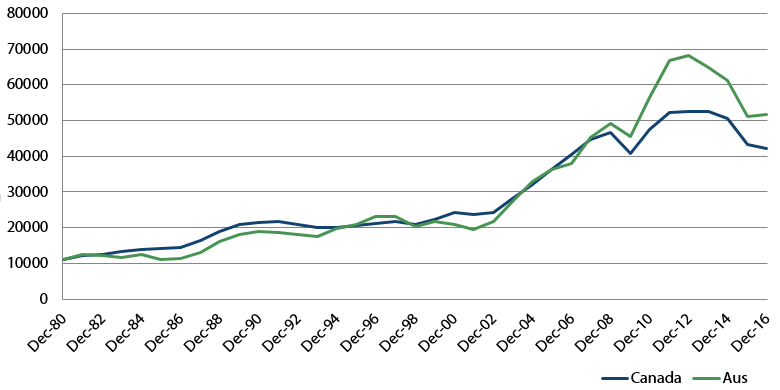 Source: Bloomberg
On the commodity front, both countries have large commodity bases which create large volumes of exports. In Canada this is predominantly in the form of oil and for Australia it is iron ore. Given commodity prices are highly correlated (see Chart 2), the two economies see related drivers affecting their main exports, despite the fact that they are exported to different locations. For Australia, its exports go mostly to Asia with over 70% of exports going to that region, while in Canada over 70% of their exports go to the United States. Hence the primary export locations are vastly different.
Chart 2: Key Commodity Prices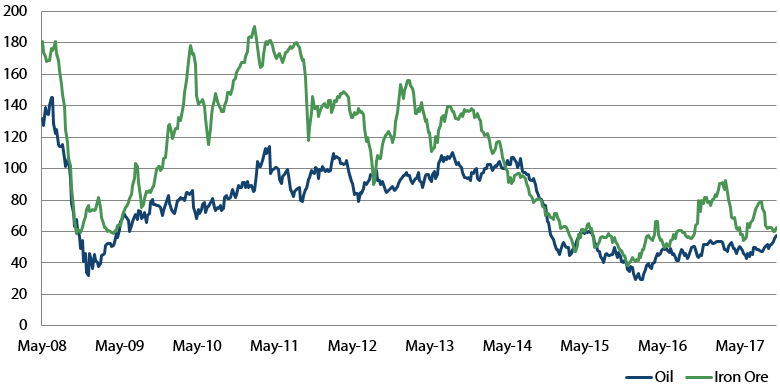 Source: Bloomberg
The third similarity between the two economies is household debt, which has been rising for a number of years and is higher than in 2008, as shown in Chart 3 below. This dynamic has led house prices to consistently rise in both countries, with average prices in certain cities rising to over one million dollars. The high level of debt and house prices has raised concerns from international organisations such as the Bank of International Settlements (BIS) about potential vulnerabilities. This is because households in both economies have become increasingly exposed to interest rates and has created the potential to make rate rises in either economy troublesome.
Chart 3: Household Debt to GDP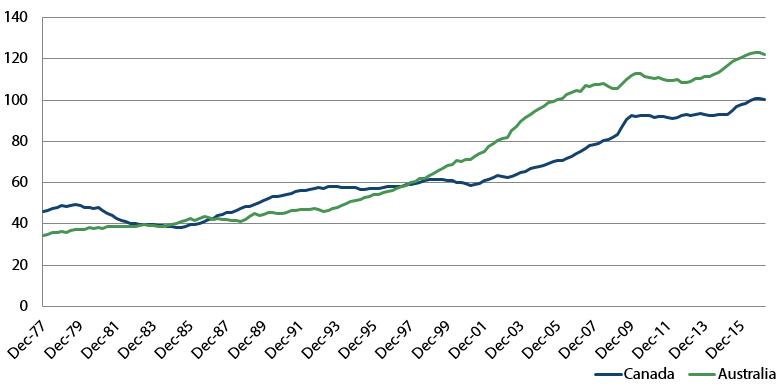 Source: Bloomberg
Because of the abovementioned similarities, international investors often think of the two economies as very alike from an economic perspective. This can be seen in the performance of the currencies which have become highly correlated over the past five years and traded in a very tight range (see Chart 4). However we believe a more nuanced approach needs to be used when discussing the economic performance of both countries. As will be shown below, the two economies are currently in very different stages of the economic cycle.
Chart 4: Currency Performance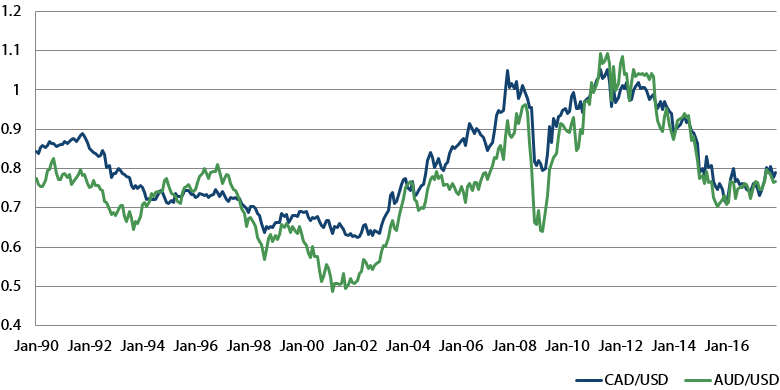 Source: Bloomberg
What is different?
Despite the identified structural similarities, the Australian and Canadian economies are currently in two different stages of the economic cycle. Over the past two years Canada has largely produced superior economic statistics relative to Australia, to create a picture of an improving Canadian economy versus a relatively stable Australian economy. The most likely explanation for this is that the Australian economy is more exposed to Asia, and in particular China, which has slowed from its lofty growth levels in 2011-2014, while Canada is more exposed to the United States which has been observing a cyclical upswing over the past 18 months.
The first of these differences can be seen clearly in real GDP statistics, as seen in Chart 5 below. Canada has recently seen its GDP accelerate from roughly 0-1% in 2015/2016 to around 3-4% in 2017. For Canada this represents a huge turnaround in the economy and in mid-2017 this was its fastest economic growth in over 15 years. Australia on the other hand has seen GDP growth slow from the mid 2% level in 2015/2016 to less than 2% in 2017, the slowest growth since 2009. When expressing this as a differential (i.e. Canada – Australia) Canada is observing its strongest outperformance in 17 years, highlighting that the Canadian economy is currently performing far more strongly than Australia.
Chart 5: Real GDP Growth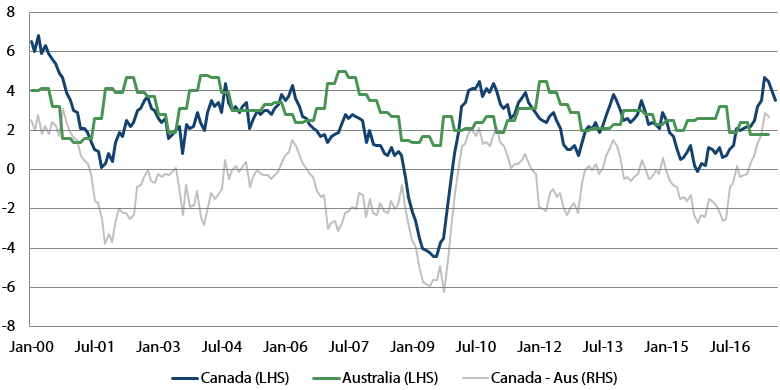 Source: Bloomberg
On the inflation front the outperformance of the Canadian economy is not quite as evident, but this must also be viewed against each central banks respective inflation target. At the moment both Australia and Canada are experiencing rising inflation, running at the high 1% level. This is somewhat underwhelming for Australia as it has historically had higher inflation than Canada.
The important point to note here is that the two central banks have different inflation targets. In Australia the Reserve Bank targets 2-3% while the Bank of Canada targets a 2% midpoint within a 1-3% band. For the central banks this means that Canada is currently sitting above their inflation target, while Australia has essentially been below the 2-3% band for three years, after having this occur only a handful of times since 2000. The distance of each country's inflation rate from the bottom of their respective inflation bands is shown in Chart 6 below. This depicts the notion that Canada is achieving its inflation target while Australia has witnessed its longest period of missing its inflation goal.
Chart 6: Inflation Rate vs Inflation Band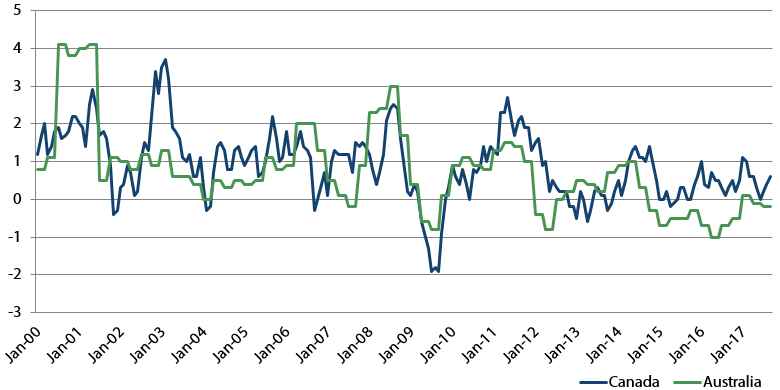 Source: Bloomberg
In terms of retail sales, again the Canadian economy is far outperforming Australia. Data shows that retail sales reached 7% in Canada compared to 2% in Australia, representing 5% faster retail sales growth in the Canadian economy, as shown in Chart 7 below. A number of segments such as motor vehicles (+12%), electronics (+9%), clothing (+9%) and sports goods (+7%) are all showing robust growth in Canada compared to lacklustre performance in Australian sectors including household goods (+0%), department stores (+1%) and restaurants (+1%). This creates two very different pictures of consumption, as Australia has been in a down trend for two years, compared to an uptrend of two years in Canada.
Chart 7: Retail Sales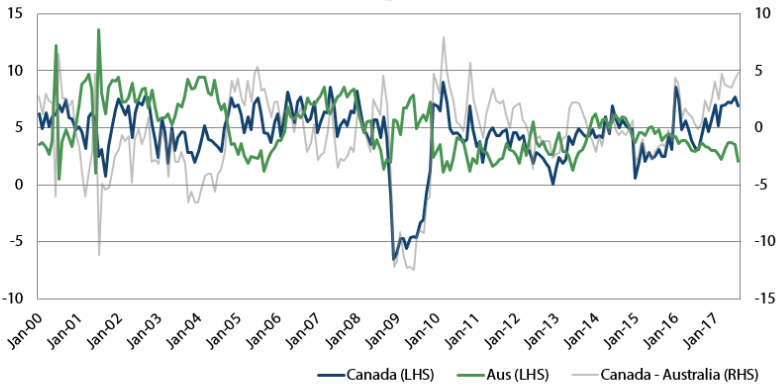 Source: Bloomberg
The final metric which shows continued outperformance in Canada is the unemployment rate. While both countries have had relatively strong employment figures, the Canadian unemployment rate has fallen to close to 10 year lows compared to Australia, which still remains 1.5% above the unemployment level 10 years ago. As Chart 8 below shows, the outperformance in Canada began in 2015 and has driven the unemployment differential to relatively low levels. This shows that while employment has been strong in both countries, it has been particularly strong in Canada.
Chart 8: Unemployment Rate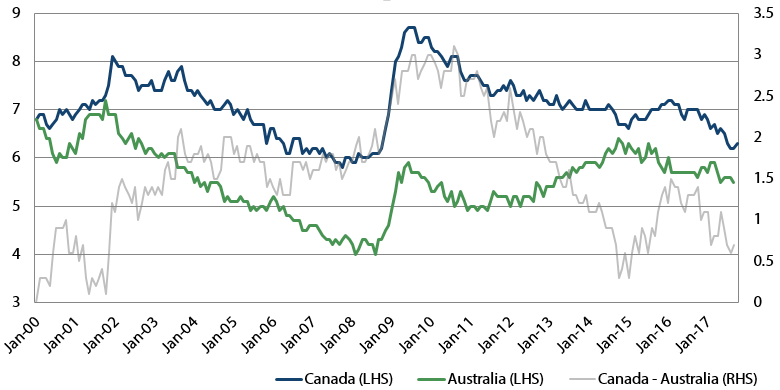 Source: Bloomberg
What does this all mean?
The abovementioned differences show that while the two economies share some structural similarities, they remain at distinctively different stages of the economic cycle reflecting exposures to different geographic locations. In 2014, Canada cut interest rates before Australia and this lead to falling cash rate expectations in 12 months-time. More recently, as Canada increased the cash rate in 2017, Australian cash rate expectations have also begun to rise. Since Canada is outperforming Australia across many key economic statistics, it should not be taken as a given that Australia is also about to begin an interest rate tightening cycle. In order for this to occur, a number of economic data points will need to improve, particularly inflation and consumption and this will require a continued improvement in Asian economies with particular emphasis on China.
Furthermore, as long as the Canadian economy continues to perform strongly it raises the chances that their tightening cycle will continue and potentially reduce the cash rate differential between the two economies.
In this environment we expect that Australian bonds should continue to outperform their Canadian counterparts, which have been selling off as the cash rate rises. The performance of 3-year bond yields is shown below in Chart 9.
Chart 9: 3-year Bond Yields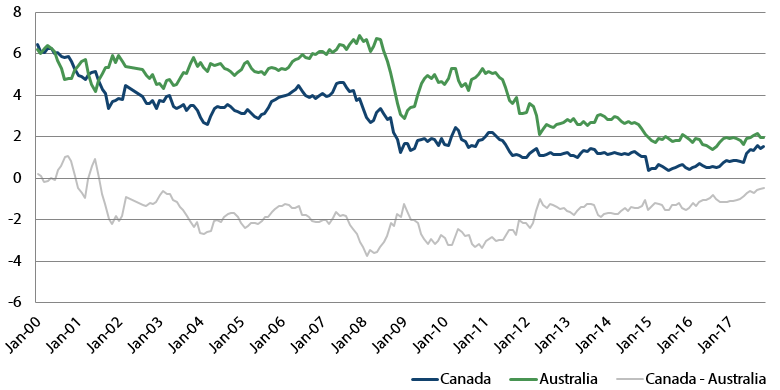 Source: Bloomberg