The market is currently positioned with expectations for higher crude oil prices - as evidenced by net positioning in the futures markets. Two key catalysts await investors during February - the update from the OPEC monitoring committee and the beginning of the seasonal demand decline from refinery maintenance. We could see a pullback in prices if disappointment stems from either; however we would see this, in our view, as an opportunity to get long as demand recovers after maintenance, OPEC maintains its desire for prices above $50/bbl (Brent) and the U.S. enters the all-important driving season.
Net Crude Oil Futures Positioning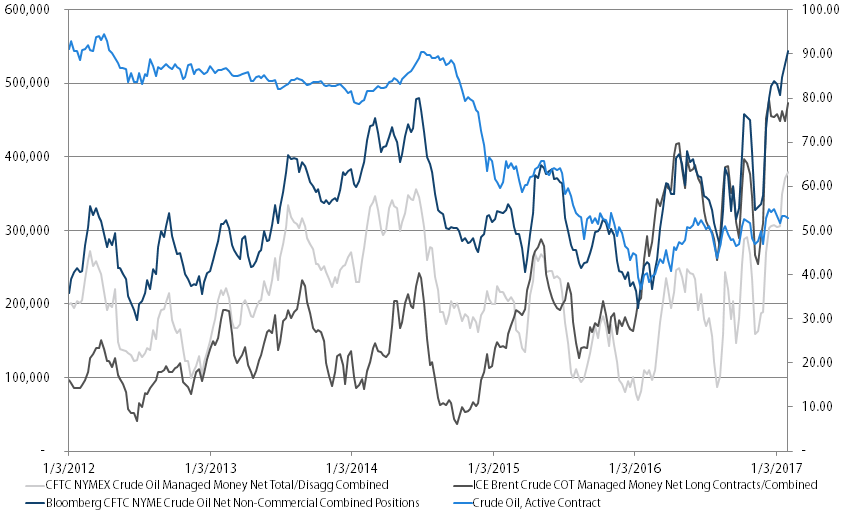 Source: Bloomberg
On February 17, the Joint OPEC-Non-OPEC Ministerial Monitoring Committee (JMMC - the committee responsible for monitoring the compliance with OPEC's November 30th agreement) is due to provide a report to the organization's members. This report will provide more clarity on how the agreement to reduce production targets by 1.2mbpd (plus an additional 600kbpd from non-OPEC) is progressing. Many are skeptical of the full commitment of OPEC members to the deal. If "cheating" occurs, when combined with an increase in U.S. production activity, it could derail the recent price recovery and drive prices back below $50/bbl. Further evidence of compliance should manifest itself in declining inventory levels in 1H17.
To date, OPEC claims to have implemented approximately 80% of the supply reduction (1.5mbpd of the 1.8mbpd target reduction). Iraq appears to have the most difficulty complying with the agreement, due largely to the lack of coordination (or perhaps lack of agreement) between the government and the semi-autonomous Kurdish region in the north. Current indications are that the country has implemented a little over half of their 210kbpd proposed curtailment. Even if we assume compliance through June, as specified in the agreement, it is unlikely that OPEC will continue all the cuts past that date. By then, demand will have accelerated enough to warrant the return of some supply, with perhaps Saudi Arabia restraining their seasonal uptick in production driven by higher domestic demand in the summer months.
Refiner maintenance season is set to begin in advance of the U.S. peak driving season
Each year, refiners enforce planned shutdowns of their refinery units for maintenance and upgrades. The resulting temporary decrease in demand can clearly be seen twice a year. This maintenance is typically scheduled when demand for refined products is relatively low – usually the fall and towards the end of the first calendar quarter. Normally, crude oil inventories build during these periods so higher inventories are to be expected. Given the current positioning among many investors, the headline risk of abnormal inventory builds during the upcoming maintenance season could lead to some temporary price weakness if investors use it as an excuse to book profits.
Seasonal refinery outages globally (kbpd)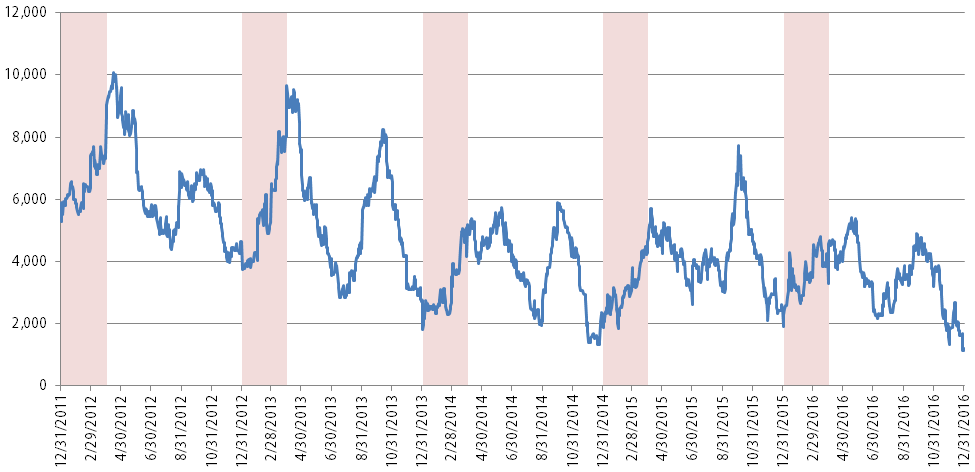 Source: Bloomberg
Nikko AM's Global Oil Team expects prices to remain range-bound between $50-$60/bbl for the first half of 2017. As the impact of the recent OPEC agreement that reduced the target production levels for the cartel begins to take hold, the market should gradually experience a healthier supply/demand balance.
Why $50-60? OPEC cut production targets when oil was below $50 and it would not have done so if the group was not looking for a price above range of 2H16. At the time of the cut, the market was already beginning to balance but apparently was not doing so fast enough for the cartel. On the high side, prices above $60 would incentivize increased production activity at the higher end of the cost curve – specifically what OPEC is trying to avoid. If prices were to trade up to that level, OPEC would likely return supply to the market to discourage that.
The outlook for the second half of the year carries a bit more uncertainty. OPEC has committed to the production reductions through June. The group's next formal meeting is scheduled for May 25th. The response of U.S. producers, the occurrence of supply disruptions, and the ongoing strength of EM demand will determine the group's future strategy.
Although U.S. supply is returning to the market, the memories of early 2015 and the concerns associated with the balance sheet leverage of many U.S. producers are still fresh in the minds of many (especially U.S. bankers and credit rating agencies). Many U.S. E&P companies are currently spending all their free cash flow in capital expenditures, implying they would need to increase leverage to accelerate production growth to levels that would imperil the supply/demand balance. Of course, there have been significant productivity gains as well, so perhaps this isn't as dependent upon leverage as in previous years, but nonetheless, more debt issuance would be required overall to achieve previous levels of U.S. production. Some point out that credit spreads have contracted, implying more availability of credit, but it remains to be seen how the market's appetite has changed. This, combined with the fact that prices have not yet risen enough to make offshore production an attractive opportunity, should act as a safety valve to prevent a wave of supply additions to the market that would be harmful to prices.
The underinvestment by the industry of the past several years could cause a supply risk longer-term. The production from what is loosely defined as U.S. shale is currently approximately 4mbpd (about 4-5% of global supply), and some expectations are that it could grow to as much as 6mbpd over the next five years – the pace determined by the aforementioned willingness to provide leverage to the producers. This alone won't be enough to offset the tightening effect on the market balance of expected demand growth of about 1% per annum (~1mbpd). This should help support prices over the medium term. The extraordinary capital budget reductions in the industry over the past several years have reduced investment by over $200 billion and have concentrated spending on shorter cycle projects. Over the long-term, these smaller onshore investments cannot produce enough supply to satisfy growing demand. This has the potential to create a supply risk beyond 2018 and could return prices to levels not seen since 2014 unless new production can be brought to market.
The U.S. is capable of assuming the role of swing producer in the short-term, but needs higher prices to ensure they can and will. Rig counts have already inflected and are on the rise. U.S. production should follow suit and offset some of the lost OPEC supply. The danger is that the U.S. producers lose discipline and increase production too much, and the market goes right back to where it started, with OPEC again stepping in to enforce supply discipline.
What has the reaction among U.S. producers been like since the agreement? Using DOE monthly figures through November, U.S. producers have already added over 300kbpd of supply to the market from the 2016 low in September. Rig additions since November imply that the current (January-end) production level could be over 9mbpd. Keep in mind that the 600kbpd increase from the lows (at an assumed 9mbpd) only offsets about 1/3 of the OPEC supply cut, so this amount of incremental supply is not enough to harm prices – yet.
U.S. Rig count and crude oil production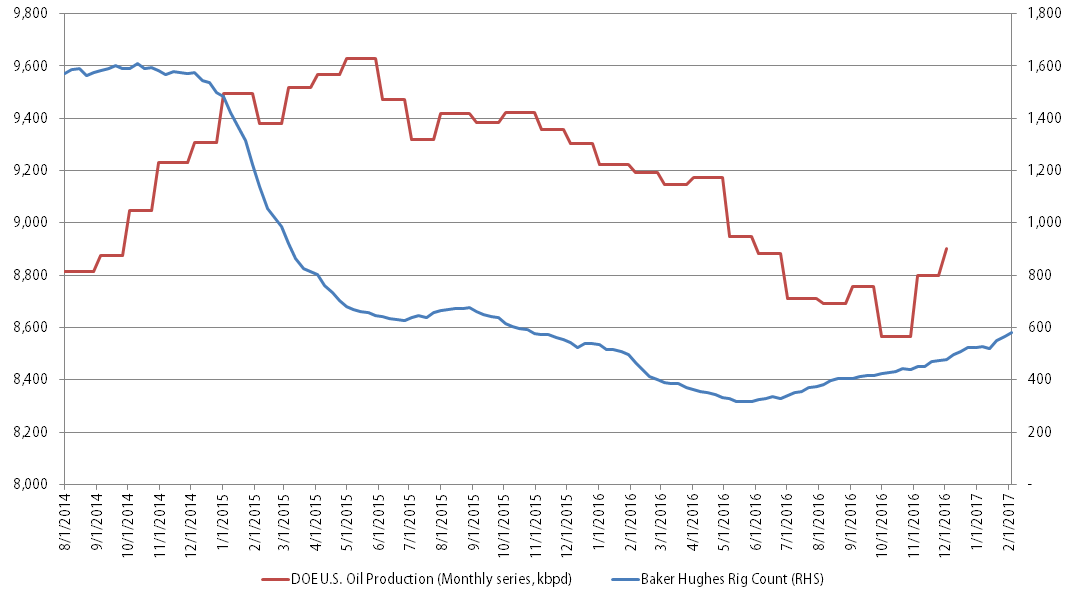 Source: Bloomberg
Future U.S. government policy is likely to be a longer-term catalyst and could be a net positive for the industry. The Energy policy of the Trump administration appears more industry-friendly on the surface and may result in lower regulatory costs, more access to federal lands for resource extraction, and potential benefits from a lower corporate tax rate. Other aspects such as the Border Adjustment Tax plan could carry some risk for it.
The Trump administration is pursuing multiple goals of energy independence, fair trade, and a more attractive corporate business environment. Currently, the U.S. operates with a supply deficit for oil. We currently import about half the oil consumed in the country, making the implications of a border adjustment tax huge for the industry. Independent refining companies will be put in the difficult position of choosing either to pay a premium for domestic oil production (which U.S. producers would welcome) or be forced to import oil with an unattractive tax tacked on. Some of this will undoubtedly be passed along to U.S. consumers in the form of higher gasoline prices, although it seems likely profit margins for the refiners will be pressured as well.
On the corporate tax front, a lower U.S. corporate tax rate would most likely benefit the major integrated oil companies as well as the refiners, since many independent producers continue to operate at a pre-tax loss, even after the recent crude oil price recovery.
On the regulatory front, while it is still too early to pinpoint the impact of President Trump's policies as it relates to the Energy sector, some general trends are likely to play out. First, it seems clear that the regulatory scrutiny of the Obama administration is a thing of the past. Trump has made industry-friendly appointments to key cabinet positions, which may result in less regulation going forward. This could manifest itself in a multitude of ways, but the takeaway is that there may be less regulatory interference with U.S. oil production going forward and there could be some benefit from less regulatory compliance cost. This should allow producers access to federal lands and will likely make things like pipeline approvals less difficult. Another potential benefit to the independent refining companies is a change in the Renewable Fuel Standard Program which could change the requirements for ethanol blending and will provide some relief if those companies are no longer required to purchase RINs. Finally, any industrial production acceleration from a government infrastructure stimulus program could catalyze increased demand for diesel, a product that is currently in oversupply, potentially resulting in a healthier refined product market balance.
Below are some key highlights from the plan outline the administration has posted online:
"For too long, we've been held back by burdensome regulations on our energy industry. President Trump is committed to eliminating harmful and unnecessary policies such as the Climate Action Plan and the Waters of the U.S. rule."
"Sound energy policy begins with the recognition that we have vast untapped domestic energy reserves right here in America. The Trump Administration will embrace the shale oil and gas revolution to bring jobs and prosperity to millions of Americans. We must take advantage of the estimated $50 trillion in untapped shale, oil, and natural gas reserves, especially those on federal lands that the American people own."
"The Trump Administration is also committed to clean coal technology, and to reviving America's coal industry, which has been hurting for too long."
Already we have seen the following relevant actions from the new administration:
President Trump signed a Presidential Memorandum inviting TransCanada to resubmit its application to build the Keystone XL pipeline
President Trump signed a Presidential Memorandum ordering the review and approval of the Dakota Access Pipeline to be done in an expedited manner
Energy Transfer Partners' Rover natural gas pipeline has won Federal Energy Regulatory Commission (FERC) approval
The U.S. Senate passed a resolution to overturn the "resource extraction rule" which requires U.S. companies to disclose taxes and other payments to foreign governments and now leaves Canadian and European natural resource companies with far more stringent reporting standards, potentially leaving them at a competitive disadvantage
Conclusions
Inflation
It seems likely that energy prices will contribute to accelerating inflation globally. The base effect alone of the prices in early 2017 versus 12 months ago should support higher levels of inflation. In 2016 for example, WTI prices averaged $41.69/bbl during the first quarter. Assuming OPEC stays true to their word, 1Q17 prices should average at least $10 (24%) higher. This impact moderates over the remainder of the year given the recovery in prices during the second quarter of 2016, but the base effect should remain supportive for higher inflation this year. In addition, the aforementioned impact from a border adjustment tax could further accelerate inflation. Assuming a 25% premium on WTI versus Brent due to the scarcity of U.S. supply (relative to demand) and the potential for a 20% tariff on imported goods, gasoline prices would most certainly be on the way higher in the U.S. This would contribute to inflation increases and could have multiplier effects on other things like wages and the costs of goods that have a significant shipping component.
Industry winners
Production activity is accelerating and this will return some pricing power to Oilfield Services companies with a U.S. onshore focus. Cost concessions over the past two years have been meaningful – in some cases as much as 25-30%. Expectations are that the increased activity will result in cost inflation of at least 5-10% this year, as service companies perform start-up maintenance on idle equipment, ramp up hiring, and attempt to recoup some of the sacrifices made during the downturn. Initially, this is manifesting itself in demand for sand (although sand prices appear stubbornly slow to react) and pressure pumping services. The latest quarterly results from companies such as Halliburton and Schlumberger revealed some guarded optimism for a better onshore pricing environment later this year. Pricing for offshore services likely remains under pressure given that the economics are less attractive to producers.
The return of pricing power could lead to higher prices at the pump as well if the producers can pass through a portion of it – further supporting the argument for accelerating inflation above. Exploration and Production companies should benefit too – the efficiency gains and production cost declines driven by the challenging environment of the past two years should help profitability growth accelerate in the current, more attractive crude oil price environment. Many of these stocks have already reacted to the rally in crude, so the importance of selection has increased. Second derivative beneficiaries could be steel producers and certain industrial firms.
Considerations for oil in 1H17
Given the nature of current positioning among investors, it seems likely that headline risk could cause a decline in prices as a result of profit-taking after the recent rally. OPEC's commitment to maintaining prices above $50 seems clear and we would view a price below that as an opportunity to increase exposure with the expectation that U.S. supply will not continue to ramp meaningfully in that price environment and OPEC will take the necessary actions to support prices above that level.