While the TOPIX declined following the Brexit vote, largely as a result of the strengthening of the Yen, the market has since recovered. We now believe the negative impact of the stronger Yen will be gradually diminished towards the end of the current Japanese fiscal year (ending March 2017) as companies cut costs in order to support earnings. Such a response by companies will also likely be reinforced by macro-economic policy measures, such as further monetary policy easing and government measures to stimulate growth.
Key macro-economic factors as we approach October 2016:
EPS Growth: Poised to bottom out
Current year (FY ending 3/17) earnings guidance released in March appears conservative and implies potential upside
Negative impact from Yen strength to be gradually diminished towards the end of FY ending 3/17
12-month Forward Consensus EPS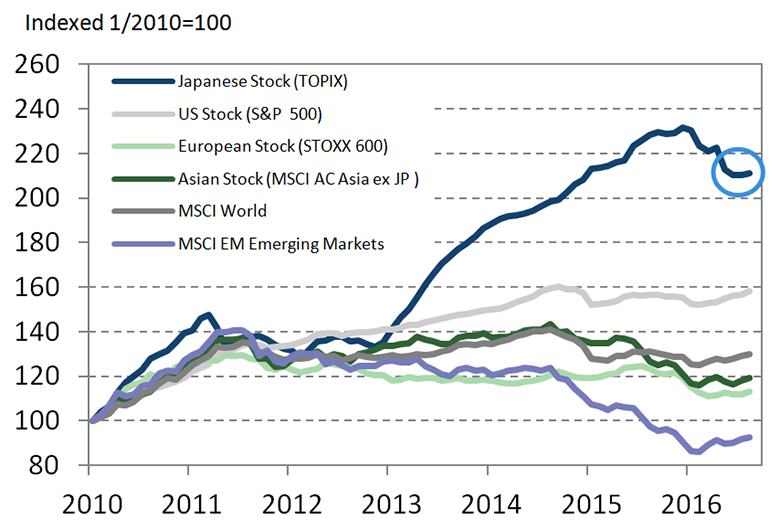 Source: FactSet as of August 31, 2016
Attractive Valuation: P/E expansion to be driven by BOJ's ETF purchases and share buybacks
The market's price-to-earnings (P/E) multiple is now close to its post-Abenomics low and is lagging that of other developed markets: P/E multiples continue to remain at around 13.5x on a 12-month forward basis (compared to post-Abenomics highs of around 16x in 2015)
The Bank of Japan's (BOJ) doubling of its annual ETF purchases to JPY 6 trillion combined with an estimated JPY 6 trillion of share buybacks by firms will limit downside risk and set the stage for further expansion of P/E multiples
12-month Forward P/E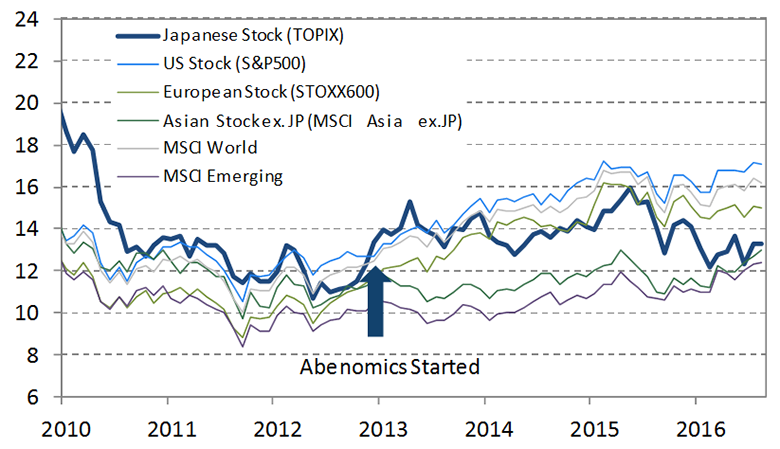 Source: Bloomberg as of August 31, 2016
Corporate Governance Code: Shareholder returns to gain momentum
Top-down enhancements of corporate governance standards continue to drive increases in return on equity (ROE). Most listed Japanese companies have already submitted their Corporate Governance reports for the year, including measures to improve ROE. The market's shareholder return ratio (which takes into account dividends and share buybacks) had exceeded 50% by the end of 2015 and is likely to increase even further this year. Share buybacks are forecast to reach an all-time high of JPY 6 trillion in FY ending 3/17 (JPY 4.4 trillion in share buybacks have already been announced this fiscal year, which is higher than at the same point the previous year).
Trend in Dividend & Buybacks — FY2000 - FY2016(E)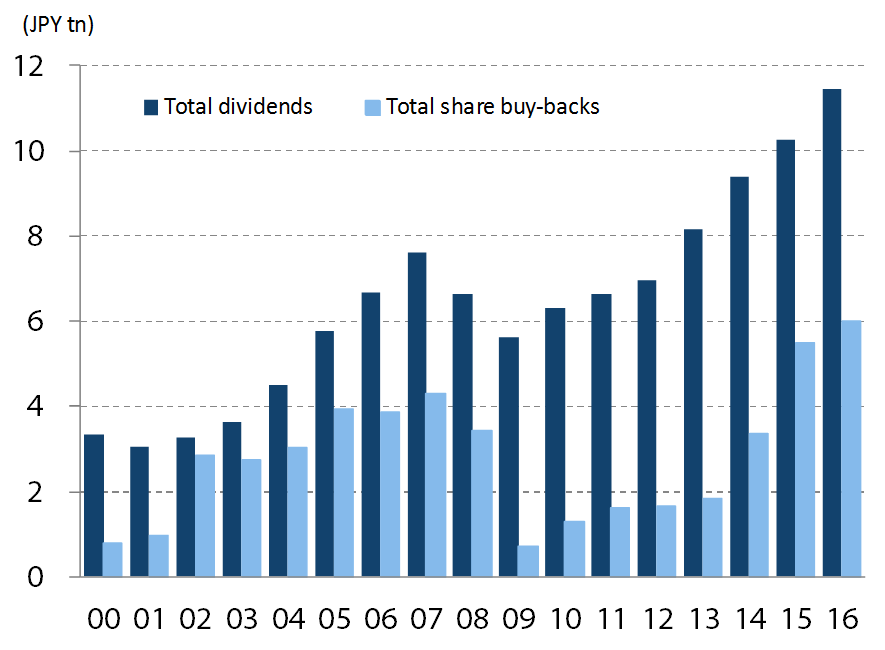 Source: Nikko AM, August 2016
Shareholder Returns Ratio (Dividends & Share Buybacks) by Region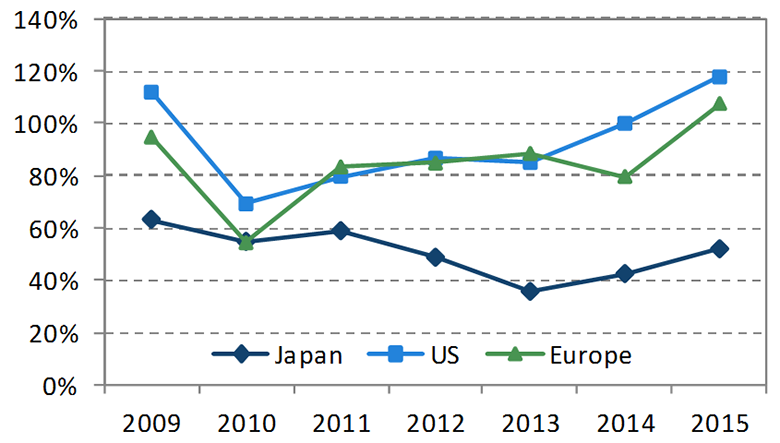 Source: Nikko AM, August 2016
BOJ's New Commitment: No turning back (2% inflation target not only intact but enhanced with a new "inflation overshooting commitment")
On 21 September, the BOJ released the results of a "comprehensive assessment" of the policy effects of its monetary easing policy
At the same time, it announced its new "inflation overshooting commitment" through which it pledges to continue expanding the monetary base until the target inflation of 2% is achieved and it remains above this level in a stable manner; this may end up being a more lasting and powerful commitment than the market currently anticipates
The BOJ will also start controlling the yield curve of Japanese Government Bonds with the aim of steepening its slope; specifically, it aims for 10-year JGB yields to remain around 0%; this measure is expected to mitigate the side effects of the bank's negative interest rate policy (which remained steady at -10bps interest rate on excess reserves); at the same time, it will continue to aim to lower the yield on shorter duration JGBs in order to reduce the real interest rate, which in turn will likely increase expectations for inflation
Japan's political environment the most stable among developed nations: PM's political capital to support necessary economic reform
The Japanese government was scheduled to deliberate economic policies at an extraordinary session of the Diet (Japan's national legislature) at the same time the BOJ held its comprehensive assessment.
The administration of Prime Minister Shinzo Abe continues to enjoy strong approval ratings (in excess of 50%) and the ruling coalition currently holds close to two-thirds majorities in both the upper and lower houses of the Diet. It therefore has a clear mandate to achieve its policy goal of reviving the economy. Hence, there is a general expectation that further growth initiatives will be introduced next year, and this will be bolstered by increased monetary policy easing by the BOJ.
According to a survey conducted by the Nikkei Shimbun from 26-28 August, 59% of respondents are in favour of extending Abe's term in office at least until the 2020 Olympics in Tokyo, with only 29% opposed (Abe's term is set to expire in September 2018 in accordance with the ruling Liberal Democratic Party's bylaws). As it appears that a large majority of Japanese are in favor of Abe continuing as prime minister, support for the continued implementation of his Abenomics economic policies will also likely extend to 2020 and beyond.
Government Approval Ratings (%)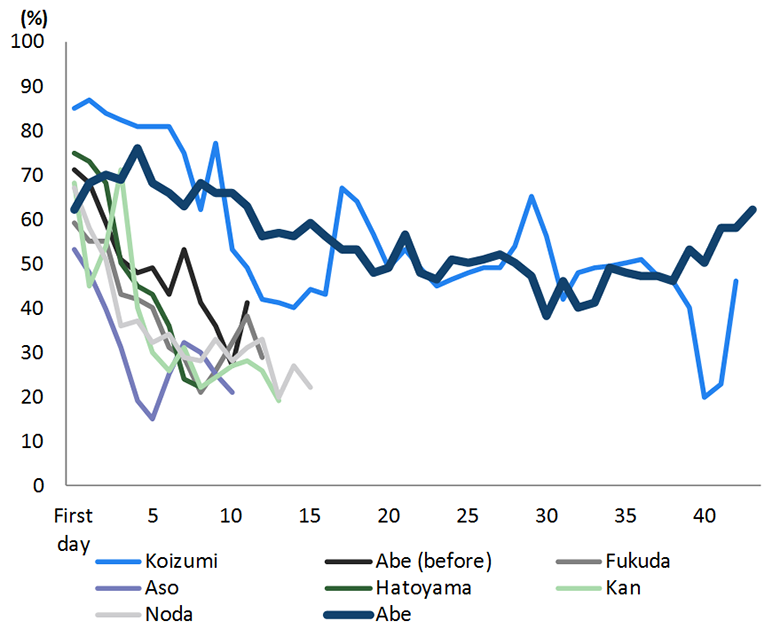 Source: Nikkei Newspaper Survey, August 29 2016