A virtual roundtable discussion hosted by Yu Ming Wang, Global Head of Investment and CIO International with Holger Mertens, Fund Manager Global Credit; James Kinghorn, Portfolio Manager, Global Equities; Peter Monson, Senior Investment Analyst, Asia ex Japan equities; David Gan, Credit Analyst, Asia; Brad Potter, Head of Australian Equities; John Sorrell, Head of Credit, Australia; Tetsuya Tsushima, Senior Analyst, Equity Research Group, Japan; and Akihiko Yoshino, Group Manager, Fixed Income Analysis Group, Japan.
While oil was the focus in January, February saw particularly vicious sessions for both banking stocks and bonds globally, with some of the largest European banks sold off in a fashion similar to the start of the global financial crisis (GFC) in 2008. Factors such as negative interest rates and oil shocks threatening loan book quality led to bank stocks plummeting and credit spreads on banking securities widening, in some cases substantially. Following these extraordinary moves, Yu Ming Wang, Global Head of Investment and CIO International hosted a virtual roundtable with a group of Nikko Asset Management's senior investment executives from across the globe.
The group discussed their views on the global banking sector and their positioning from both an equity and credit perspective. They debated whether banks are dealing with an income statement problem or with actual balance sheet concerns. The group also addressed the question of whether we are facing systemic risk in global financials, similar to 2007-8, and generally agreed that systemic contagion leading to another global recession is unlikely.
James Kinghorn: Portfolio Manager, Global Equities:
We are underweight banks in our global and global ex US funds. In our view, the US and Europe in particular are in the early stages of a multi-year deleveraging period. Quantitative easing (QE) has delayed this process, but it can't do so indefinitely. Sub-trend economic growth in these regions and potential deflation will mean interest rates remain low for many years. As a result, European bank revenues will turn negative as net interest margins (NIMs) decline (with very little room to re-price deposits). US revenues will likely be anaemic at best.
We talk a lot about over-capacity in many industries around the world at the moment, but not enough about over-capacity in the banking sector. In many countries, over-capacity in banking is a major issue but one most management teams refuse to accept. Pricing power is very weak. Higher global growth would allow European and US banks to manage this headwind but our team is not optimistic on this front.
The negative regulatory environment doesn't help equities either, with "excess" capital more likely to go to the regulator than shareholders. We disagree that this is an income statement issue, not a balance sheet concern. Contagion is a possibility, in our view, and despite having more capital than 2007-2008, there remains meaningful liquidity risk. Global loan book non-performing loan (NPL) ratios are flatteringly low, which we believe are unsustainable and will certainly rise.
The market is aware of all these factors and is pricing in most of them, as we have seen with the sharp falls in equity markets in early 2016. However, we think that most banks remain value traps and are focusing our energies on those that concentrate on costs, efficiency, technology, disposals and return on equity (ROE), while avoiding those intent on growth because the game has changed.
Holger Mertens: Fund Manager Global Credit:
I am still constructive on global bank bonds, even sub-investment grade bonds. Clearly the market was painful for bondholders in the early part of this year, particularly in Europe, but not all the moves were justified by fundamentals.
Banks continue to adjust their businesses to conform to a highly regulated operating environment, which provides significant benefits for bond investors, in my view. Banks are moving away from a balance sheet-heavy business model towards a capital-lite model, such as is seen in private banking. The changes in the business model are affecting global banks' profitability, but they are also reducing earnings volatility and creating interesting opportunities for bond investors. In addition, regulatory pressure will force banks to continue to increase their capital ratios and create a solid cushion for bondholders. However, new bail-in laws sweeping through Europe will likely weaken senior bonds, although they appear positive for sub-investment grade securities as more sections of banks' balance sheets get involved in a rescue.
The minimum distributable amount (MDA) cushion for most banks in Europe still seems reasonable and does not point to coupon cancellation. In addition, available distributable items, which are basically retained profits and distributable reserves that could potentially limit the ability to pay a coupon, are generally at healthy levels, with one or two exceptions. Furthermore, most banks have already stated that coupons are favoured over dividends when it comes to distribution. Negative rates are clearly negative for profitability, but this would affect stocks more than bonds.
I believe that, despite recent volatility, good investment opportunities exist in the banking sector. Even contingent convertible bonds (often referred to as CoCos) are not bad by definition. Cocos have delivered positive returns over last three years and always used to be more liquid than many other fixed income instruments. This probably made them a perfect target to take some profits, which in the end got a bit out of control, but now opens the window for new opportunities.
Peter Monson: Senior Investment Analyst, Asia ex-Japan equities:
While developed market banks may experiencing more of an income statement issue, a large number of emerging market (EM) countries have been dealing with both balance sheet and income statement issues for some years. This has led to significant de-ratings, although these problems have not been exported globally except for a few EM-centric developed banks.
Asian banks have been de-rating for 4+ years now and valuations of financial stocks as a whole have only been lower during the Asian Financial Crisis (AFC). As a net beneficiary of lower commodity prices, Asia should be less exposed to this particular asset quality risk but there are some countries, such as Singapore and Malaysia, and individual stocks that are. A strong US dollar has led to outflows and tightening liquidity, particularly in ASEAN markets, but we have witnessed some positive economic adjustments. China's problems have been widely discussed but have intensified with the movements in the renminbi (RMB) and this is the 'new' balance sheet risk we have been pricing in so far this year.
As a team, we have considered whether the European banking problems will spread to Asia. Firstly, we don't think there is much risk of negative rates in this region, which have called into question the operating models of banks in Europe and Japan. Asia as a whole probably has more room for fiscal stimulus to support economies, rather than relying on pure monetary stimulus. Secondly, bank profitability in Asia has not been as negatively affected as European/Global banks following the GFC. Asian banks are still able to generate ROEs of 10-20% despite the pick-up in credit costs over recent years. This means capital buffers can be and have been replenished over recent years in the majority of cases. One of our key concerns is the disruption and disintermediation of banking businesses over the long term – recent events are only accelerating this trend.
Currently, it seems like the bear is testing the weak points in global economies and outside of oil and gas/commodities, China is certainly one of them. However, we believe much is contingent on the RMB as this has the potential to cause much more asset quality stress not just in China but around the region. Our base case is still an orderly depreciation in the RMB, but any one-off shocks would likely cause another leg down.
While most developed market banking systems have deleveraged since the GFC, much of Asia has since seen an expansion in credit (see chart 1). As a result, our financial positioning reflects where we see the best longer term growth opportunities vs. how advanced respective asset quality cycles are and what has been priced into valuations.
Chart 1: Increase in credit GDP across Asia post-GFC (2008-2014)
Source: Citibank.
China's balance sheet expansion started as a response to the GFC, but has continued apace despite slowing economic growth rates under a re-balancing economy. China had started on a promising restructuring last year with a local government financing vehicle (LGFV) debt swap programme, development of its corporate bond markets and the promise of state-owned enterprise (SOE) reform, but several policy blunders since last July have derailed confidence both offshore (where it was already weak) and more importantly onshore. Global events have impacted our views on investment-linked financials (insurers, brokers) but we believe the longer-term structural thesis remains intact.
We have selective overweight positions across Asian bank stocks, namely in Indian financials and recent additions in Indonesian and Thai banks – valuations across all three reached 10-year lows and we believe asset quality cycles are a bit more advanced and/or domestically orientated. If there is one central banker in our sphere, if not globally, that is making tough calls (and, in our view, the right calls) it is the Reserve Bank of India's Raghuram Rajan. We are at last seeing efforts to clean up legacy NPLs in the corporate space while there has been very little credit expansion in the last six years. This clean-up may result in short-term pain but it should give India's banking system a much cleaner balance sheet than many peers in Asia and a large underpenetrated credit system.
Singaporean and Malaysian Banks have some of the highest exposures to commodity-related sectors in the region. We have yet to really see material evidence of bad debts as a result of the commodity downturn as banks have looked to restructure and roll-over exposures to bide more time, but unless we see a sustained rally in commodity prices and a pick-up in end demand, there will be a pick-up in credit costs here.
David Gan: Credit Analyst, Asia ex-Japan:
Broadly speaking, we are market weight on banks in Asia credit. However, we are underweight the Additional Tier 1 securities since these trade very tightly vs. global comparables.
While the Asian banks are likely to face asset quality deterioration and weakening profitability due to the fragile macroeconomic environment, we believe that this will be manageable for the banks given sufficient existing capital buffers and loan loss provisions in place. Banks are also responding by slowing loan growth and restraining their risk appetite, which is likely to help preserve capital ratios. Areas that we are currently underweight include the mid-tier Chinese Banks and the Indian public sector banks since we think that current spread levels do not compensate for the risks involved (these two groups have weaker capital adequacy). Senior bonds from mid-tier China banks currently only give spread premiums of around 20-30 basis points (bps) over the 'big five' banks and senior bonds from the large Indian public sector banks trade only marginally wider than their stronger, private sector peers.
We think that the sell-down in European financial bonds that happened early this year was driven more by fear than by fundamentals (other than a few idiosyncratic examples) and we are not expecting systemic contagion to global financials. In Asia, as Peter pointed out, banks are less affected by the problem of negative rates and are much less affected by litigation and restructuring costs. There are also only a handful of Additional Tier 1 securities outstanding and the bulk of this relates to government-owned banks with a high likelihood of public support.
Brad Potter: Head of Australian Equities:
We look at earnings and valuation out at least three years and thus identified that Australian banks needed to substantially increase their Common Equity Tier 1 capital (CET1) ratio given the regulatory environment both locally and globally. The net result was that we targeted an Australia-based CET1 (not comparable to the global capital ratio) of 10.5%, which we assumed would be achieved via capital raisings. The net impact was earnings and dividends per share (EPS, DPS) and ROE dilution over time and thus much lower valuations. This was not picked up in 1-year forward price/earnings (P/E) ratios, which seem to be the market's starting point from a valuation perspective.
Chart 2 shows the Commonwealth Bank of Australia's (CBA's) estimate of how the four major Australian banks (CBA, National Australia Bank (NAB), ANZ Bank and Westpac Bank (WBC)) look on a like-for-like basis in terms of capital. The Australian banks have now substantially corrected their CET1 position and are thus starting to look better value. However, CET1 is still below the level we see the banks reaching. Our view is that the banks will need to raise at least 1.5-2% of new CET1 over the next three years and this is captured in our valuation. Bad debts are not an issue and we expect the market to have 0-5% earnings growth over the next three years.
Chart 2: International Peer Basel III CET1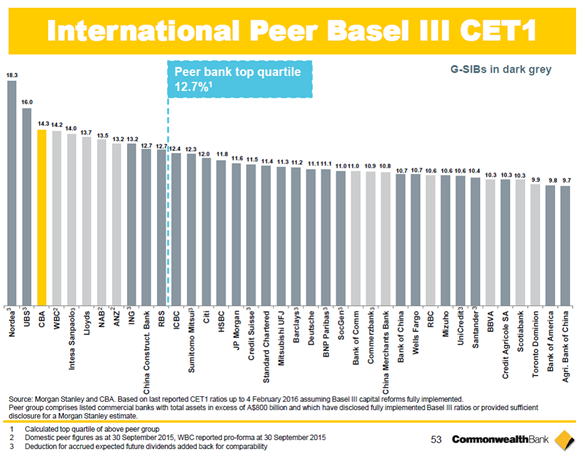 Source: CBA.
John Sorrell: Head of Credit, Australia:
Brad's comments make total sense from an equity perspective, but from a credit perspective, we have been constructive on Australian banks over the same period. This is largely because of the pressure to increase CET1 and their healthy asset quality, but also because the Australian regulator (APRA) has been willing to deliberately sit on the side-lines in the bail-in and TLAC (total loss-absorbing capacity) discussions, thereby smoothing the impact of regulatory change. APRA still appears to believe that the strength of the Australian banks through the GFC was proof of their good management and is reluctant to be pushed into some of the more aggressive global regulatory changes. Despite chart 2 showing their top quartile CET1 levels, the discussion about whether capital is sufficient will remain because the story is slightly less favourable when one examines the increasingly popular leverage ratio measure shown in chart 3.
Chart 3: Shareholders' equity / total assets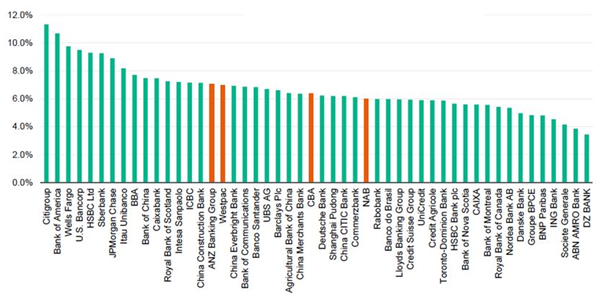 Source: Moody's, company data. Data as at October 2015.
However, the big four Australian banks remain among the most highly rated banks in the world. Although there is a risk that the rating agencies may cut their ratings by one notch due to a perceived reduction in systemic support from the sovereign, their ratings would remain robust and the increased capital levels are, if anything, likely to forestall the risk of downgrade.
Bank bonds remain some of the most liquid securities in the non-sovereign Australian bond market. As a result, their spreads are more immediately responsive to global spread movements and so appear more volatile. The negative sentiment of other markets hit Australian bank spreads in February and we saw widening to levels that looked attractive. Unlike their equities, the performance of the bonds of all four Australian majors is pretty much the same and all four are rated the same.
Tetsuya Tsushima: Senior Analyst, Equity Research Group, Japan:
We are currently underweight the Japanese banking sector and have been so since the China shock in August 2015. Although we have been focusing on defensive stocks, such as high-dividend yielding names, since the start of 2016, we think that the Bank of Japan's (BoJ's) adoption of negative interest rates on January 29 caused a further widening of fears about banks' profits and capital policies. Bank stock prices have fallen by about 30% since the start of the year, while their P/B ratios and P/E ratios have fallen to historical lows.
Since the BoJ has suggested that it will extend negative interest rates further if the yen continues to appreciate and the economy continues to deteriorate, we believe that this policy risk will keep bank stocks at a discount. For example, the 3-month TIBOR (Tokyo interbank offered rate), which reflects the impact of policy rate reductions, fell from a fairly stable 17 bps before the BoJ's interest rate cut to around 10 bps (as of 8 March). However, considering that the 3-month Euro LIBOR rate is negative, we feel that TIBOR has room to fall further. It is likely to take some time before the markets shakes off these negatives.
On the other hand, we think that systemic risk has been constrained to a certain extent by the tightening of the Basel capital guidelines following the GFC. Considering that the CET1 ratios of large banks are around 10%, we believe that there is little risk from stock capital increases. The cost of issuing TLAC bonds is also limited. Although the upside risk for banking stocks is likely to be limited due to policy risk, we believe that the 4-5% dividend yields will provide downside protection for the time being.
Akihiko Yoshino: Group Manager, Fixed Income Analysis Group, Japan
In our view, we are in the widening phase of the credit cycle. Although we expect the pace of spread widening to be gradual, it may continue for longer than we experienced in the GFC, although damage to the global financial system should be mitigated.
For Japanese bank debt, we have a market-weight position in defensive tranches, such as senior bonds. Similar to David, we are underweight Additional Tier 1 securities, which we believe are most vulnerable to global market movements and to contagion risk from global market turmoil.
We expect that bank profitability will threatened by current conditions, including the negative rate policy, yield curve flattening, expensive hedge costs and slowdown of the retail fund business, but they will likely generate enough earnings to maintain both dividend growth and capital strength.
Although we are not seeing negative signs so far that indicate we should be bearish the banking sector, we are paying close attention for possible tail risk due to the banks' exposure to the oil/energy sector and international asset quality. Positively, however, it seems most of Japanese banks' oil/energy sector exposure is related to Japanese energy importers and in some cases cash flows are protected by offtake agreements.
Conclusion
Our leading banking analysts around the world, in both equity and fixed income asset classes, do not foresee any GFC-style systemic risk in the banking system globally. Indeed, several believe the sector holds value in certain segments and are investing accordingly.