The transition in China is underway. A country where economic growth has been built on infrastructure and residential construction is now trying to resemble that of the Western world where the consumer and services dominate. No longer can China rely on stimulating heavy construction to drive growth. Commodity demand is waning and the capacity created in manufacturing by China, as it grew from the early 2000s, now looks to have been overly optimistic.
Despite claims from many mining companies that peak steel consumption has yet to be reached, China and its steel industry tells a different story. The only debate is whether it peaked in 2013 or 2014. It isn't just words that are telling us that the glory days for Chinese steel are over, but rather the industry's earnings (or lack of). While red is a lucky colour in China, the sea of red plaguing the steel industry is anything but, with the fall in East Asia imported hot-rolled coil (HRC) prices and steel spreads accelerating over the past 12 months (see figure 1). The luck is certainly not shining on many miners at present who have built out capacity in anticipation of strengthening demand only for their projects to be completed just as demand for their products begins to subside.
Figure 1: Steel spreads at record lows - despite iron ore prices tumbling
Source: Morgan Stanley
The environment could be the lucky one
The Beijing Air Quality Index (AQI) has risen to over 15x the healthy limit in the latter part of 2015 with level 3 alerts (out of 4 levels) commonplace. The steel sector struggles to generate any cash and is likely to draw the ire of the Central Government who are acutely aware of the environmental impact of heavy industries on the health of its citizens. The pollution level is the equivalent of smoking 40 cigarettes per day for those living in Beijing.
This is a delicate balance for the Chinese economy and policy makers. They must balance their economic growth goals of 6.5%-7% p.a. with the needs of their people from both an employment and a health and well-being standpoint. China is changing its focus on improving the environment and the lives of the domestic population. The tone has been obvious from Beijing and the anti-corruption drive of the past 18 months has impacted not just corruption but project approvals and infrastructure development.
Demographic crisis
While all this has been happening, demographics have shifted unfavourably. China is facing a crisis within its population. The consequences of the One Child Policy introduced in 1978 are playing out and are likely to impact the real estate market more heavily. The key buying age group in China according to real estate company, Century 21 is the 20-30 age bracket. The decline in this population since the 1980s is stark and provides some concern for the residential property market.
The number of children born in the 1990s was 24% lower than the number born in the 1980s. More concerning is that those born in the 2000s were 36% lower than the 1980s. This has forced the relaxation of the One Child Policy starting Jan 2016, but China is facing a situation eerily similar to Japan with the consequences of limited economic growth considerably more consequential to the world economy than the slowdown in Japan in the 1980s.
The Chinese government does however, have aces up its sleeve. One of the benefits of a communist economy is its ability to control the transition. The government is likely to shift the stimulus focus towards consumer spending and individual wealth generation. A strong and robust secondary real estate market is essential for creating wealth. This is evidenced in Tier 1 and 2 cities like Beijing and Shanghai.
Existing home sales in Tier 1 cities now represent 70% of all sales, and the mid- to high-single digit annual price growth is an encouraging sign of increased wealth. This is likely to result in a rise in renovations, typical of what we see in the Western world. Companies exposed to renovations, as opposed to the raw materials for new housing construction, are likely to outperform in these types of environments. Paint, bathroom and kitchen fitting, electronics and furniture suppliers are all likely to prosper over the medium term as this area of the economy grows.
What is clear, however, is that the residential construction market, which once represented 20-25% of GDP, is no longer growing. Residential construction is expected to be a drag on economic growth in 2016 reflecting the collapse in property markets in Tier 3 and 4 cities. This is the heartland of Chinese manufacturing, where we are likely to see closures of heavy industry such as steel and aluminium manufacturing. The properties in these cities are around 25% larger than their peers in Beijing and Shanghai. They require considerably more steel and concrete in construction. Without any demand or funding for developers there is likely to be little construction activity. People are likely to move away from these towns towards bigger cities where service sector growth will stimulate job creation.
Figure 2: Property development halted in its tracks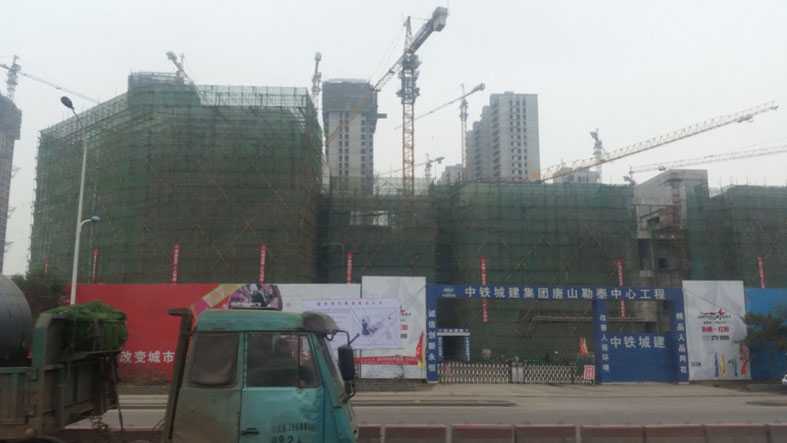 This is a typical Tangshan property development halted in its tracks. This is endemic of Tier 3 & 4 Cities construction weakness. 10 cranes are installed and there is no work happening.
Source: Nikko Asset Management Australia
Commodity prices in a downward spiral
The consequences for resource demand will be stark and we are presently seeing the impact of subsiding demand growth on commodity prices. Bulk commodity prices have fallen sharply as shown in figure 3 below as demand and financial solvency from customers fell. The China Iron and Steel Association estimates that almost 100% of the Chinese steel industry is loss making at a cash level (versus accounting). They need an injection of funds in order to buy inputs. Currently, this is being provided by traders on very short time horizons and murmurs have begun that mining company balance sheets are being used with delayed debtor payments (we will be keenly watching receivables balances of iron ore and coal mining companies during the February 2016 reporting season).
Figure 3: A horrid year for commodity prices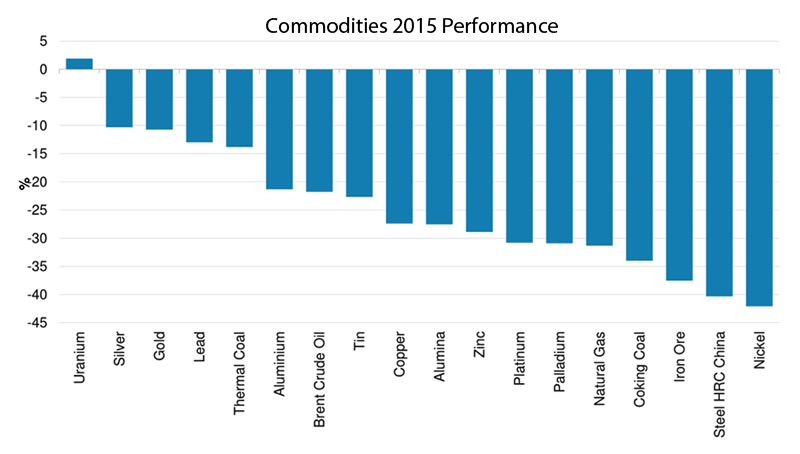 Source: Bloomberg, Consensus Economics, Morgan Stanley Research
Speculation is growing that come Chinese New Year in February, many loss-making mills will not re-open post their traditional closure at this time of the year. Industry feedback suggests up to 80 million tonnes per annum (mtpa) of steel making could be lost in 2016, in addition to estimates of a 40mtpa cut in 2015. This would result in over 10% of the Chinese steel industry closing - a mere step in the right direction of a long road to restructuring the Chinese economy. This would be positive for the global steel industry but it would be negative for coking coal and iron ore demand. Current utilisation levels in the high 60% range are unsustainable given steel mills need utilisation levels of over 85% to drive profitability and acceptable returns on capital.
The aluminium industry is marginally better. Cash losses are "only" confined to 80% of the industry but expected cuts to power tariffs will materially improve the economics of Chinese aluminium production to the detriment of non-Chinese supply. The forecasted shortage of bauxite, the mineral form of aluminium, from the Indonesian export ban of unrefined commodities has not eventuated. Bauxite is abundant and Malaysia has filled the void left by Indonesia. Alumina is a commodity caught in the middle and as a consequence its price has collapsed. As long as China can source bauxite to produce alumina, Western producers will be cut out of the market. Western production of aluminium will continue to decline as China swamps the world with excess product at low prices. The demand panacea is not coming and supply will continue to grow in both aluminium and alumina. Rio Tinto's approval of the South of Embley bauxite project in Weipa will further increase supply to China, further pressuring non-China alumina production.
Where once copper, zinc and nickel were thought to offer the biggest upside due to strong demand as China transitions from construction investment to consumer spending; the difficulties of a smooth transition are now laid bare. Consumption of many of these products remains in heavy industries. The roll-out of the electricity infrastructure was a large driver of copper demand. The current overcapacity in electricity supply has seen this dwindle, resulting in negative revisions to copper demand. Copper demand growth expectations have been reduced to a mere 1% while supply additions continue. Refiner margins for copper are growing as a result, with the impact being felt by the miners once more. Glencore's decision to continue to operate its Mt Isa copper smelter is further evidence of improving smelter economics due to excess copper concentrate. Copper needs industrial production growth not just in China, but also in the rest of the world. Anaemic developed world growth suggests this is not coming. Doctor Copper is not giving a favourable judgement of global economic growth at present.
Conclusion
China is making the transition from infrastructure and construction-led growth towards consumer-driven growth. The consequence is lower demand for commodities, particularly the bulk commodities of iron ore and coal. Overcapacity issues are likely to be addressed in coming years but this is not a painless process. We expect the impact to be a continued decline in demand for commodities that supply these industries. While the demand outlook for copper and aluminium is favourable in the next five years, the impact of lower construction is likely to offset the demand from the consumer sector. The largest upside risk to this view is that the Chinese government may announce a large stimulus spend like the 2008 RMB 4 trillion infrastructure spend, but this would likely to only be a short-term "sugar hit," which is well noted by policy makers in Beijing. The more likely outlook is for slower growth and weakness in the commodity sector. Supply responses are necessary from miners to deal with the demand shortfalls. This has not been a very conducive environment for improving commodity prices in past cycles.