The outlook for corporate earnings in Europe remains as murky as ever in spite of all the excitement around European QE and its impact on economic growth and earnings. Chart 1 shows the evolution of earnings expectations (in EUR terms) of European companies since 2007, with earnings expectations for each year ratcheted down as it became clear that a real economic recovery remained elusive. Those for 2015 were sliding lower too until they stabilized in February, just when the ECB announced its sovereign QE program.
Chart 1: Eurozone Earnings Expectations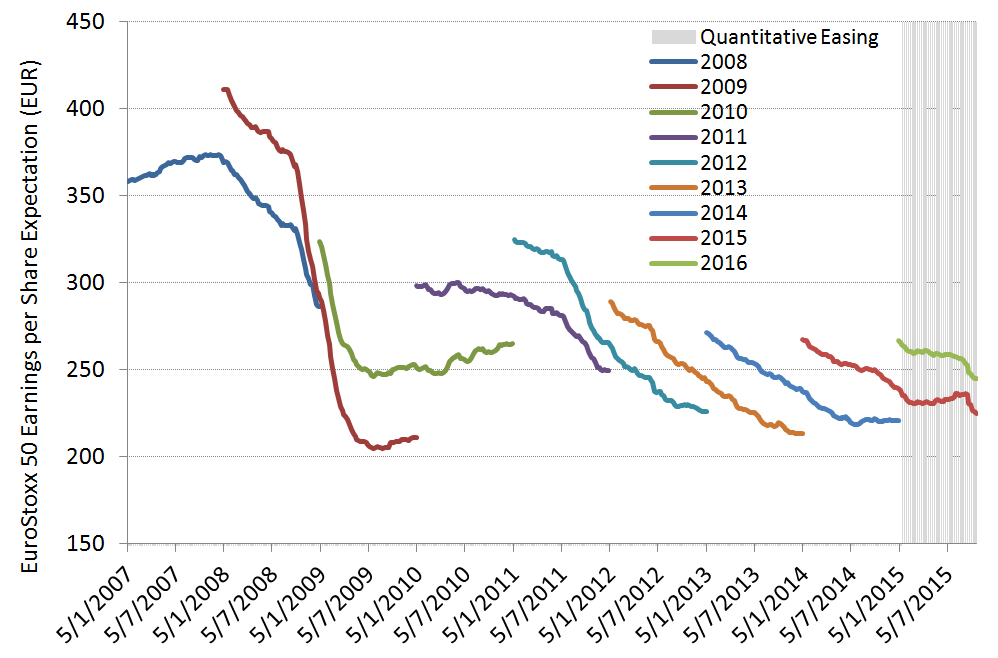 Source: Bloomberg
Chart 2: US Earnings Expectations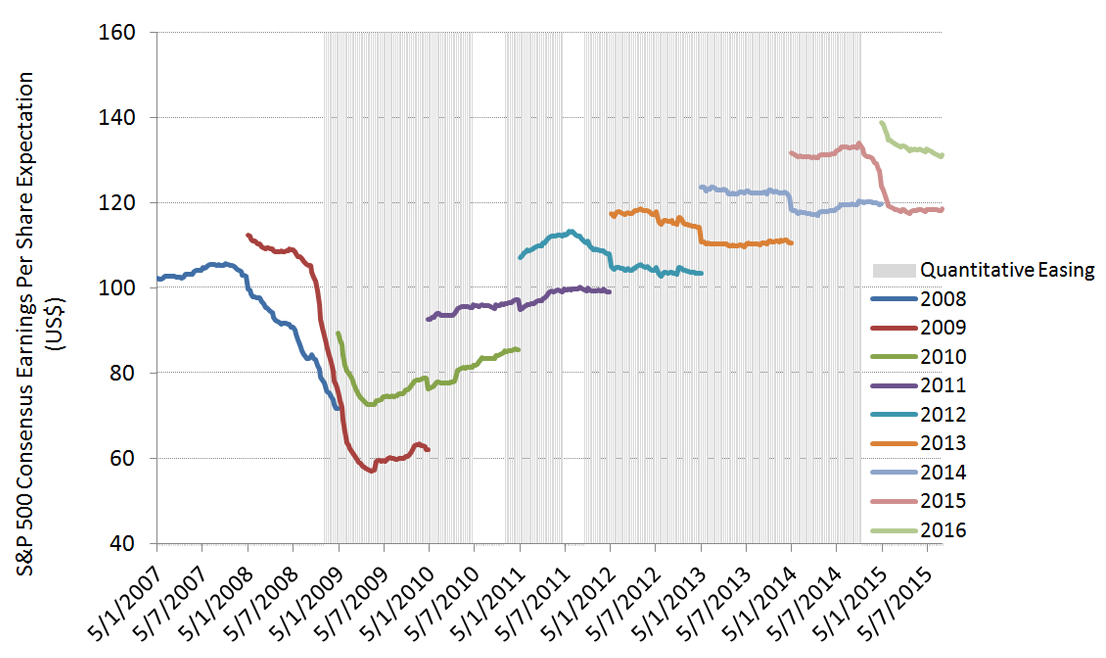 Source: Bloomberg
We discussed the possibility of a QE driven earnings recovery in Europe in a piece published just after the ECB announcement1. Drawing on the experience of QE and corporate earnings in the US we had concluded then that there were at least three channels through which QE could boost earnings in Europe:
a rise in inflationary expectations
increased export competitiveness from a weaker Euro, and
a revitalization of the European Financial sector
Our conclusion then was that while an earnings recovery similar to that seen in the US (see Chart 2) was possible it was certainly not a given. This is corroborated by the upturn in the 2015 earnings expectations line in Chart 1, but this trend reversed and such are now lower than at the start of the year. Clearly, a large part of this renewed bearishness is related to the Volkswagen scandal and its fallout on German exporters and continued low commodity prices. However, in this note we take a close look at developments in each of the QE channels mentioned above to test their effect.
Inflation expectations
Inflation and inflationary expectations have both been hard to lift given the strong disinflationary headwinds of lower energy prices, slowing global growth and weakness in global trade. The effective global monetary tightening caused by a strengthening US dollar and falling reserves of EM central banks has only added to the downward pressure on inflation. As shown in Chart 3 below, the market pricing of expected inflation in Europe rose in the immediate aftermath of the QE announcement. However, the downtrend resumed soon afterwards and continues to decline.
Chart 3: European Inflation expectations - 10 Year Breakeven Rates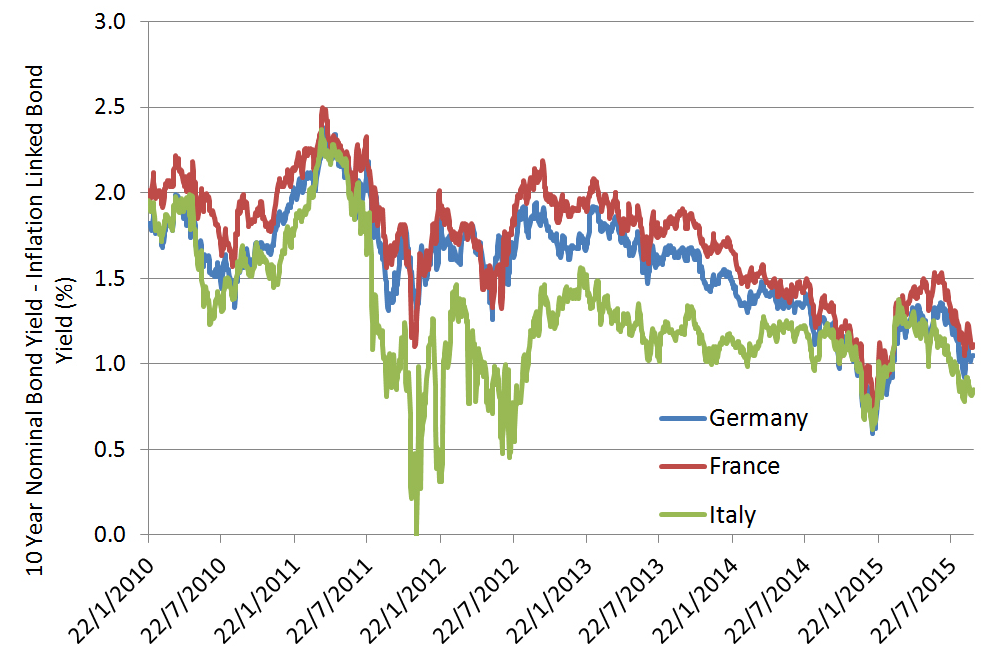 Source: Bloomberg
On the other hand, the announcement of each round of quantitative easing undertaken by the Fed was met with sharply higher inflation expectations in the US, as seen in Chart 4. The shaded areas highlight the periods over which QE, including Operation Twist, was employed.
Chart 4: US Inflation expectations & QE
Source: Bloomberg
However, even in the US, each subsequent round of QE lifted inflation expectations by a correspondingly smaller magnitude. It could well be that investors have become increasingly aware of the limitations of monetary policy to lift inflation (aka pushing on a string). Moreover, inflationary expectations most recently are in free fall in the developed world due to the deflationary headwinds blowing from China and the Middle-East. Slowing growth in China has reduced demand for industrial metals and the gpost-OPECh era has seen the oversupply in energy markets driven in no small part by the US shale revolution continue to weigh on energy prices. It is then little surprise that inflation has failed to tick higher. Indeed in our report from February we had opined that the inflation expectation channel, which is the most direct target of QE, may ironically be the least effective in providing the expected boost to consumption, growth and corporate earnings in Europe. This appears to have been a correct assessment.
Export competitiveness
The FX markets greeted the announcement of European QE with great enthusiasm. As shown in Chart 5, the Euro quickly fell by 10% vs. the USD to a low of 1.05 USD/EUR by mid-March and by 7% vs. the JPY to 127 JPY/EUR by the end of April. However, that also marked a turn in trend as, rather puzzlingly, the Euro has proceeded to gain around 8% from those lows against both the USD and the JPY. Recent price action and macro developments suggest continued strength in the Euro rather than a resumption of QE driven weakness. It is hence important to revisit the thesis connecting the exchange rate, export competitiveness and earnings recovery that we had laid out in our earlier piece. Further the question we also need to ask is whether an earnings recovery is still possible in the face of continued Euro strength.
Chart 5: Euro exchange rate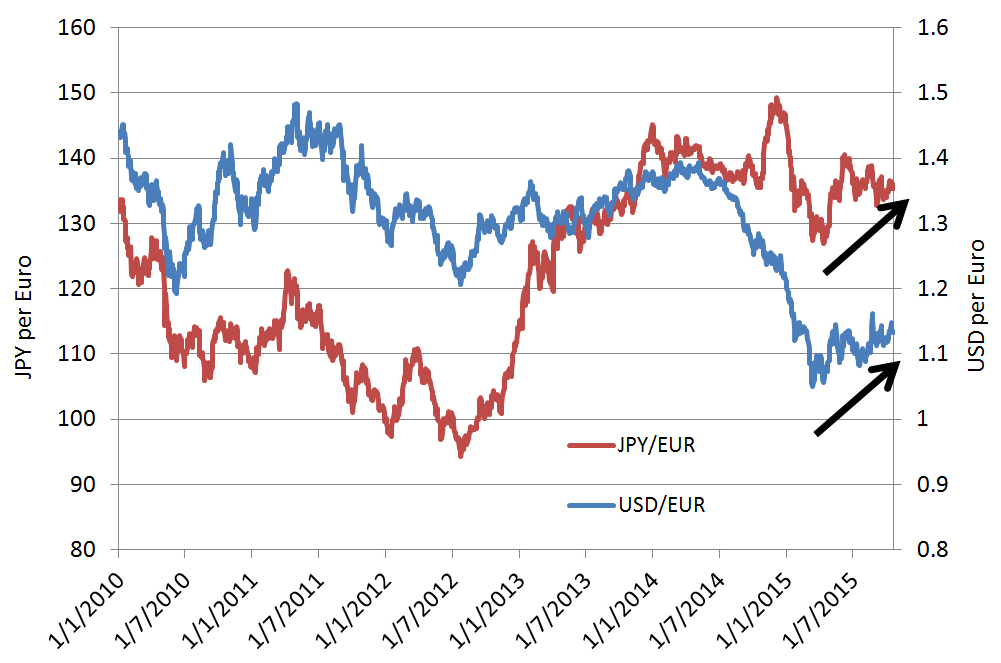 Source: Bloomberg
A weaker Euro makes European exports more competitive globally and hence is a positive impulse to both export growth and corporate earnings. Fig. 6 below shows the correlation historically of European equities as a whole, and at the sector level, with the EUR/USD exchange rate based on the last 15 years of data. In general, corporate earnings have been positively correlated with a stronger, not weaker, currency. This is driven partly by the fact that European earnings fell most sharply during periods when faith in the common currency was most shaken. However, the boost to earnings in the export oriented Consumer Discretionary sector (which includes German autos) from a weaker currency is still clearly evident.
Figure 6: EUR/USD exchange rate and European earnings
| | Correlation with EUR/USD | Beta to EUR/USD | % of Index |
| --- | --- | --- | --- |
| MSCI Europe | 47% | 5.1 | |
| Consumer Discretionary | -18% | -4.0 | 11.2 |
| Consumer Staples | 7% | 0.1 | 14.0 |
| Energy | 19% | 0.9 | 7.7 |
| Financials | 26% | 1.7 | 22.1 |
| Healthcare | -15% | -0.3 | 13.6 |
| Industrials | 15% | 1.2 | 11.1 |
| Information Technology | 1% | 1.3 | 3.5 |
| Materials | 0% | 0.0 | 7.7 |
| Telecoms | 4% | 6.7 | 5.2 |
| Utilities | 20% | 1.0 | 3.9 |
Source: Bloomberg, Nikko Asset Management
Chart 7: Europe Consumer Discretionary earnings and EUR/USD exchange rate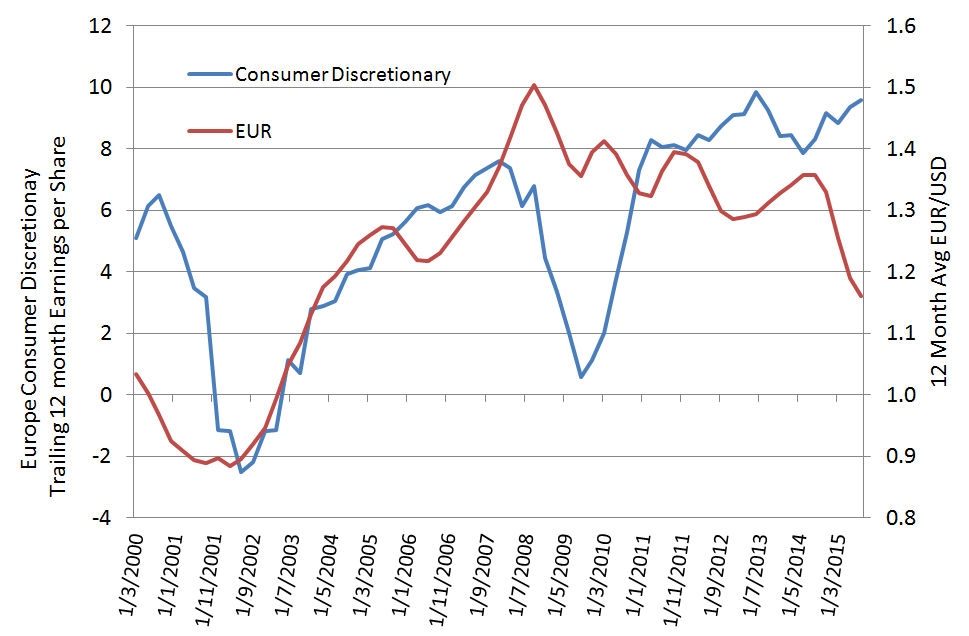 Source: Bloomberg
A weaker euro is a boon to the super competitive German automobile and industrial sector. Our correlation analysis at the country level indeed shows Germany to be a clear beneficiary of a weaker currency. However, given the different starting point in the level of competitiveness across Eurozone countries, the magnitude of exchange rate depreciation needed for supercharging export growth varies by country. Studies suggest2 that the German export sector needs only a 1.40 USD/EUR exchange rate to be competitive. This implies the German export machinery may have been rather ambivalent to both the weakening of and the subsequent strength in the euro seen this year.
On the other hand, the level of exchange rate needed by France to be globally competitive in its primary export markets is estimated to be about 1.2 USD/EUR while for Italy and Spain it might even be as low as 1.1 USD/EUR. As such while sustained Euro depreciation could have been a significant tailwind for Europe ex Germany exports and corporate earnings the reality is that QE so far has failed in achieving that objective.
We had feared this might be the case because of the threat of further competitive devaluations globally. The Fed has indeed ended up being more dovish this year than market expectations at the time of our previous note. China has delivered an unexpected RMB devaluation, as well. There are also increasing expectations of further easing from the BOJ. However, we also have some sympathy for the view that the 2Q rebound in the Euro may have been reflective of an inherently failing in European QE. A key mechanism relied on by QE is a lowering of bond yields, such that investors are forced out the risk curve and into other currencies. This has the effect of weakening the currency even without it being the direct objective of the policy, which of course makes it more palatable politically. European QE progressed in much the same way till the end of April as seen by the weakness in Euro and the decline in bond yields. However, the bond marketfs volatility at the end of April led to rebounding bund yields, a reversal in portfolio outflows and perhaps put the brakes on further Euro depreciation. To translate all of that back to the outlook for European earnings: the prospect of a weaker Euro driving an export led earnings recovery in Europe appear to be less bright than it did six months ago.
The European Financial sector
The financial sector is almost a quarter of European equities by market value. Hence a significant pick up in aggregate European earnings relies heavily on a turnaround in the fortunes of European financials. As shown in Chart 8, by 2012, financial sector earnings had fallen to a fifth of their pre-crisis earnings. They have recovered steadily since then with a particularly strong pick up seen in the last couple of years.
Chart 8: European earnings by sector since 2007 (Indexed to Base 100 at Dec 2007)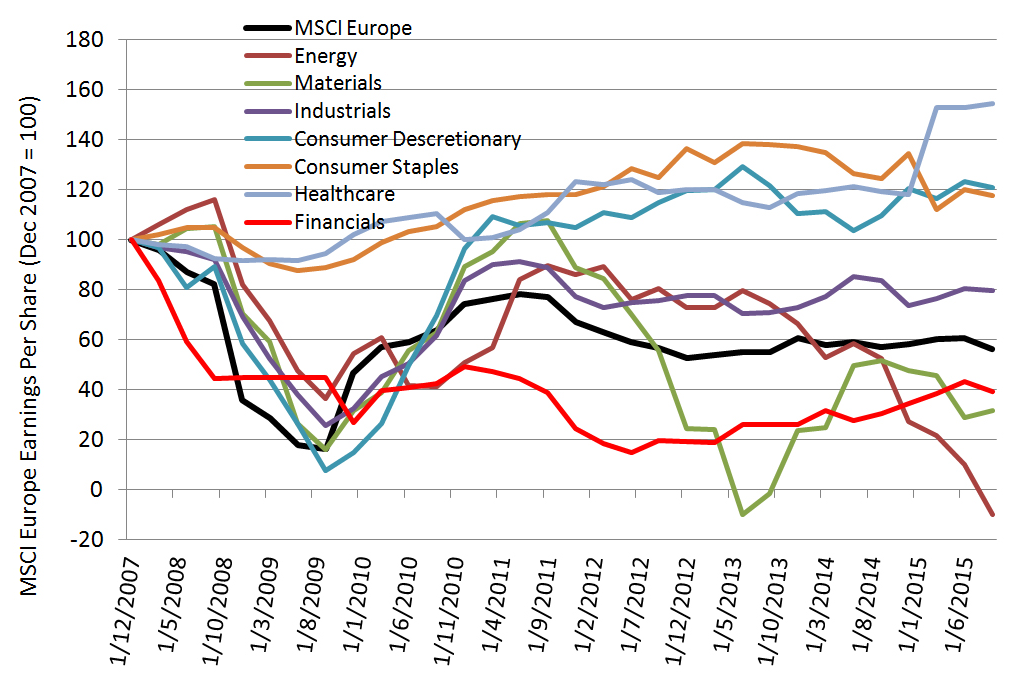 Source: Bloomberg
Under the European QE program the ECB is buying bonds from European banks at what may be artificially inflated prices and thereby effecting a backdoor recapitalization of the eurozone banking system. To the extent that restoring bank balance sheets would allow them to grow credit it would provide a further kicker to earnings of the banking sector. This would be similar to the experience in the US where the earnings recovery post-crisis was driven first by Financials before the baton was passed on to other sectors, including Energy and Technology as shown in Chart 9.
Chart 9: US Earnings Growth by Sector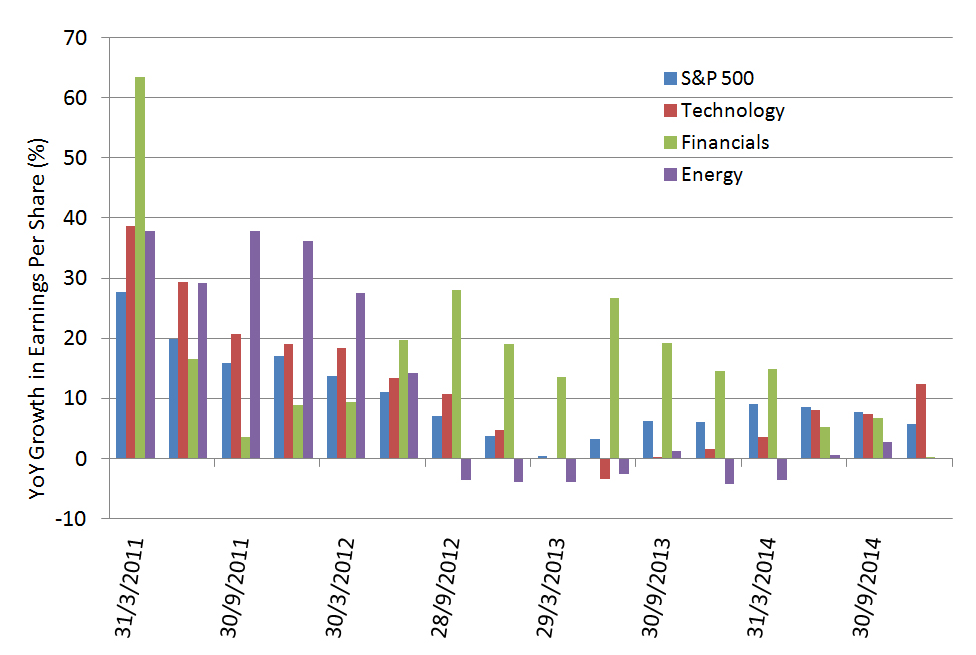 Source: Bloomberg
In the case of Europe, there would also be significant second order effects if credit starts to flow more freely through the real economy given the larger role that direct bank lending plays in the supply of credit in the Eurozone. The October 2015 bank lending survey3 conducted by the ECB confirmed that changes in credit standards and loan demand continue to work in tandem to support a recovery in loan growth. Banks reported a further net easing of credit standards on loans to enterprises (-4% vs. -3% previous) and on loans to households other than for house purchases which tightened. Italy witnessed the largest easing in credit standards. The survey pointed to a broad based improvement in the access to funding for the banking sector over and above the additional liquidity provided by the ECB from its asset purchase program.
The pick-up in lending is a significant validation of the effectiveness of the QE program. One of the main objectives of sovereign asset purchases is to lower the real yield to encourage greater demand for loans. This was the experience in the US in each round of QE (see chart 10). However the experience in Europe has again been slightly different. Much like with the FX, real rates in Europe first plunged on QE announcement but then bottomed out in March/April and hit highs for the year thereafter. It was only over the summer that they again started to retrace that move higher. It is encouraging that this see-sawing of real yields has not so far put a lid on credit expansion in Europe. However it is a risk that needs to be monitored closely over the next few quarters.
Chart 10: US Real Yields and QE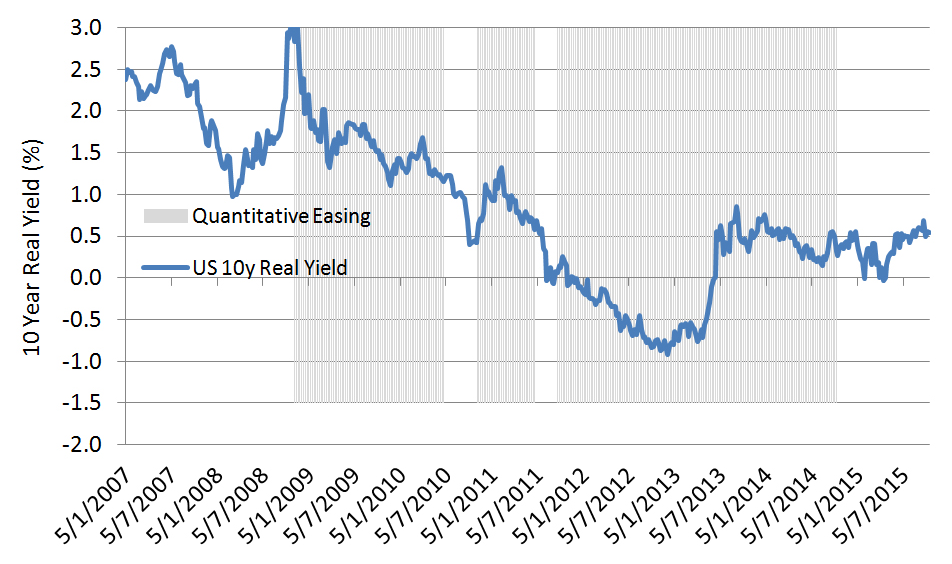 Source: Bloomberg
Chart 11: Europe Real Yields and QE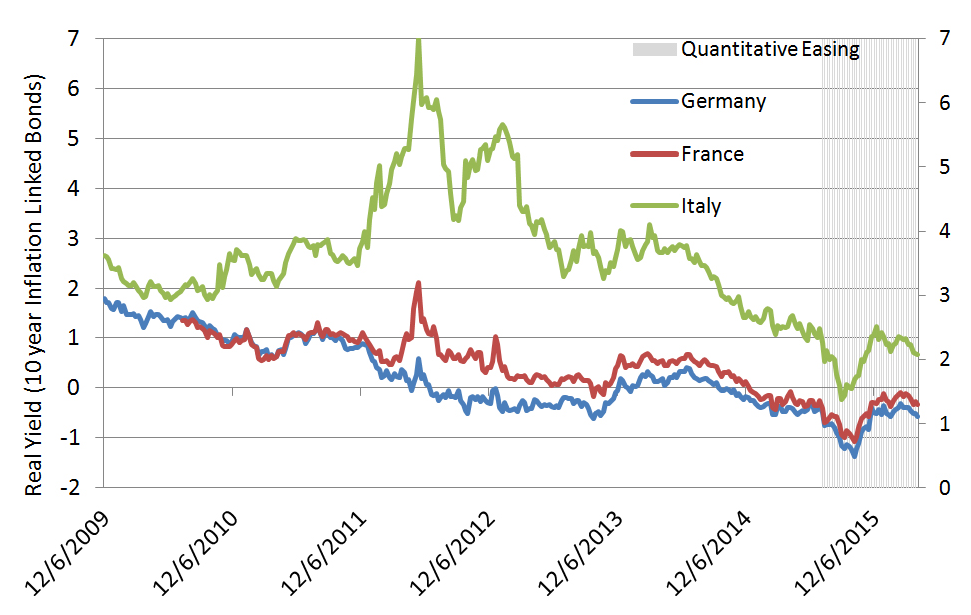 Source: Bloomberg
It is not unreasonable to expect these improvements in financial conditions to flow through in terms of increased economic activity, and hence corporate profits. Together with greater top line growth, profit margins in Europe too have room to expand because, unlike the US, European profit margins are neither at historical highs and nor are they exposed to the risk of higher wage inflation from a tight labour market.
Country divergences
Against this backdrop the release of third quarter earnings by European companies, particularly banks, will be closely watched. As Chart 12 shows earnings expectations have been declining across major European markets recently. However Italy is still seeing upgrades while Germany seems to be experiencing the sharpest reversal currently.
Chart 12: Earnings momentum - Italy, Germany and Spain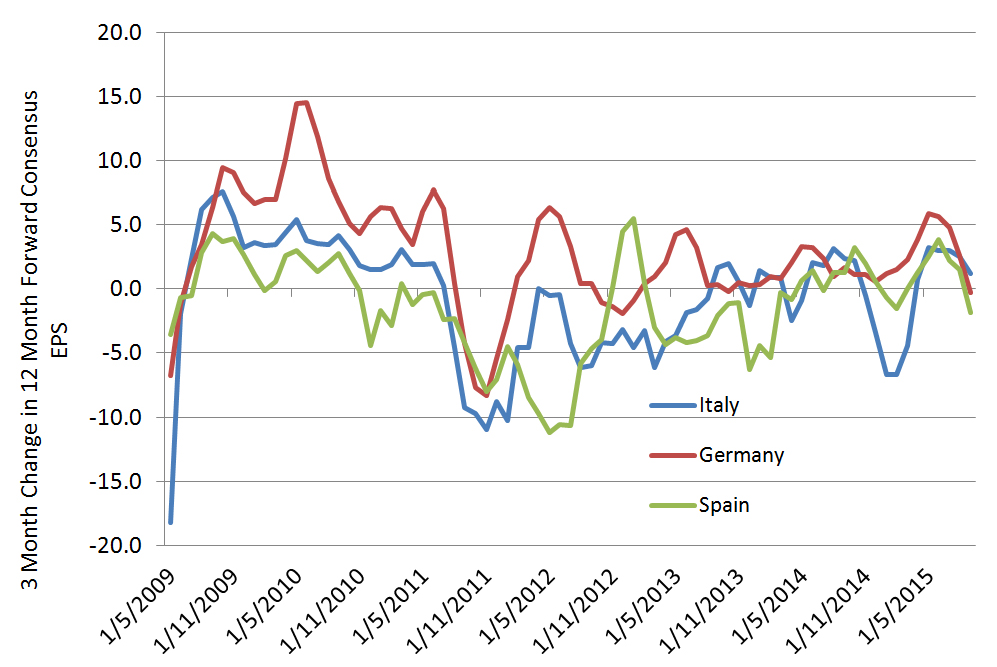 Source: Bloomberg
At the heart of this divergence lies a simple truth: eurozone countries do not all dance to the same beat. The benefits of a weaker euro to European exports is far more nuanced than say the benefits of a weaken yen to Japanese exports. The stalling of euro depreciation may not deliver an earnings bonanza to the periphery where a much lower currency is needed to be competitive. At the same time German exports while still competitive may reel for the next few quarters from the fallout of the Volkswagen emissions scandal. At the same time, a pickup in domestic credit and easing in financial conditions could lift earnings significantly in the periphery. Soaring consumer confidence and robust retail sales in Italy (see Chart 13) certainly point to this outcome.
Chart 13: Italy Consumer Confidence and Retail Sales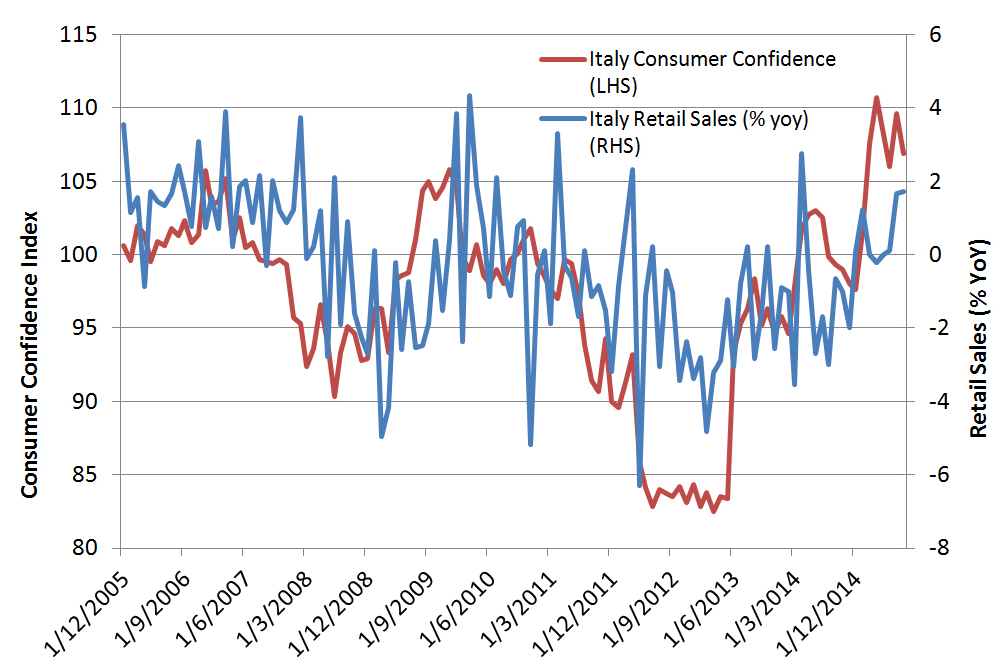 Source: Bloomberg
Sector divergences
A similar divergence is evident at the sector level across Europe. Earnings continue to remain weak across the Energy and Materials sectors but have started to come through in the Financials and Utilities sectors. The former remain challenged by continued weak commodity prices while the latter are beginning to see the benefits of a recovering domestic economy.
In Chart 14 we show the historical earnings growth for these four sectors for the last four quarters (3Q 2014 to 2Q 2015), consensus expectations for the current quarter (3Q 2015) and for the next four quarters (4Q 2015 to 3Q 2016). The drag on earnings from the Energy sector is expected to peak in the current quarter with earnings likely to fall around -55% compared to 3Q last year. Given the sectorfs 7% share by market capitalisation in the overall market, it would shave off almost 4% in earnings growth this quarter. This drag to earnings from lower energy prices and corporate profits is expected to level out at around -2% per quarter over the subsequent three quarters before returning to a positive contribution.
Chart 14: European Earnings by Sector- Historical and Consensus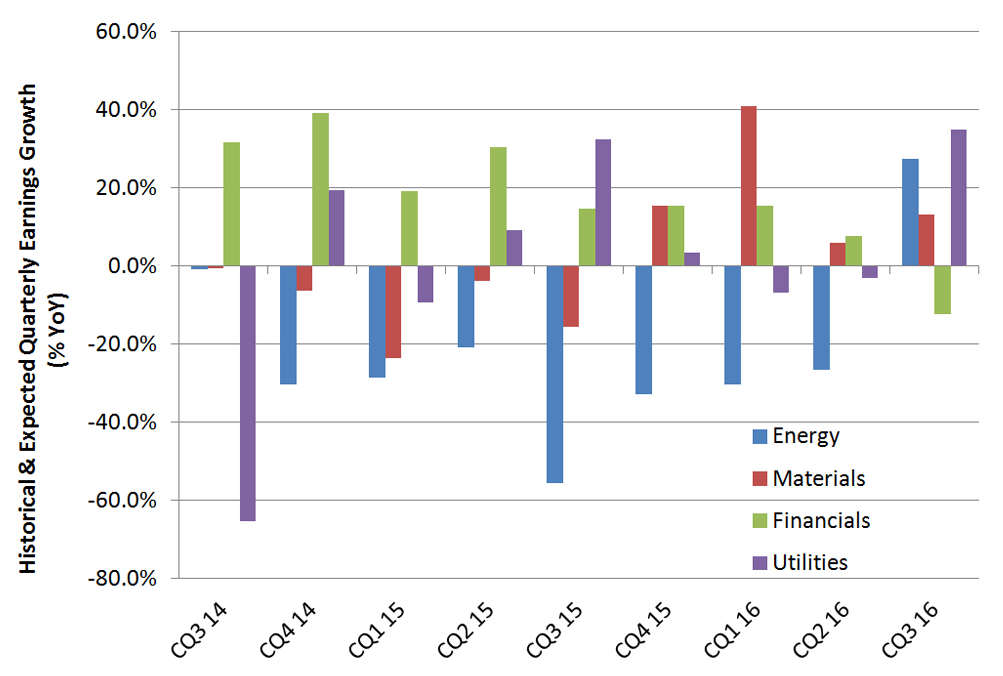 Source: Bloomberg
Conclusion
The volatility in European corporate earnings expectations this year suggests that the jury is still out on whether earnings are about to stage a turnaround. There are indeed several credible reasons to expect that QE will boost earnings though by not as much as in the US, and not through the same mechanism either. As an export led earnings recovery looks increasingly unlikely the domestic engines of growth will become significantly more important drivers. The news on that front is mostly positive but the risk of disappointment relative to inflated expectations remains high.
1Will European QE deliver on earnings expectations, February 24, 2015
2QE: Competitive Devaluation, or Stealth Bank Recapitalization, Gavekal Dragonomics, January 27, 2015
3The euro area bank lending survey for Third Quarter 2015, European Central Bank, October 2015