Developed and emerging markets in Asia ex-Japan have clearly been under tremendous pressure in recent months, including redemptions of more than USD 50bn from the region in September, the heaviest ever witnessed.
The sell-off pushed valuations of MSCI Asia ex-Japan towards all-time lows, with a trailing Price-Earnings Ratio (PER) of 9 and Price to Book at 1.1x, levels seen only three times before; during the Global Financial Crisis (GFC), the Asian Financial Crisis (AFC) and the Severe Acute Respiratory Syndrome (SARS) Crisis. On all these occasions, markets performed strongly over the following twelve months. We believe this will happen again for the following reasons:
The debt-fuelled US housing bubble and inflexible Asian currency regimes were arguably the forces behind both prior financial crises, while in 2003, the fear of a SARS epidemic causing a severe contraction of economic activities led to a collapse of the markets. In all three instances, Asian markets bottomed around the 1.0-1.2x PBR.
We find these historical lessons instructive as recognition of a notional minimum for the region's corporate value during various crises. The current market malaise can be greatly explained by increasing realisation that China's slowing growth will begin to seriously impact the world. That thought was given further impetus on August 11th when the People's Bank of China (PBOC) unexpectedly weakened its daily CNY fixing by nearly 2%. Worldwide condemnation of China starting a currency war was as swift as the rise in investors' fear following the clumsy explanation by the Chinese authorities. As we will explain further in this article, that currency move was not an attempt to salvage what many thought to be a fast-contracting Chinese economy.
On balance, the sell-off has been too severe, discounting a scenario of depressed economic growth akin to the GFC and AFC and prolonged fears of the unknown as in the SARS outbreak. We believe the current challenges are more manageable particularly with the availability of both fiscal and monetary tools.
Furthermore, we continue to view commodities as being in a long term structural bear market and, as such, believe that Asia ex-Japan, as a net commodity importer, will continue to benefit from lower commodity prices and outperform its global emerging markets peers. This tailwind together with monetary easing and structural reforms in two of Asia's major economic powerhouses, China and India, should lead to superior investment returns for investors.
Chart 1: 1-Year Market Performance of MSCI Asia ex Japan versus Emerging Markets versus All Country World Index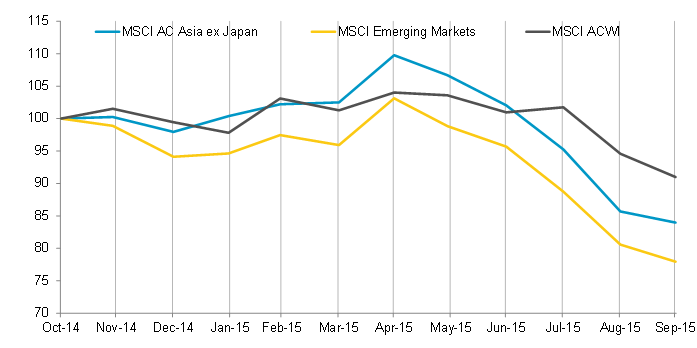 Source: Bloomberg, 30 September 2015. Returns are in USD. Past performance is not necessarily indicative of the future performance
Chart 2: MSCI Asia ex Japan versus Emerging Markets versus All Country World Index Price-to-earnings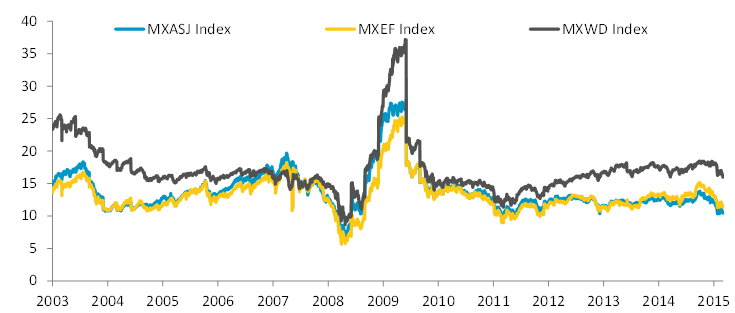 Source: Bloomberg, 30 September 2015. Returns are in USD. Past performance is not necessarily indicative of the future performance
Within Asia ex-Japan, our favourite markets remain China and India, where we see the greatest potential for steady investment returns. We remain cautious on ASEAN but also believe the recent sell-down has opened up a good buying opportunity in the medium term.
India offers one of the best structural growth opportunities in Asia over the medium term. The country is a significant beneficiary of the collapse in oil price which has helped lower input costs for many corporations and brought the current account deficit back down from -5% to -1.4% of GDP. In addition, consumer price inflation remains below the Reserve Bank of India's (RBI) target for the year indicating further room to relax monetary policy if necessary. India's latest RBI 50 bps interest rate cut clearly reinforces this and put the ball firmly in the government's court. Government reforms will also continue, which should in turn drive a higher, sustainable growth trajectory as evidenced by the recent willingness to tackle long-standing, tricky structural issues pertaining to the financial position of the State Electricity Boards and Public-sector banks.
The India market, relative to peers in Asia, does not appear attractive at 2.7x forward P/B when viewed through a valuation lens. But, what is noteworthy is that although nominal GDP growth over the last decade has ranged from as slow as 8% to as high as 24%, the ROE of companies listed on the Bombay Stock Exchange (as measured by the SENSEX) has been remarkably stable, ranging between 16.5% and 18.7%. What this reflects is the ability of corporate to manage growth and profitability through macro volatility. It is therefore less surprising to note that the SENSEX has rallied from an average of 8,000 to 27,000 over that time period. A confluence of cyclical and structural factors, both macro & micro, will underpin the country's growth prospects and should drive an improvement in ROE and consequently, investment returns.
Chart 3: MSCI India Index Trailing Price-to-Book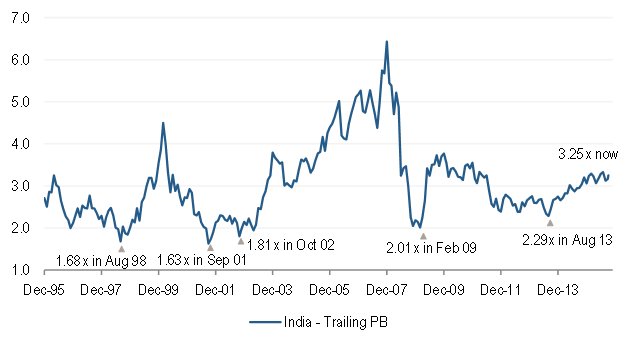 Source: Credit Suisse, 30 September 2015
China has endured a very volatile summer. While the pace of reform initiatives continues at a high pace, communication to the market has led to confusion and excessive share price fluctuations. We view the PBOC's move to devalue the RMB as a policy reform initiative to move to a more market driven exchange rate in order to satisfy the IMF's requirements for reserve currency status. We also doubt this move is the start of a large scale devaluation to boost exports and start a currency war. Reforms remain high on China's agenda and the recent moves by the PBOC to remove rate caps from longer-dated term deposits continue to support China's transition towards full interest rate liberalisation and a more market orientated economy.
From a P/B valuation perspective, things have never looked more attractive than today. MSCI China's P/B of 1.2x is significantly below the 2008 low of 1.5x and comparable to the troughs in 2000 and 2003. The investment case is even more compelling when one considers the improvement in investment returns (ROEs from<10% in early 2000s to 13-16% since 2008) due to China's reform and economic rise since 2000. With the prospect of further economic reforms and a more sustainable growth trajectory as China transits from an investment led economy to a consumption-led market, we consider current valuations very attractive.
Chart 4: MSCI China Index Trailing Price-to-Book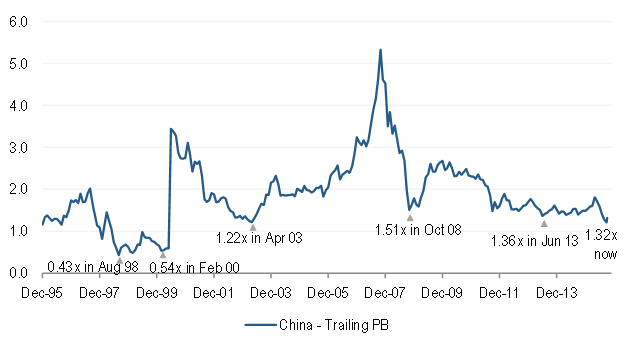 Source: Credit Suisse, 30 September 2015
Finally, ASEAN has bore the brunt of intense selling and redemptions by global investors in recent weeks. There has been much discussion of a repeated AFC amid the deterioration in the geopolitical landscape. ASEAN's high debt accumulation in recent years and weakening of current accounts are raising concerns about the region's ability to withstand a future exodus of capital.
We believe these fears are unwarranted. There are very clear and important differences between ASEAN today and the AFC of 1997-1998. Capex-to-GDP ratios were significantly higher then and were instrumental in causing the financial crisis by misallocating capital towards unproductive sectors of the economy. Also, there are fewer warning signs today with regards to domestic excesses and external debt. Another positive is that external accounts and FX reserves are much stronger today as compared to then, and currency regimes in ASEAN are more open and liberalised.
From a valuation perspective, we believe the recent decline has discounted the bulk of these concerns. For example, Singapore's P/B fell close to 1x, which is near the 2008 market lows and only a tad higher than the AFC. Likewise, Malaysia's P/B of 1.6x is also close to the 1.5x during the 2008 lows. The exception is Indonesia where current P/B of 2.4x is 15% above the lows in 2008. We believe the sharp sell-down offers investors a good buying opportunity in the medium term as the long term positive structural drivers in ASEAN remain intact.
Chart 5: MSCI Singapore Index Trailing Price-to-Book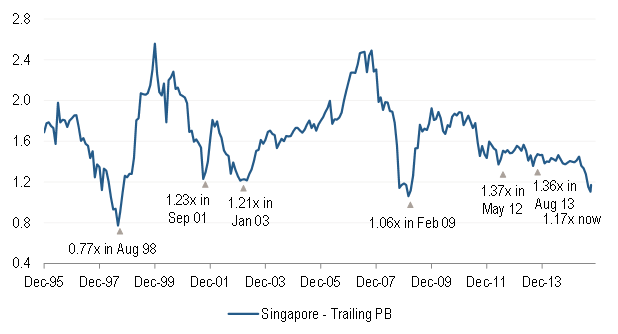 Source: Credit Suisse, 30 September 2015
Chart 6: MSCI Malaysia Index Trailing Price-to-Book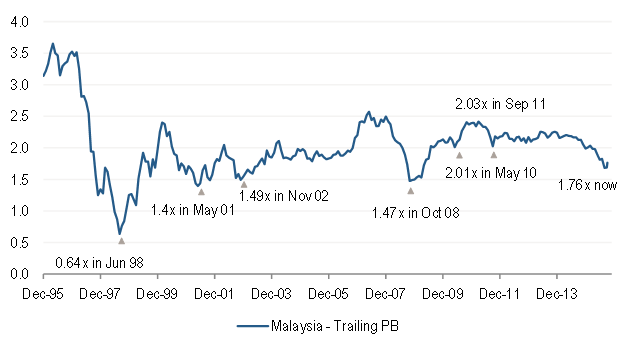 Source: Credit Suisse, 30 September 2015
Chart 7: MSCI Indonesia Index Trailing Price-to-Book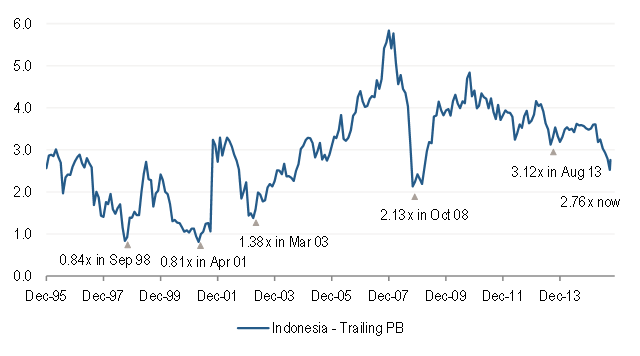 Source: Credit Suisse, 30 September 2015
In summary, we remain constructive in Asia ex-Japan and consider the September sell-down to trough P/B levels as a one of the best buying opportunities in Asia in recent years. The risk to our call is primarily related to systemic global factors, like a global economy crisis or a major geopolitical upheaval, which seem unlikely in our opinion.