Women's participation in the workforce is vital to Japan's economy
Growth strategy already includes promoting women and enhancing childcare facilities
Expectations for additional policies from Abenomics 2.0
Women's participation in the workforce is vital to Japan's economy
With Japan's working population projected to decrease at an accelerated pace, female participation in the workforce is vital to the country's economic growth. Foreign investors are watching closely as to whether Japan will bolster its immigration policy or not, but Prime Minister Shinzo Abe does not have a proactive stance toward bringing in immigrants, apart from highly skilled professionals, to increase the population. As such, the participation of women and healthy seniors in the workforce is an important societal and economic policy.
Chart 1: Economically active population, Female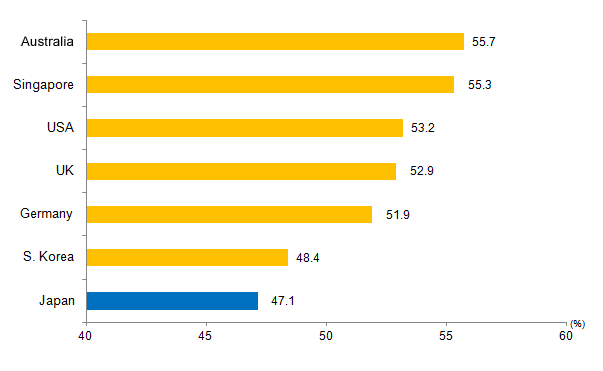 Source: ILO, Statistics Bureau Japan
Attention is now being paid to the realization of new policies related to the "New Three Arrows" that Prime Minister Abe announced as the President of the Liberal Democratic Party of Japan. The workforce participation rate of women in Japan (economically active population rate) is relatively low among developed nations. While this deviation is certainly due to differences in culture and values, there is a great deal of room for the rate to go up in the future.
Interestingly enough, the Japanese government set a policy goal in 2003 of "increasing the share of women in leadership positions to at least 30% by 2020". This is an interesting fact because very few Japanese citizens are aware of this target at all. Haruko Arimura, diet member and Minister in Charge of Women's Empowerment, vowed in a speech to investors on June 29 that the policy goal will be "made mainstream" within 2.5 years. Each government office, agency, and ministry will reflect this into their budgetary requests and strive for concrete policy results.
Growth strategy already includes promoting women and enhancing childcare facilities
The "Bill to Promote Women's Active Participation", which was included in last year's growth strategy, passed the Upper House of the Diet and came into effect on August 28. The bill was created to establish an environment in which women can, in accordance with their wishes, have an active work life and perform to their fullest. The bill will make this possible by obligating companies with 301 or more employees to select indicators – including the ratios of women hired (including in management positions), the number of consecutive years of work, and working hours - and to publicize their targets and progress from April 2016. This has been deemed an effective method for achieving the target of "30% by 2020". Incidentally, the ratio of women in positions of section manager or higher in private companies was estimated to be 11% in 2013.
Chart 2: Economically active population by age group, Female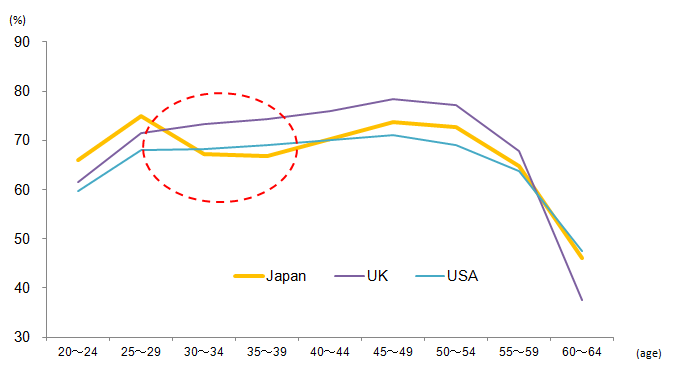 Source: ILO, Statistics Bureau Japan
Admittedly, the "System to Promote Women" (subsidies granted to companies with a certain number of women in management positions) that was established in 2014 has not been utilized much at all. Most certainly, compulsory training posed a high hurdle for firms, but one reason why such policies and systems aren't used is that the companies aren't aware of them.
On the other hand, Japanese women have tended to stop being economically active in their 30s to a greater extent than their UK and US counterparts, creating the shape of an M in the chart above. There are countries with even larger "M-curves" in this phenomenon, so while it can be said that differences in culture and values have contributed to this, it also indicates the fact that it is difficult for Japanese women in families with children to work even if they want to. That said, the government has established the "Acceleration Plan for Reducing Wait-listed Children" and the "Nursery Teacher Recruitment Plan" in order to increase the number of childcare facilities and workers, and also established the "Comprehensive After-School Childcare Plan" for elementary school students. In actuality, it can't really be said that increasing the number of childcare facilities will quickly alleviate waiting lists, because the number of working women and children will also probably rise. However, this is an important policy for women to participate in the workforce.
Expectations for additional policies from Abenomics 2.0
Prime Minister Abe announced the second of his New Three Arrows, "dream-inspiring support for child rearing", in which he aims to eliminate all waiting lists for childcare facilities and further dispense with fees for early childhood education. Of course, this can be achieved very quickly if the finances can be procured, so the arrow's realization will most likely come down to a matter of priority compared to other policies.
In the meantime, deliberations on revising the tax system will be held at the end of the year, and the participants are likely to discuss increasing tax revenue by retooling tax deductions for spouses (if the annual income of a spouse is ¥1,030,000 or less, ¥380,000 is deducted from the income) and incentives to increase the number of hours women work. It is hardly guaranteed that doing away with spouse tax deductions will increase tax revenue, as there are proposals to establish married couple deductions in order to avoid a rise in income tax. Nevertheless, if the childcare-based measures to make it easier for women to work are effective, spouse tax deductions will be less justifiable going forward.
In conclusion, there is an admirable effort to improve the female participation rate, but it is too early to judge whether the measures will have a major effect. There is, however, some hope for improvement and we expect additional measures will be taken to accelerate this effort, which should add to Japan's economic activity in the future.