In May 2014 India elected Narendra Modi as Prime Minister in an election which delivered an unexpected majority to the Bharatiya Janata Party (BJP), the first election since 1984 to deliver an overall majority to a single party. The result heralded a significant turning point for India with the new government being seen as having a mandate for change.
This change has taken the form of a range of reforms focused on slashing bureaucracy, improving logistics and increasing efficiencies within the economy, improving infrastructure and modernising key sectors such as agriculture. India is currently ranked 142 out of 189 countries in the World Bank's 'Ease of Doing Business' rankings and the government has set an incredibly ambitious target of being within the top 50 within two years.
Between its October 2014 and April 2015 World Economic Outlook reports the IMF significantly upgraded its growth forecasts for India both historically (to reflect recent GDP revisions) and for the coming five years to 2020. These forecasts now anticipate growth averaging over 7.5% through the next five years, resulting in a heightened surge in Indian GDP.
IMF GDP Forecasts: India (in % terms)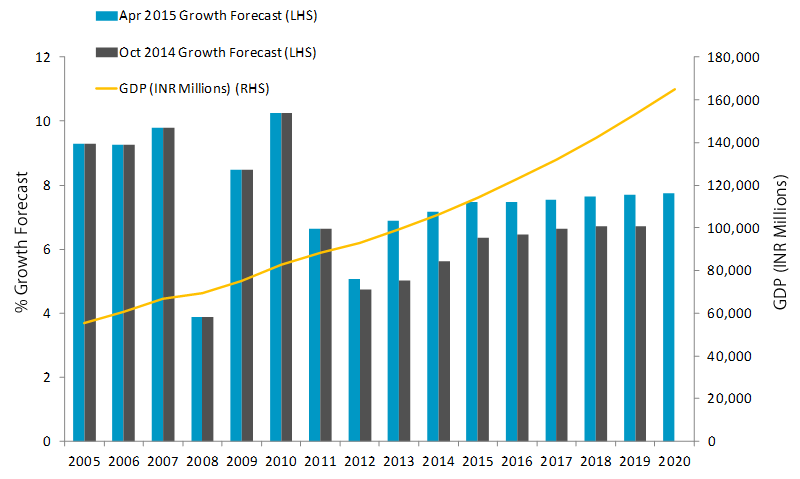 Source: IMF
Simon Down, one of our fixed income portfolio managers, recently travelled to India to meet with the government and central bank (RBI), and assessed the progress being made in the country. He also met with Andrew Holland, CEO of Ambit Investment Advisors, Nikko Asset Management's joint venture with Ambit Investment Advisory. The following text cover an exchange between the two fund managers on key issues now facing the market.
Simon: Although the wide range of micro reforms carried out so far are impressive the main bills such as the Land Acquisition Bill and GST Bill have struggled to progress. What are your views on the upcoming session of parliament and the likelihood of these or other reforms being passed?
Andrew: The impending parliament session is likely to be turbulent to say the least. We expect progress on the GST bill, however it is difficult at this point of time to ascertain if it will be passed in its entirety. The multiparty GST panel has finalized its report and shall table its report in the forthcoming parliament session. Consensus on most of the issues has been reached but the main opposition party has yet to be convinced on some issues.
On the land bill, we do not expect movement in the July parliament session. The Joint Committee of Parliament examining the land bill has yet to submit its report due to lack of consensus among panel members. With a crucial state election round the corner (in Bihar), this report is most likely to be tabled only in the November session of the parliament. There is currently talk of allowing States to ink their own land bill with approval by the centre and whilst a positive, would face significant legal hurdles.
Simon: It is disappointing that the land bill looks likely to remain bogged down in the system. An encouraging move though is the government's re-launch of InvestIndia which is a government agency set up to promote and guide foreign investment into India. This gives foreign investors a single contact point which then creates competition between the individual states to offer land and infrastructure for investment. So for foreign investment and FDI the land bill is less important than previously, but it would still be a big boost for domestic investment if it can be passed at some stage.
The central bank and government are to work jointly to bring inflation downwards on a medium term basis, but the monsoon is a major factor in Indian inflation. What would be the impact of a poor monsoon and what action would you see being taken?
Andrew: Monsoons until now have not been as bad as initially thought and we could see average crop output for the year, with sowing trends indicating normalcy. However, progress of the monsoons has been poor in July and the rest of the month will be key to conclude the output levels with certainty. The government's response to poor monsoons and inflation control has been proactive and we have precedence of this with the response to poor monsoons last year. The RBI's response is the one most eagerly awaited at each monetary policy review. If the monsoons are below normal and impact aggregate output, we could see populist measures from the government (such as bank loan waivers) and easing of lending regulations by the RBI towards the agricultural sector.
Simon: One of the most impressive aspects of my investor trip was to see the clear co-ordination between the RBI and government. If the monsoon does force up food prices, then I would expect the government to release strategic food reserves and increase imports to counter any supply shortages.
India's infrastructure plans over coming years are huge and are going to require enormous funding from both the state and private sectors. Are there any signs yet of a pickup in government spending and greater movement on the backlog of projects? Regarding the private sector side what is the current ability of the banking sector to finance these projects? What other sources of private sector finance do you think will be key?
Andrew: On infrastructure spending plans, the most recent update on order awards should give an indication of the government's intention. Order awards in June 2015 were US$ 5.2 bn (vs. average levels of US$ 2.7 bn in last twelve months). We are definitely seeing faster order flows as well as implementation of projects. Private sector banks are in the best position to finance infrastructure projects, whether private sector or public due to their strong balance sheet position. However, having said that, these banks are likely to be selective in doing so. We believe that the government will further liberalize external borrowings by both banks and private sector companies in order to fund infrastructure projects.
Simon: This is a key factor for monitoring and there is a lot of interest from Korea, Japan and China in taking part in these projects. If the government does make it easier for investors to enter this market and comes up with some clear paths for investment then FDI should benefit significantly. We'd expect the RBI to continue to counter these inflows though; they have raised FX reserves by $100bn and could well take them up to $500bn, a $250bn increase from the lows before they feel comfortable.
Despite all the good news on the economy corporate earnings have yet to pick up? When do you see earnings starting to gain momentum and what is your view on equity market valuations currently?
Andrew: We expect green shoots in corporate earnings to emerge in the July to Sept quarter. We are already seeing signs of increased order booking which will translate in to higher earnings for industrial and capital goods sectors in the September quarter. Potential rate cuts driven by a global deflationary environment should further give an impetus to the economy and corporate earnings. While the index valuations (12mth forward P/E) at 16.5x are higher than the 10 yr average of 15x, when adjusted for consumer, pharmaceutical and IT stocks, the broader market valuation is closer to 13.5x, which in our view is reasonable.
Conclusion
Simon: The policies being pursued by the current government are setting the backdrop for a radical transformation of India in coming years and it does appear that India will now at last realise its true potential. This will transform the global presence of the country on an economic, political and military level. There is still a question mark though over some of the key policies and whether they can be implemented, with investors worrying that the infamous Indian bureaucracy will win in the end.
Andrew: Although the focus of investors is the passing of the land acquisition bill as a means to unleash PM Modi's "Make in India" initiative, we feel too much emphasis is placed on this issue. Indeed, the majority of foreign CEOs we meet see India as the next engine of growth from China and therefore looking beyond just manufacturing. Over the past week PM Modi has launched "Digital India" and "Skill India" which has attracted significant global interest and we expect significant FDI in both sectors. Already venture capital companies are investing heavily in the digital space and the India stock market regulator SEBI is easing funding and listing norms for the sector.
Simon: I also look at India and ponder the implications of what is happening for future world growth. Political risk is increasingly important for emerging markets but as the world's largest democracy and with sound political institutions, India will not have to go through the adjustment process that China will need to endure as it moves to greater democracy in coming decades. So if progress on reforms can be made within India in the short term, the medium term outlook is more secure than China. Economic growth and reforms should then offer significant opportunities for investors in coming years.
Andrew: Overall, we expect the govt focus to remain on attracting FDI flows which in turn will help bolster GDP growth rates going forward. This in turn will lead to high corporate earnings growth as both operating and financial gearing kick in, likely making India a long term "overweight" for the majority of fund managers.
Simon: Thank you Andrew, let's update this conversation again in a few month's time.