There is a looming concern that when the US begins to hike rates later this year (or early next year), divergent policy from the rest of the world could reassert dollar strength, thus weighing on commodities and other risk assets, as occurred in 2014. Clearly, there were many powerful drivers behind last year's adjustment. In this article, we examine the adjustment through the lenses of policy transition and commodity supply and demand to assess the likelihood of these adjustment forces re-emerging. Lastly, given the significant compression in bond yields in 2014, we consider the risk that even small rate hikes may lift long term yields more than markets expect.
Central Bank Policy Transition
Since the crisis of 2008, central banks have supported asset prices, both directly through asset purchases and indirectly through liquidity. Given the significant transition in policy over the last year, we consider whether the transition itself may have contributed to volatility and the velocity of price adjustments.
In Chart 1 below, we compare commodity prices to the dollar which are typically inversely correlated. From June 2014 through January 2015, we witnessed unusual dollar strength mirrored by a collapse in commodities. Dollar strength was chiefly attributable to divergent policy and relative economic strength, while commodity weakness was attributable to oversupply and weak demand. Nevertheless, the degree and speed of these synchronous moves suggest a significant liquidation by leveraged players. In light of the reduction of U.S. quantitative easing (QE) over the course of 2014 and before Europe launched its own QE program, we look to central bank balance sheets to explore whether a pause in liquidity support might partly explain this large liquidation.
Chart 1: Commodities vs Dollar (inverted)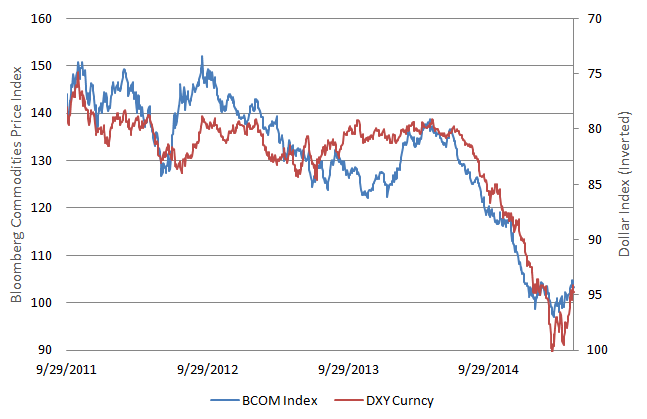 Source: Bloomberg
Chart 2 depicts the rolling 3-month average change of the world's largest central bank balance sheets.1 The bars above zero indicate balance sheet expansion and bars below zero indicate contraction.
Chart 2: Change in Global CB Balance Sheets (Fixed Exchange Rate)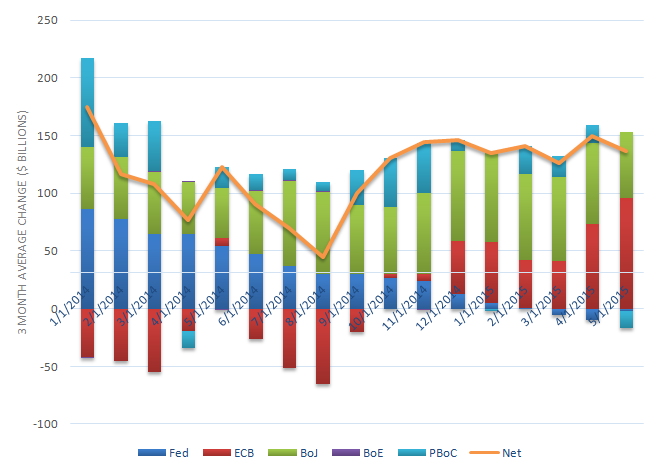 Source: Bloomberg
Throughout the first eight months of 2014, aggregate balance growth declined from approximately $175B a month in January to less than $50B in August. Tapering of the Federal Reserve (Fed) QE program was well-anticipated, but there were two other dynamics perhaps less well understood.
First, there was a meaningful contraction in the ECB balance sheet during the first 9 months of 2014. With more than €1 trillion in bank loans coming due in late 2014 and early 2015 under the LTRO program, the ECB implemented alternative loan programs, but they were simply overwhelmed with LTRO bank repayments causing the balance sheet to contract more than anticipated.
Second, PBOC's balance sheet growth weakened. As opposed to other central banks that have grown their balance sheets through asset purchases (QE) or direct loans (LTRO), the PBOC's balance sheet's change in size is a function of its current account and capital flows. The current account has remained consistently positive, but in 2014, the capital account shifted from positive to negative, reducing balance sheet growth.
Individually, these developments might have been more easily absorbed by the markets, but together the withdrawal of liquidity support was impactful, and central banks reacted with force. By the autumn of 2014, China's easing lent support to equity markets, helping reduce net capital outflows which boosted the PBOC's balance sheet, while the ECB's balance sheet found support through increased QE expectations. Also, at the end of October, the BOJ announced a significant increase in QE.
Despite a pick-up in balance sheet growth in local currency terms, aggregate balance sheets actually still contracted in dollar terms. Chart 3 compares aggregate balance sheet levels with expected inflation (10 year break-even rates) for the US, Europe and Japan.2 While central banks generally seek to expand balance sheets to increase inflation expectations and reduce real rates to stimulate growth, it appears that balance sheet expansion was overwhelmed by dollar strength, continuing to weigh on inflation expectations.
Chart 3: Expected Inflation vs Global CB Balance Sheet (in USD)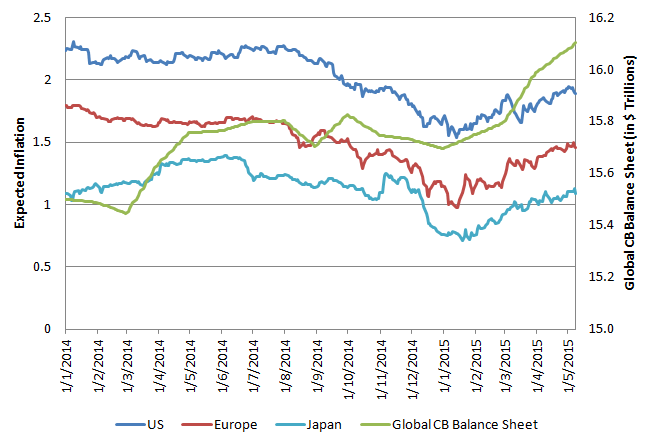 Source: Bloomberg
Since February 2015, inflation expectations have begun to recover on the back of increased momentum in balance sheet expansion and a stabilizing dollar along in parallel with commodity prices.
The recent back-up in yields is a function of rising inflation expectations and the anticipation of US rate hikes. Nonetheless, like the sell-off in commodities associated with dollar strength in 2014, the scale and rapidity of the move in European bonds suggests re-positioning may have exaggerated yield compression as well as the recent sell-off. Chart 4 below illustrates the tight relationship of the Euro and German bonds yields with moves similar to the dollar versus commodities.
Chart 4: German Bond Yields vs Euro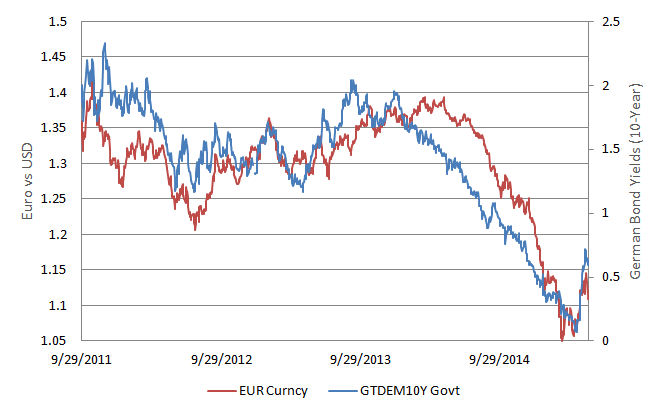 Source: Bloomberg
In the aggregate, the transition of policy during 2014 reduced liquidity support, which appears a catalyst for heavy repositioning in various markets. Today, policies are stable and expansionary in the aggregate, reducing the risk that U.S. rate hikes will foster volatility like 2014. Repositioning may have been sparked by reduced liquidity conditions, but at the core, commodities and other assets were re-priced to reflect deteriorating dynamics of supply and demand.
Next, we consider whether changing conditions of supply and demand provide support or could again give way to further adjustment from current levels as the Fed raises rates.
Commodity Supply & Demand Conditions
Chart 5: Bloomberg Commodity Index vs. US Expected Inflation (10yr Breakeven)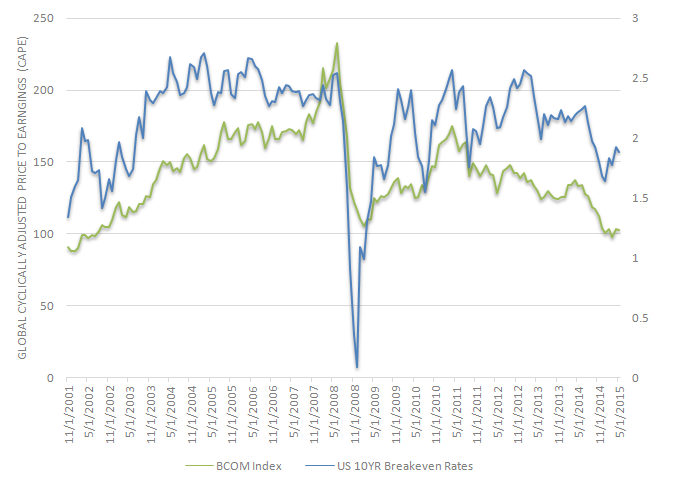 Source: Bloomberg
Oversupply and deteriorating demand growth were key features of the sell-off in commodities – oil in particular. On the demand side, financial conditions had remained tight in China and Europe for some time. China's tightening was deliberate, reigning in excess credit growth and misallocations of capital, while the ECB struggled to build consensus to more broadly expand its balance sheet through conventional QE.
Starting mid-2014, China increasingly shifted policy toward growth, easing monetary policy and importantly effectuating a debt swap to ease credit conditions. Later that year, the ECB gathered support for a proper QE program which was delivered in early 2015. These developments, coupled with expected increasing consumer demand through lower oil prices, suggest a very plausible cyclical recovery in global demand.
Still, excess capacity on the supply side remains a key issue as the world continues to adjust to slower demand growth than prior to the crisis. Years of over-investment means that production growth will continue to outpace even a cyclical recovery in demand. China's demand is likely to remain much less intensive with respect to industrial commodities, and there is still significant oversupply in energy.
Overall, supply and demand conditions remain weak, but some degree of a cyclical recovery in demand coupled with currently very low commodity prices may lend support against further downside as the Fed raises rates.
While liquidity and better demand may offer support against another deflationary adjustment, we next consider how these same conditions may add upside risk to long term bond yields.
Risk to Bond Yields
As the U.S. begins to raise rates, the concern is that further divergence in policy between the U.S. and virtually the rest of the world will cause the dollar to resume its appreciation. There is a strong historical relationship between increasing rate differentials and currency performance.
However, the relatively small rate hikes themselves do not suggest a significant currency adjustment, particularly in light of major adjustments that have occurred to date.
The primary risk may be that long term yields go up more than the markets anticipate. For some time, we have found sovereign bonds to be very expensive. Real yields have compressed for years, and inflation expectations remain still very low compared to history. Inflation expectations have begun to normalize from last year's deflationary shock, but that process could continue and even accelerate when the Fed begins to raise rates.
We have discussed how broad central bank liquidity support and some form of cyclical recovery in demand should help protect against deflationary pressures as the Fed raises rates. However, these same forces can continue to raise inflation expectations and therefore bond yields. The Federal Reserve is loath to raise rates too early as having to reverse course would critically impair credibility. There is some evidence of wage pressures building, and when the Fed does move, markets may lift inflation expectations further to match more widely recognized inflation pressures.
Conclusion
It is unlikely that the deflationary pressures associated with policy divergence in 2014 will be repeated when the Fed raises rates. In 2014, the transition of policy easing left an effective liquidity gap, driving a strong dollar and deflationary repositioning. Today, central banks are adding sufficient liquidity in the aggregate to avoid such a catalyst to the downside. Commodity oversupply and weakening demand helped to justify the strong adjustments in price, while today, likely improvements in cyclical demand from low price levels may lend support from further downside.
Raising rates for the first time by a small amount seems a modest step toward policy normalization. Yet it is unknown how markets will react as bond prices transition from artificial central bank support to market price discovery. Real yields and inflation expectations currently suggest exceptionally low growth and low inflation far out into the future. The outlook is likely to be more nuanced and it is fair to say that when markets take over the debate, volatility will return to the bond markets.
Footnotes
For purposes of this analysis, we assume a fixed exchange rate to remove the currency impact on balance sheet assets.
Different than the chart above depicting balance sheet changes at a fixed exchange rate, this chart shows the aggregate global balance sheet in current dollar terms.