Reforms to the governance of Japanese firms — a key feature of Prime Minister Abe's growth strategies — continue to progress steadily. Japan's Stewardship Code for institutional investors was promulgated last year and has already been signed by 184 financial institutions as of March 2015. In addition, Japan's Corporate Governance Code for publicly listed firms will soon come into effect in June 2015.
A draft of the Corporate Governance Code has already been released for public review. As the code is quite detailed, with thirty principles within five general principles and thirty-nine supplementary principles, companies are currently at a loss over how to deal with such new rules.
A distinctive feature of the code is the strong reflection of medium-term corporate growth strategies that go hand-in-hand with the growth strategies of Abenomics. As was the case with the Stewardship Code, there have been no objections with respect to the code's objectives, but at the same time, companies are extremely limited in how they can respond because of the complexity of and exacting details in the principles. As such, it has been highlighted that the code does not demonstrate how good governance is directly linked to growth because corporate activities will be limited and healthy diversity lost.
As investors both in and outside of Japan have taken a keen interest in these governance reforms, let us consider what exactly is happening at Japanese firms in response to these two codes and what kind of changes we can expect will take place in the future.
What is happening now? — Heightened awareness of Return on Equity (ROE)
2014 was a boom year for ROE. Even without the introduction of the Stewardship Code, the subject of enhancing ROE was touted everywhere, starting with the launch of the TSE's new JPX400 index and then the introduction of baseline ROEs of 8% in the Ito Review and 5% from Institutional Shareholder Services.
ROE itself has been incorporated by many Japanese firms since the 1990s as a company Key Performance Indicator (KPI), so it certainly is not a new concept. However, those firms found it hard to renounce past financial strategies centered on bank-driven debt financing, while it is also a fact that they were mostly ignorant of capital costs. This is why ROE levels of Japanese firms fell way behind their global counterparts in the 1990s and thereafter.
Fig. 1: Global Comparison of ROE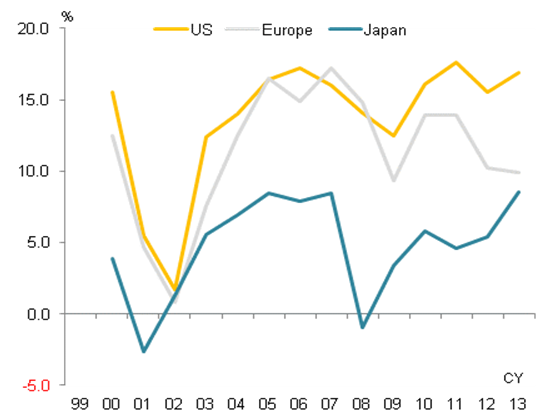 Source: Nikko Asset Management, based on TSE and MSCI data
As part of our daily engagements with Japanese firms, we are seeing firsthand the changes taking place regarding the awareness of ROE. Companies have emerged proclaiming a 100% return of profit to shareholders, while at medium-term business plan briefings, we have seen an increase in the number of firms setting an ROE target. It is clear that the active approach of companies in coming face-to-face with shareholders and the increased awareness of boosting capital efficiency and enhancing shareholder value are clearly positive changes.
That said, in reality, results have yet to emerge fully. Although the ROE forecast of approximately 8.3% at the end of 2014 exceeds the minimum level recommended in the Ito Review and is on an upward trend, there is a strong feeling that it has been helped along by external factors, such as the weak yen and the recovery in the US economy. As for shareholder returns, a global comparison shows that the gap is widening between Japan and the rest of the world with little change to the past average of a 30% dividend ratio and a total return ratio of roughly 35%.
Fig. 2: Global Comparison of Shareholder Returns (Dividend Ratio and Total Return Ratio)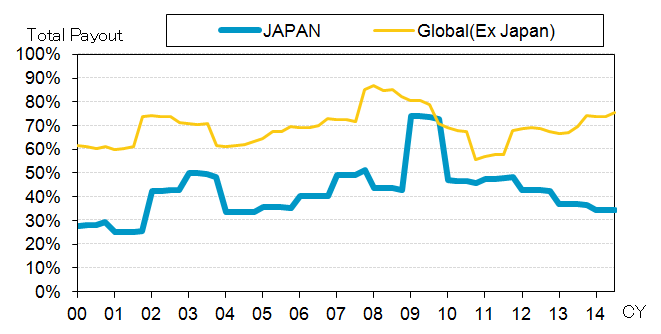 Source: Nikko Asset Management, based on MSCI World Universe data
What kind of changes do we expect to see with the introduction of the Corporate Governance Code?
Japan's Corporate Governance Code for firms listed on section one of the Tokyo Stock Exchange will come into effect in June 2015. The code is attracting a great deal of attention with many firms publicly announcing initiatives aimed at improving corporate governance and enhancing capital efficiency.
Principle 5.2 "Establishing and Disclosing Business Strategy and Business Plan" is, in particular, worth analyzing. It states that when establishing and disclosing business strategies and business plans, companies should articulate their earnings plans and capital policies, and present targets for profitability and capital efficiency. Also, companies should provide explanations that are clear and logical to shareholders with respect to the allocation of management resources and specific measures that will be taken in order to achieve their plans and targets.
In other words, it is quite a strict requirement on the part of companies to publicly disclose medium-term
business plans that point to numerical targets for earnings and capital policies, as well as the need to draw up a roadmap for achieving those targets. If companies adhere to this principle, it is more than likely that the majority of listed firms will present their policies on ROE and dividends, as well as numerical targets, which in turn could spark significant price movements in the markets.
With the introduction of the Stewardship Code and Corporate Governance Code, the markets are expecting a sudden transformation among Japanese firms, but what we must calmly recognize now is the need to separate instantaneous changes from those that will require much more time. Instantaneous changes could refer to dividend increases and share buybacks as a result of the heightened awareness of shareholder return.
Due to the fact that Japanese companies have a strong follow-the-leader mentality and are susceptible to government action or media pressure, it is highly probable that increases in dividends and share buybacks will shape one of the biggest trends over the next few years.
Fig. 3: Percentage of Companies Announcing Dividend Hikes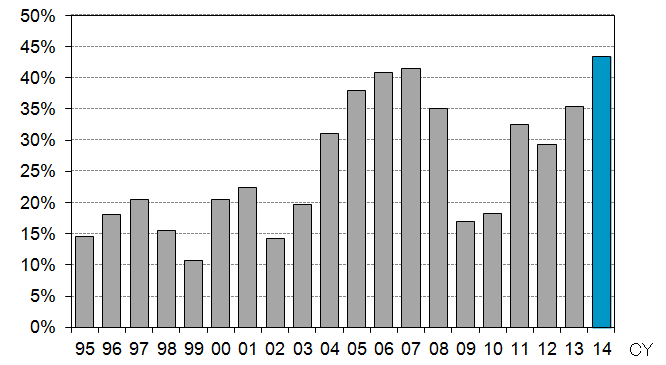 Source: Nikko Asset Management, based on TSE data
As a result, there is much room for ROE growth if capital, as the denominator, is compressed.
Changes that require time to materialize point to sustainable growth
The objective of Japan's governance code is to have it resemble, to a certain extent, the ideal model of a Western style of governance, but it is difficult to uncover relationships between this goal and high growth, as well the realization of high margins.
In reality, generating sustained innovation and returning to a growth track is more the result of other factors. Essentially, the only way to achieve growth is through increased profit (the numerator), which is something that needs to be discussed in much more detail.
Let us touch upon the changes that will take place on the back of the aforementioned increase in shareholder awareness.
Scope of shareholder returns at Japanese firms to surge in next five years
Up until now, Japanese firms have continued to accumulate cash reserves. As described above, it is an obvious fact that previously, companies placed less emphasis on enhancing capital efficiency and shareholder value and continued to hold cash in a deflationary economy that lasted for more than twenty years, which was probably the right thing to do in terms of economic rationale. With mounting pressure to boost capital efficiency from within and outside of Japan as the economy shifts from deflation to inflation, it is economically rational and highly likely that many Japanese firms will look to distribute their cash holdings.
Fig. 4: Ratio of Net Cash Firms Versus CPI in Japan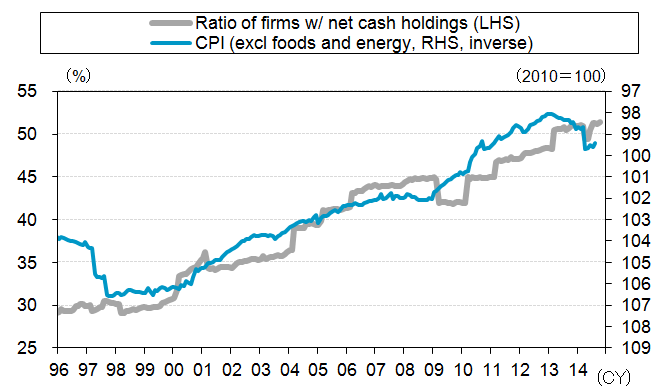 Source: Nikko Asset Management, based on all listed companies ex. finance data
The percentage of net cash-firms has now risen to more than 50%, which is an overwhelmingly high level compared with past averages and global trends.
Fig. 5: Global Comparison of Net Cash-Firms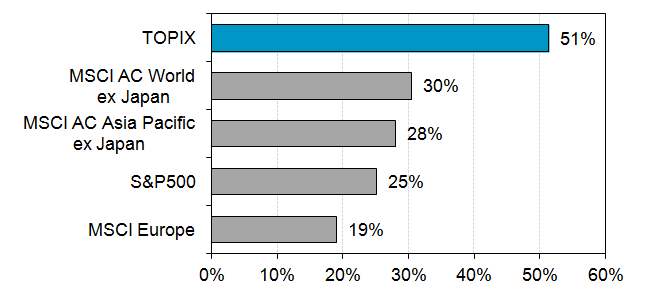 Source: Nomura and Nikko Asset Management, based on TSE, MSCI and S&P data
Cash holdings of Japanese firms in the past twenty years have hovered around the 50 trillion yen level, but this amount has ballooned to 78 trillion yen and will most likely fall back to the average level seen in the past over the next few years. On a monetary basis, surplus cash of 30 trillion yen will likely be allocated to dividend increases and share buybacks in the coming years. Supposing that these are made over five years, it would amount to between five and six trillion yen annually, which equates to an increase in the total amount of returns from the current 12 trillion yen to between 17 and 18 trillion yen and a jump in the total return ratio from 35% to 50%. A simple calculation of ROE also suggests an increase of 2% with a compressed denominator to the 10% level, which is very achievable if companies simply introduce changes to their capital policies.
Fig. 6: Cash Held by Listed Japanese Companies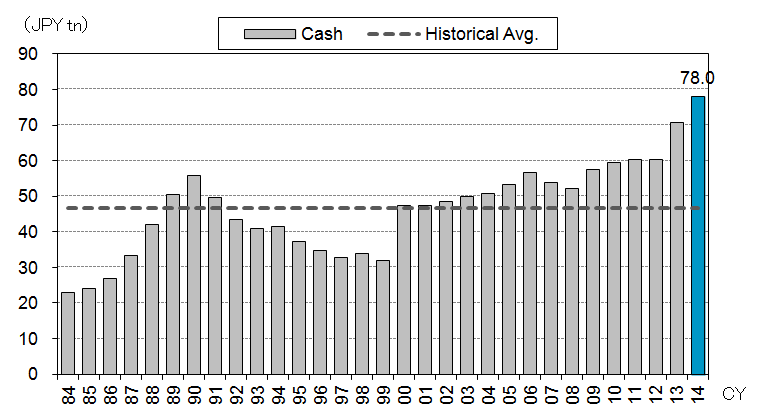 Source: Nikko Asset Management, based on all listed companies ex. Finance
If companies develop their own corporate governance codes from next quarter and thereafter in order to improve capital efficiency, it is possible that there will be a wide-spread avalanche of surplus cash returns to shareholders, which means that we must be ready for such changes by intensively researching the capital policies of individual firms.
Profit growth and enhanced profitability the next challenge
What has not yet been discussed as part of these governance reforms is how to grow profits and boost profitability. The "first shot" has been fired to improve ROE, but reforms aimed at realizing medium to long-term growth are only half finished. In particular, firms vying to compete globally will require an ROE of more than 15% if they are to succeed and cannot be content with the standard target range of 8-10%.
There is little doubt that these governance reforms will separate oversight from execution, increase the number of independent directors and establish clear compensation and nomination systems directly linked to company performance, but the connection between these factors and corporate revenue growth is weak. How firms use their existing or new governance systems to generate sustained innovation and focus on and select businesses that enhance shareholder value, and whether or not they can achieve profit growth by making efficient investments, will be themes for the next stage of engagements.
Conclusion
Due to the developments described above, there is ample room for growth at Japanese firms and much opportunity for investment success as we enter a stage where the research skills of analysts and stock picking abilities of fund managers will make an even larger difference in fund performance.