The 21st century has seen a huge growth in foreign exchange (FX) reserves, increasing to USD 11,632 billion in 2015 from USD 2,322 billion in 2003, a five-fold increase. Most countries hold FX reserves but they seldom comprise more than 1% of total global reserve holdings – the Eurozone constitutes only 2%. Asia represents nearly 60% of total holdings led by China at 33% and Japan at 10%, due largely to previous current account surpluses and the effect of the two countries' attempts to stop their currencies appreciating substantially.
The other major holders of FX reserves are oil producers. Oil prices have fallen from over USD 100 a barrel to around USD 50 over the past year. As a result, many oil-producing nations have started to eat into those FX reserves. In our view, this highlights serious problems for Russia and some of the smaller OPEC (Organization of the Petroleum Exporting Countries) producers, but Saudi Arabia should be sitting pretty for some time.
OPEC countries' FX reserve holdings falling
OPEC and Russia currently account for over 10% of total global FX reserves. This is dominated by Saudi Arabia, which holds over 6% and Russia, which holds just over 2.6%. However, as chart 1 shows, Russia's holdings have been falling sharply over the past couple of years. Russia's percentage holding was nearly 8.5% in late 2008, but has recently fallen to under 3% and the decline looks to be accelerating.
Chart 1: Saudi Arabia and Russia's FX holdings as percentage of world reserves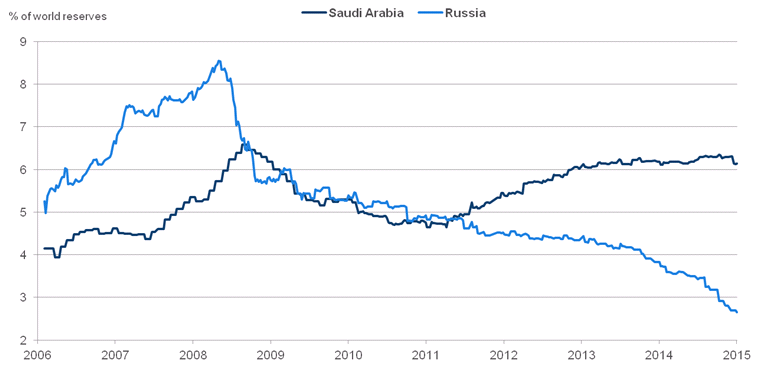 Source: Bloomberg. As of 16 April 2015
Of all countries, oil producers have seen the largest drop in percentage holdings over the last year. Russia's reserves have fallen by 30%, Algeria by 13.5%, Angola by 17.4% and Libya by 22.5% over that period. This drop in oil exporters' FX reserves illustrates the pressure on these countries as the oil price has dropped. The question is how sustainable is this reserve reduction for the oil producing countries? Obviously, it will vary country to country, but the cash burn has accelerated. For example, of Algeria's 13.5% drop in reserves over the last year, 8.5% of it occurred in the past three months.
Saudi Arabia has a large FX reserve cushion that should allay immediate concern
Saudi Arabia is OPEC's largest exporter of petroleum and according to the latest data from the Saudi Arabian Monetary Agency, the country's FX reserves fell by over USD 20 billion in February, the largest monthly drop in almost 20 years. Although this might at first seem like a cause for concern, this drop represented only 2.85% of its total reserves. In 2008, the country lost 15% of its total reserves and yet they are currently double the low point of August 2009.
Chart 2 illustrates the massive increase in Saudi Arabia's FX reserves over the last 10 years, rising from around USD 100 billion in 2005 to around USD700 billion currently.
Chart 2: Saudi Arabia's FX holdings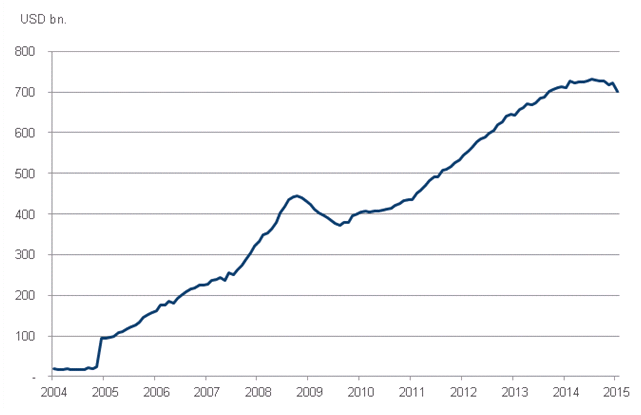 Source: Bloomberg. As of 16 April 2015
Given current reserve levels are far in excess of Saudi Arabia's levels to prior to 2005, it would seem the country has a fair amount of firepower. Although other oil producers are rapidly eating into their reserves, for Saudi Arabia this attrition only has just started and the country has a large cushion before it becomes of serious concern given the ample excess reserves.
In our view, Saudi Arabia can afford to handle oil prices at their current level for some time while its OPEC co-members and other oil-producing nations, which don't have such deep reserves, are starting to seriously suffer. Despite pressure on Saudi Arabia to cut production, it has stated that it refuses to do so unilaterally and, as chart 2 demonstrates, it should be able to withstand low prices for a lot longer than most of its competitors.
Nevertheless, the latest monthly data from Saudi Arabia does show an annualised fall of around 35%, which is quite high. Although many oil-producing nations hold a larger amount of FX reserves than in the past, with the decline in oil prices we have seen these reserves fall sharply over recent months (see chart 3). Although the OPEC countries have plenty of buffer at the moment, the magnitude of the fall in reserves needs to be carefully monitored if the oil price remains as its current low.
Chart 3: FX reserves 2005-end January 2015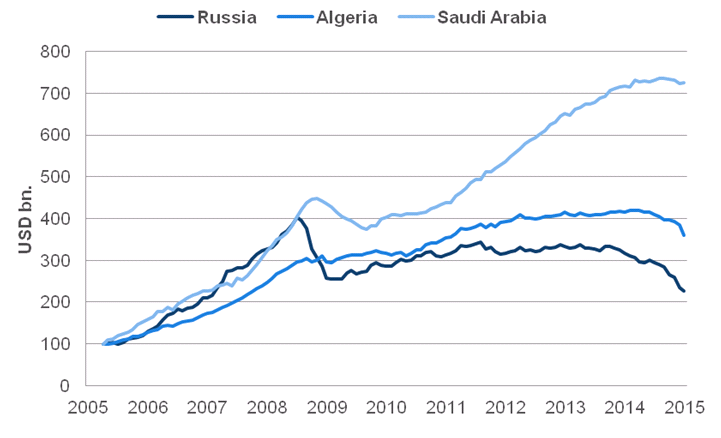 Source: Bloomberg. As of 16 April 2015