Cities have long been drivers of global transformation and economic growth throughout history and now, we see the rise of mega-cities in emerging markets, with large populations and rapid income growth.
Global trends suggest that the world will continue to undergo expedited urbanization, as the global population expands. The world is changing under these powerful forces, with the economic centre of gravity increasingly shifting south and east. We consider the demographics of urbanization as a major long term global theme, changing international capital flows as the populations and prosperity of emerging market cities concentrate and accelerate further.
G7 Share of Global GDP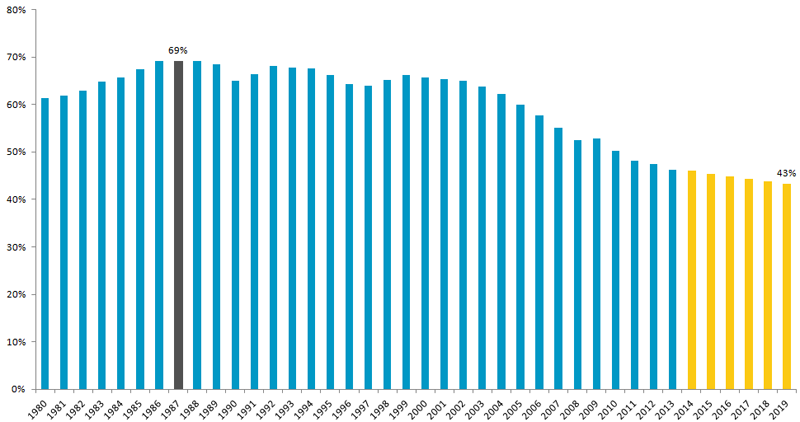 Source: IMF
The world has been evolving, with the G7's share of global growth declining steadily since its peak in 1988. However, G7 investors continue to have low exposure to the rest of the world — suggesting that their view of the world may be mired in the past. There has also been a rapid boom in urbanisation across income levels globally, with even low income countries witnessing a 20% increase in the proportion of populations living in cities.
World Bank data suggests that the richer the country, the greater the urbanisation, with over 80% of populations in high income OECD countries living in cities. The mega-cities of the world, however, are now predominantly in emerging markets — only Tokyo and New York rank within the World Bank's ten largest cities in 2014 and Bloomberg expects the world's fastest growing cities, with over ten million people, to be largely found in emerging markets, mostly within Asia.
Population Living in Cities
Major Emerging Markets (in millions of people)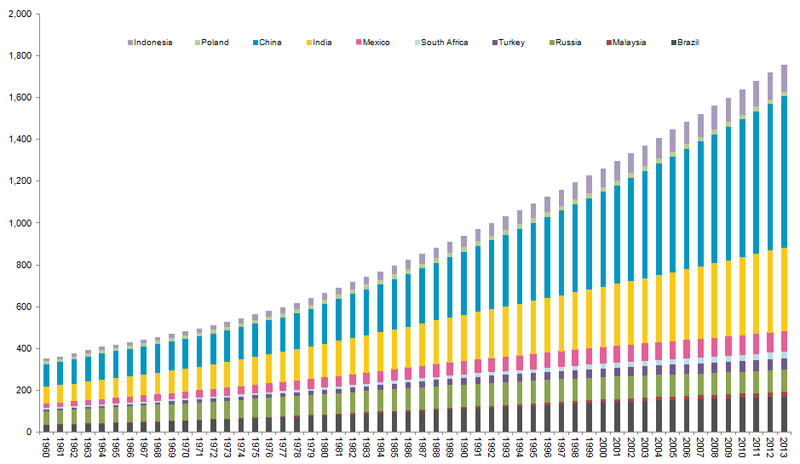 Source: World Bank
Why is urbanisation important?
Urbanisation concentrates consumer demand and creates innovative business environments — attractive for both domestic and international investment. As the world becomes more populous, a record number of people will be moving into cities. People are also becoming wealthier with growing disposal incomes and demands, particularly in urban areas.
The IMF expects over four billion people worldwide will be living in countries with a GDP per capita of $6,000 on a PPP basis by 2019 — a figure where past studies have found that consumption shifts to higher value items, such as more durable goods, more expensive foods (fresh food and meats), and with consumers living a more "middle-class" lifestyle and demanding higher quality services.
With the continued expansion of the global middle class as emerging market nations become wealthier, the world's consumer class should also soar. McKinsey expects that from 2010-2025 annual emerging market consumption will grow by 150%, to 30 trillion USD, nearly matching that in developed markets. Already the emerging market middle class consumer is influencing globally available goods; for example luxury goods and brands are increasingly designing products and services to be more appealing to the Asian demographic.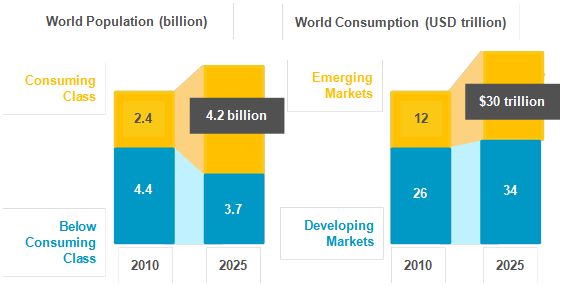 Source: McKinsey
As international companies seize opportunities to capture the emerging market consumer and shift production to emerging markets to gain market share and/or reduce costs, cross border investment has soared, with foreign direct investment (FDI) becoming a key global flow from the developed into the emerging world.
OECD data shows that the main FDI outflows come from the USA, Japan, Scandinavia and Switzerland. Prior to the European crisis, Eurozone also saw large FDI outflows, but that has since moderated. In recent years, the core beneficiaries of FDI inflows were China and Brazil.
Foreign Direct Investment (FDI) Flows (USD million)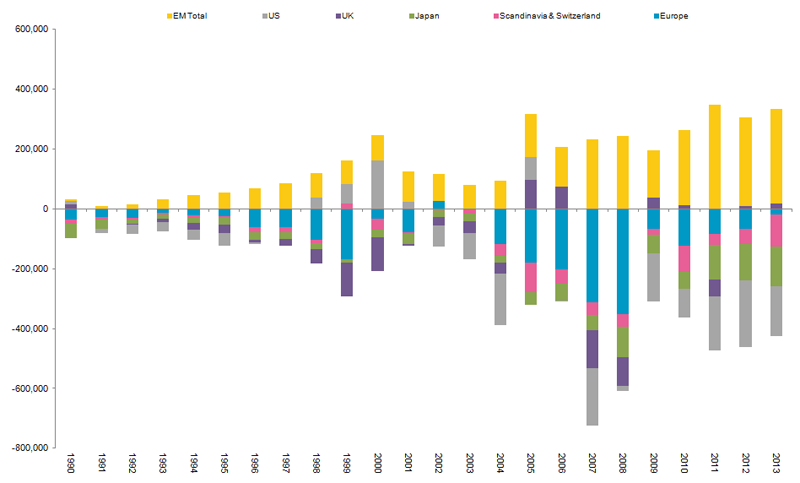 Source: OECD
Globalisation has not only affected trade and capital flows — but also international labour markets. From 1960-2000, immigration to the USA rose from 10 million to 35 million whilst the percentage of immigrants from developed markets dropped from close to 60% to 15%.
With the movement of emerging market immigration, remittances have become an important global capital flow, rising from a negligible amount to now close to 100 billion USD per annum leaving the developed markets. Notably, these remittance flows tend to be steady and the World Bank finds that they are correlated to the size of the host economy. For instance, in 2013, the largest remittance outflow was from the US, mostly into Mexico, whilst India received the greatest remittance inflow.
Remittances (USD million)
Source: World Bank
As emerging market populations and cities grow, with many countries heavily investing in core civic and hard infrastructure, we expect global commodity demand to remain at elevated levels. However with more people on the planet and many countries, including developing countries, already experiencing worrying levels of pollution, the momentum for sustainable development to mitigate climate change has become increasingly topical.
In 2014, the world's two greatest carbon emitters, China and the USA, exceeded market expectations by acting on climate policy independently and announcing a willingness to collaborate on addressing climate change. Indeed, many emerging countries are expected to "leapfrog" so called "brown" technology (high carbon emission) for a "green" (low carbon) technology-led development in upcoming years, and 2015 is set to be a landmark year for global climate change policy, with a Universal Climate Agreement scheduled to be announced in Paris this December.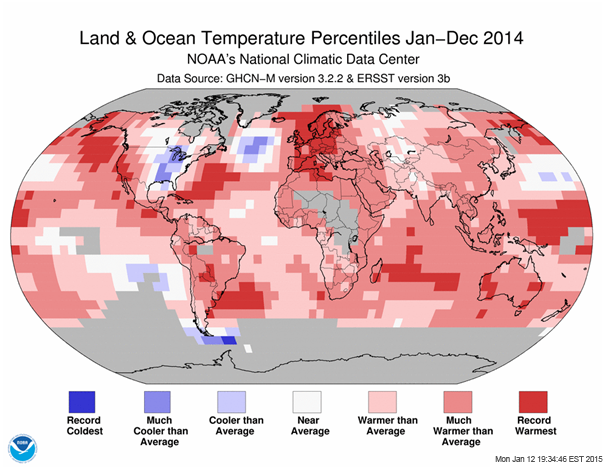 Source: US National Oceanic and Atmospheric Administration1
Conclusion
We expect the next phase of the global evolution to be driven by a growing global population, rapid urbanisation and for most of it to happen in emerging markets with increasing focus on "green" development. Therefore, despite the recent economic slowdown, we expect interest in emerging markets to remain high. Moreover, with many emerging market countries tackling chronic infrastructure bottlenecks to accommodate swelling populations and business opportunities, we expect commodity demand and cross-border flows to remain high. In the medium-term, once the increase of supply witnessed in recent years is absorbed, there should once again be pressures driving global commodity prices higher.
Footnotes
NOAA National Climatic Data Center, State of the Climate: Global Analysis for Annual 2014, published online December 2014, retrieved on January 30, 2015 from http://www.ncdc.noaa.gov/sotc/global/