2014 has become a landmark year for green bonds, having become one of the few sustainable investment instruments to reach a suitable scale and poised to enter the mainstream for global institutional investors. Green bonds are conventionally understood as bonds whose proceeds are ear-marked for climate change mitigation and adaptation. Currently, the Bloomberg green bond directory lists 49 billion USD of labelled green bonds1 since the first issuances in 2007 and 20082. Notably, issuance is rapidly accelerating, with the Climate Bond Initiative (CBI) forecasting 40 billion USD in 2014 – up over 200% from 2013, and 100 billion USD in 2015, a 150% gain.
Labelled Green Bond Issuance (USD BN)

As of November 2014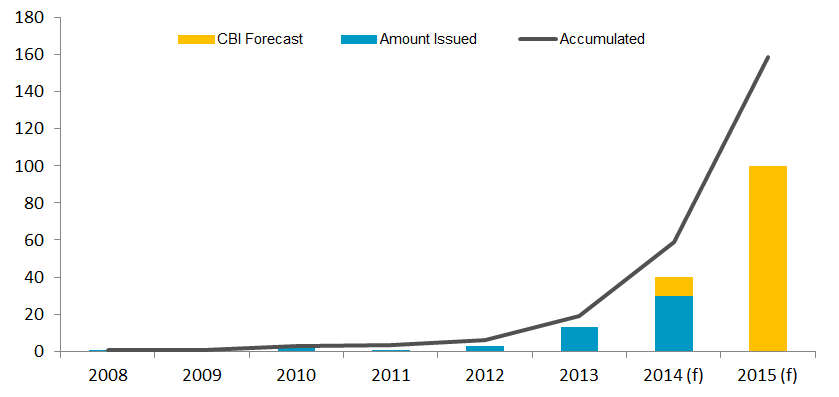 Source: Bloomberg, Climate Bond Initiative (CBI)
The need for green financing is urgent and considerable. The International Energy Agency3 (IEA) estimates 53 trillion USD of additional investment through 2035 is required to meet the global goal of limiting world temperature rise by 2 degrees Celsius – a perceived threshold to avert irreversible climate change that could bring ecological and human disaster, including food and resource scarcity and a life-threatening sea-level rise4.
Public and private sectors both have growing interest to transition to more sustainable models of growth, as the negative impacts associated with high-carbon emissions become more salient. Voters, consumers and firms increasingly aware of pollution, freak weather and the associated threats of political instability and business risk from resource scarcity – are raising their demands for large-scale low carbon emission solutions. The IEA also warns of stranded assets in fossil-fuel companies: estimating two thirds of the world's proven fossil fuel resources could be unusable if the world is to meet the 2 degree Celsius increase goal5.
HSBC estimates these stranded assets could affect valuation of fossil fuel companies by up to 60-80%6.
Sustainability is not just a "public good" issue, pursued by supranational agencies and governments. In 2014, corporate green bond issuance by volume outpaced the public-sector for the first time, as issuances also moved down the credit curve with a marked acceleration of those rated lower than AAA. As the market matures, third party verification of green characteristics has become more important, as such distinguishes one green bond from another. Indeed, the wide range of issuers and types of projects funded has increased industry demand for some standardization of the definition of "green" to allow for comparability and ensure rigour. A consortium of investment banks, with over 60 supporters, therefore drafted the Green Bond Principles in January 2014 to encourage transparency, disclosure and integrity in the market7.
Green Bond Issuance by S&P Rating Band (USD BN)

As of November 2014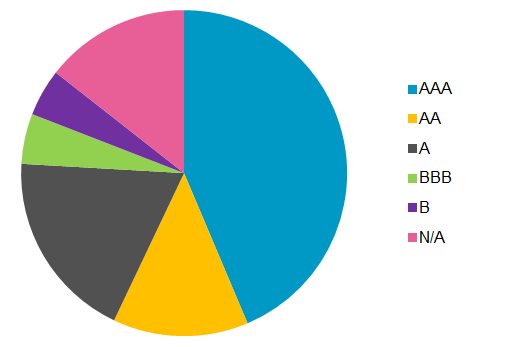 Source: Bloomberg
A driver of success in the growing green bond market has been the absence of explicit yield differential. An investor facing two identical bonds from the same issuer can opt for the green bond versus the non-green bond and thereby invest sustainably without perceived cost; similarly an issuer does not have to pay a higher yield to issue green. Green bonds have thus been able to access non-specialist green investors in the over 80 trillion USD global fixed income market. The graph below shows yield differentials between green and non green bonds are very closely correlated. From the issuer perspective, the benefit of issuing green usually centres on two factors: (i) investor diversification and (ii) transparency and articulation of its sustainability agenda.
Similarity between Green & Non Green Yield Differentials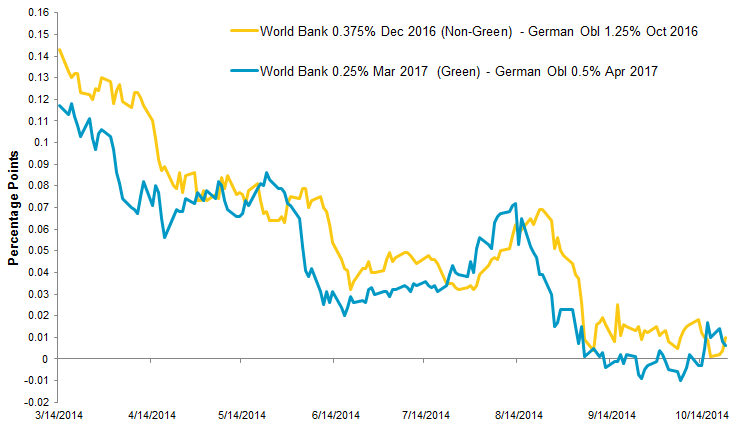 Source: Bloomberg
Moreover the transparency provided by green bonds provides reason to invest beyond endorsement of a green agenda: additional information of spending efficiency, regular project updates and impact performance gives green bond holders much more information on the issuer over equivalent non-green bonds. As the market continues to mature and lower rated issuance gains further traction, the additional information reported with a green bond can give important insight into the issuer, vital to make sound investment decisions.
The benefits of increased transparency and accountability on the use of bond proceeds, third party verification and similar pricing to non-green bonds will continue to enhance the market. As the market continues to grow and attract new investors, however, we may see lower yields or less volatility for green bonds compared to non-green equivalents from the same issuer as demand continues to increase and the added transparency could give investors the additional confidence to consider green bonds a safer instrument to hold. Already green bond issuances are continuously oversubscribed and consistently attract new investors. Investor demand has increased markedly in 2014, especially amongst pension funds. In September alone, 12 large institutional investors, representing a combined 2 trillion USD of assets under management, officially pledged to increase green bond holdings in upcoming years. Moreover, as sustainability gains further momentum with associated risks becoming more apparent over time, the business case for sustainability and accompanying reputational risk of not addressing these issues will very likely become increasingly pronounced.
The simplicity and scalability of the green bond structure could mobilize significant amounts of capital – and quickly – into companies, governments and supranational agencies deliberately pursuing sustainable strategies. The development of the green bond market has seen an evolution in responsible investing from previously concentrating on the screening out of unwanted impacts, to actively pursuing desired outcomes via a mainstream investment vehicle. In short, green bonds help investors seek out positives rather than eliminate negatives. It is also a mechanism to allow institutional investors to have greater influence with their investments and be more deliberate in pursuing desired outcomes. The ability to track the use of proceeds in green bonds, and ongoing reporting, should also foster improved governance in corporations, governments and agencies. Successful green bond issuers should therefore be attractive to institutional investors, as it can be seen as an indicator for picking entities that will outperform in the future having proactively addressed issues around sustainability.
Although 2014 has been a record year for green bonds, it looks set to only be the beginning, as they are fast becoming the main vehicle for global CIOs to embrace the strong and growing theme of sustainable investing.
Footnotes
There are various types of green bonds, and this article deals only with those that have been labelled green by the issuer. Examples of non-labelled green bonds include issuers that fulfil green criteria issuing regular unlabelled bonds. The green bond market therefore is potentially much larger than current estimates.
The European Investment Bank issued its first Climate Awareness Bond in 2007; however the first explicitly labelled Green Bond was issued in 2008 by the World Bank. Green, and similar, bond issuances were sporadic until 2010. Nikko AM was the first institution to introduce a Green Bond fund in 2010.
http://www.worldbank.org/en/news/feature/2012/11/18/Climate-change-report-warns-dramatically-warmer-world-this-century
HSBC Global Research, Oil & carbon revisited—Value at risk from 'unburnable' reserves, January 25, 2013.