Wealth Effect Update
We have long reported on the role of the wealth effect in previous issues, as its importance is vastly underestimated by local and foreign investors. The 2Q data for net financial assets was recently released to show a QoQ increase to a new historical high. "Asset Bubble Economics" (ABE) is a phrase that is lightly bandied about, but the role of inflating asset prices, while keeping interest rates down, has been the hallmark of the US economic recovery (and a trend for the past three decades, along with higher leverage ratios). Japan is well along in this process too, with more than JPY 34 trillion (US$317BB) of household financial net worth (excluding real estate) created in the twelve months to June 2014, summing to Yen 1.29 quadrillion ($12.6 trillion) of net financial assets.
Japan: Household Net Financial Assets

In Yen trillions, through June2014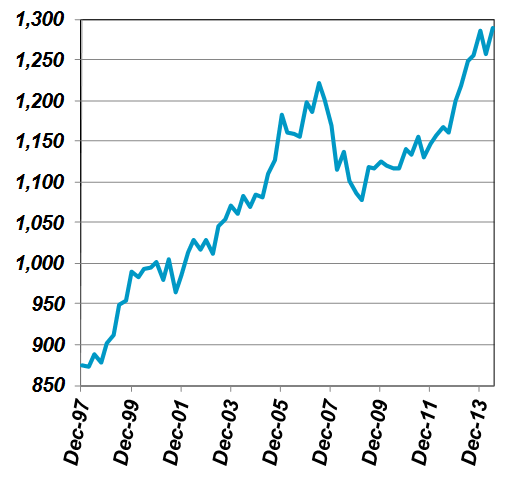 Source: Bank of Japan, Goldman Sachs
Please note that this data does not include real estate, which is the largest asset for most households. Total Household net assets data is released annually with a long time lag (only 2012 full year data is available), but, as the chart to the right show, total net assets are over twice the size of financial net worth and were on a declining trend from 2001 through 2011, (excluding the 2005-2007 equity and real estate upturn). Assuming that real estate was the vast majority of non-financial net assets, this would imply that since 2001, its Yen 1,690 trillion level has declined to the 1,380 trillion. This implies an 18% decline in non-financial net assets since 1997, which sounds reasonable, with the increase in net financial assets mostly offsetting such.
Japan: Household Total Net Assets

In Yen trillions (through 2012)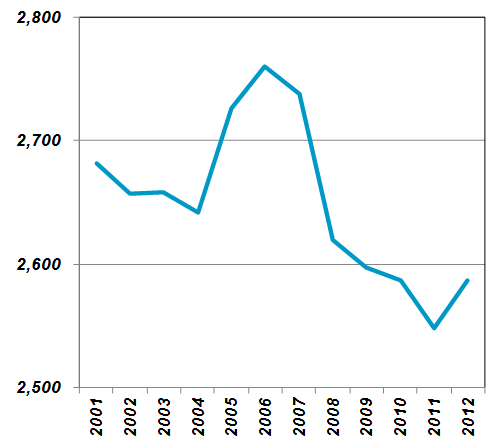 Source: Bank of Japan, Goldman Sachs
Conclusion
Notably, even before Abenomics began, 2012 showed a moderate rebound in net Household assets, but in 2013, with land prices rising along with equity prices, one can expect that household wealth rose quite sharply. Furthermore, given the Abe administration's emphasis on asset prices, and its expected encouragement of higher dividend payouts, we expect the wealth effect will have an even stronger positive effect on Japan's economy and tax revenue going forward. Indeed, 2014 also likely witnessed positive wealth effect (despite falling equity prices) and while It takes time to convince Japanese consumers, but three years of positive wealth effect, with a continuation of such financial policies by a stable political leadership, should be enough to incentivize asset-weath-based consumption.