With the US dollar surging through 2015, many of the world's commodity currencies have borne the brunt of this move as they adjust to reflect their deteriorating terms of trade. The pressures of lower fiscal revenues have also seen governments forced to cut spending, weighing on economic growth as well as creating political and social rumblings as populations accustomed to years of commodity boom now face a more uncertain future.
In this piece, Nikko Asset Management has drawn together our expertise from around the world to analyze these various countries and highlight those currencies that we believe are still vulnerable and those that we believe have decent prospects of intermediate-term recovery. As part of this process we will be looking at the valuations of various currencies based on their Real Effective Exchange Rate (REER), which is a weighted average of a currency vs. a basket of other currencies (weighted by relative trade balances) adjusted for the effects of inflation. Many commodity currencies are now trading at close to or even more than two standard deviations from their long term average levels, which often is a sign of substantial undervaluation.
Asia Pacific: Australia / New Zealand / Malaysia
Within the Asia Pacific region, Australia has seen its exchange rate in a sustained downward trend for several years now with the currency moving back to long term average levels on a REER basis. This has been a result of declining terms of trade with iron ore prices trending downwards as some of the major low cost producers have flooded the market in an effort to drive out higher cost producers. Additionally, the Reserve Bank has been extremely keen to use the currency as a lever to rebalance the economy as it shifts away from the commodity investment boom that had been the greatest driver of growth.
JP Morgan REER Australia (CPI Based)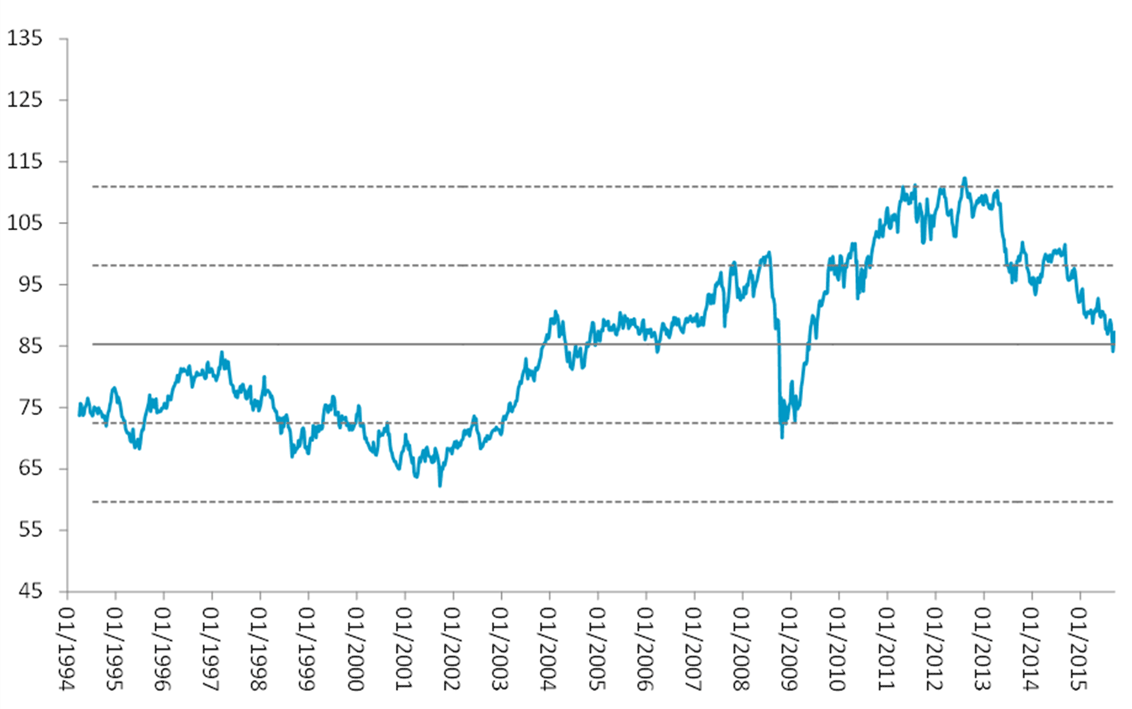 Source: Bloomberg; REER vs. Average and +/- 1 and 2 Standard Deviations
The path for the New Zealand dollar and Malaysian Ringgit has been even more brutal. In New Zealand the economy performed well relative to Australia in prior years as global dairy prices were sustained at historically high levels for longer than other commodity prices and the country benefited from a construction boom as the government rebuilt earthquake impacted areas. There was also a reversal of immigration trends with workers returning to the country as the commodity boom in Australia wound down. With these tailwinds drawing to a close, though, and global dairy prices finally being impacted by increasing supply from Europe and the US, the Reserve Bank of New Zealand has started to reduce interest rates and talk the currency downwards.
JP Morgan REER New Zealand (CPI Based)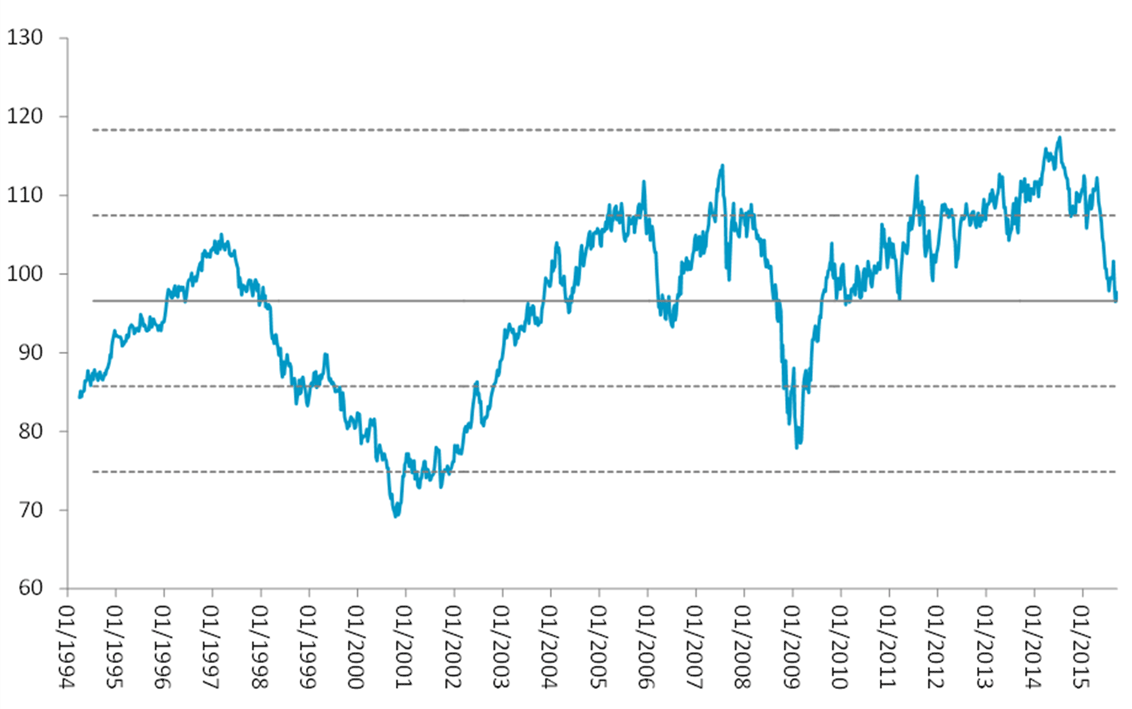 Source: Bloomberg; REER vs. Average and +/- 1 and 2 Standard Deviations
Malaysia has been engulfed by both internal and external factors. The country's terms of trade are under pressure as it is a major exporter of LNG, the price of which is linked to global oil prices (although with some lag effect). This has seen the country's trade position erode although it remains in surplus. At the same time as this major external blow, the country has been hit by a political scandal with the Prime Minister Najib Rezak alleged to have taken around $700m from 1MDB, a fund wholly owned by the Malaysian government for the purposes of property and infrastructure investment. The Prime Minister continues to hold strong support within the ruling UMNO party though and has strengthened his position by reshuffling his cabinet to remove dissenters, which increases the likelihood that he will survive the crisis and that the government will stick to its fiscal and growth reforms. One positive factor is that the introduction of a Goods and Services tax in April appears to have been very successful and the government's 3.2% of GDP fiscal target is still achievable. FX reserves are a concern, though, with a $21bn drop so far in 2015 and with no signs of stabilization.
JP Morgan REER Malaysia (CPI Based)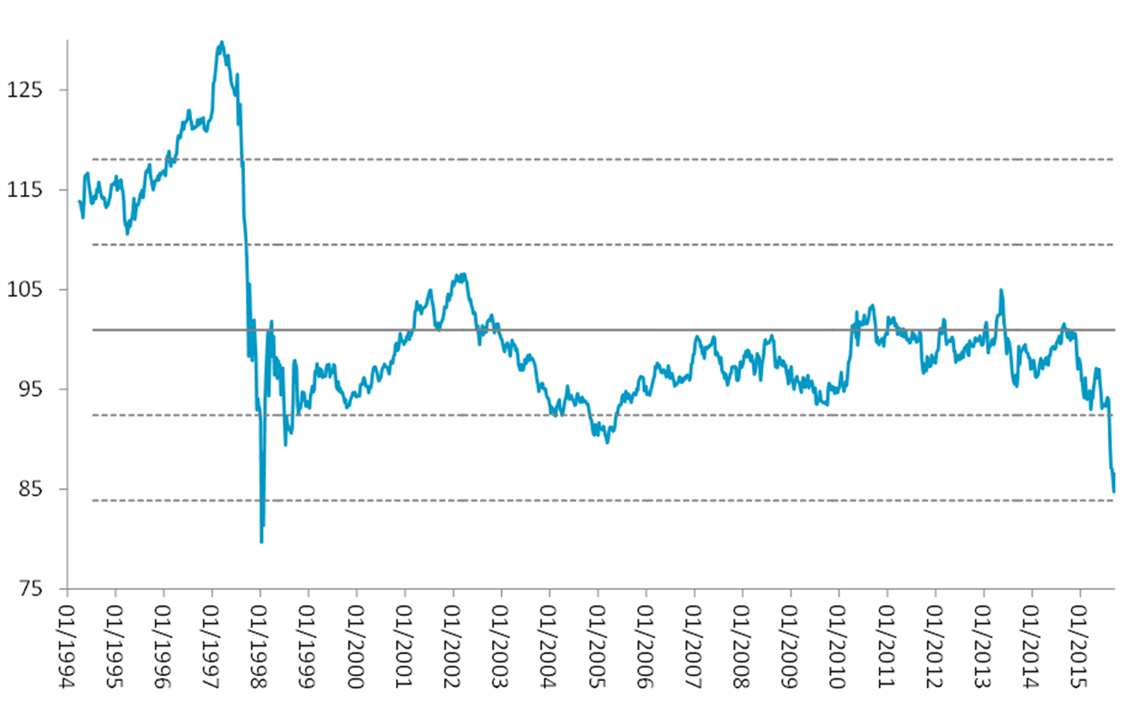 Source: Bloomberg; REER vs. Average and +/- 1 and 2 Standard Deviations
Thus, in the region, both the Australian and New Zealand dollars are now back to their long term historical averages but Australia appears to be more advanced in its economic adjustment and is starting to show some signs that a weaker currency is boosting sectors such as tourism and education. Also, iron ore prices have improved recently, but there is still uncertainty about the outlook through 2016 given the continued oversupply in markets. If iron ore prices stabilize around current levels, though, optimism could well grow regarding the country, especially in light of the incoming Prime Minister Malcolm Turnbull, as he should set a more positive backdrop for business sentiment.
In New Zealand, the currency has adjusted to reflect lower dairy prices, but the outlook for dairy prices is likely to be subdued given changes to the laws in Europe to allow exports and the prospect for greater US exports. In Malaysia, without a resolution of the current political problems or a recovery in global investment that drives the country's electronics sector, then it is currently difficult to see a sustained positive outlook. A return of confidence in either, though, would likely see the currency appreciate three months from now given the extent of the undervaluation.
Americas: Chile / Colombia / Peru / Canada
Of the three main commodity currencies in Latin America, there have been very severe adjustments in both Colombia and Chile. Although the declines in the REER for both currencies look similar, the two countries differ in terms of economic adjustment. Of the two, Chile is most advanced on the path to sustainable recovery. Growth moderated sharply in 2014 as global copper prices declined and the central bank reduced interest rates to cushion the negative impact to investment. The sustained weakness in the currency has now produced a significant improvement in the country's current account position which at one stage was approaching 5% of GDP, with 2015 now expected to be just 0.6% of GDP, which is more than covered by FDI inflows. Growth is now expected to reaccelerate but will still be subdued by historical standards. One reason for this is political stress. President Bachelet is weakened, with very low popularity, but continues to push for policies that will strengthen union powers and increase costs for businesses. Inflation also remains stubbornly high, with the headline number at 5% and core inflation well above the central bank's comfort zone. Pressure is, thus, on the central bank to increase interest rates sooner than normal in order to keep inflation expectations in check.
In Colombia, growth improved through 2014 and the central bank raised interest rates given the healthy economic backdrop. Then, the plunge in global oil prices in late 2014 hit the economy with a massive terms of trade shock in a variety of ways. Firstly, growth forecasts have declined steadily, as investment in the oil industry has dried up. Furthermore, lower oil prices have had a severe impact on both the government's budget position, leading to spending cuts that have further weighed on the growth outlook, and lastly, the country's current account is now expected to widen to nearly 6% of GDP in 2015, and only improve marginally in 2016. Despite the weakening growth outlook, inflation is increasing due to FX pass-through and is stubbornly above the central bank's 2-4% target band. This has led to a split in the central bank with some members wanting to increase interest rates whilst others are much more concerned about economic growth.
JP Morgan REER Colombia (CPI Based)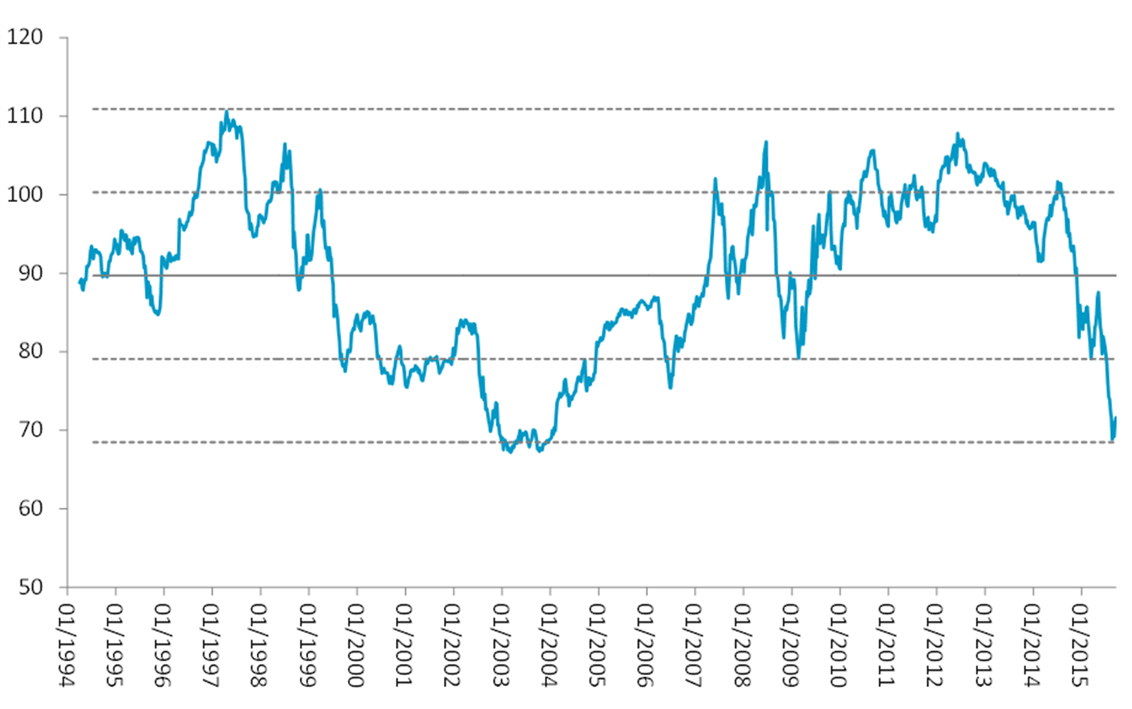 Source: Bloomberg; REER vs. Average and +/- 1 and 2 Standard Deviations
Finally, in Peru, the central bank has intervened to support the currency, stopping it from making the same adjustment that other countries experienced. Dollarization in Peru is high and this has made the central bank cautious, attempting to manage the pace of depreciation whilst encouraging a switch towards local currency loans. Earlier this year the central bank introduced new rules that force the banking sector to reduce US dollar loans by 5% by June and 10% by the end of the year. The country's current account has widened given the previously high valuation of the Sol, hitting 5.1% in 2014 and only expected to improve to 4.3% in 2015 despite a sharp drop off in growth. Inflation has also moved higher, exceeding the central bank's 1-3% target band and forcing the central bank to raise interest rates unexpectedly at their September meeting in order to anchor inflation expectations.
JP Morgan REER Peru (CPI Based)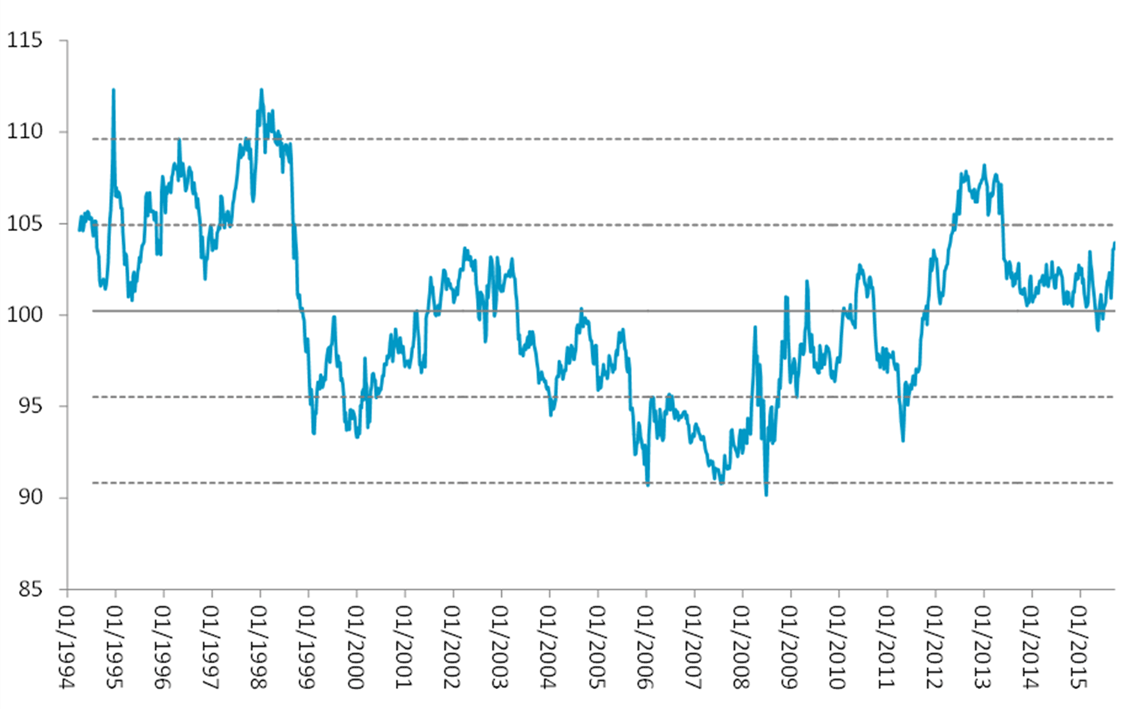 Source: Bloomberg; REER vs. Average and +/- 1 and 2 Standard Deviations
Thus, within Latin America, Chile appears to be in the most advanced position and if growth can gain momentum, the prospects for a sustainable recovery are high, assuming no further significant drop in copper prices. In Colombia we have yet to see the bottom in expectations and markets are still searching for greater clarity on the economic outlook. A recovery in oil would help sentiment and could see an upward bounce in what is now a volatile currency, but the economy will require some time to return to a sustainable recovery as the imbalances on the fiscal and current account are substantial. In Peru, the central bank, by dragging out the rebalancing process, has put pressure on the current account position and is now starting to erode its FX reserves, increasing its medium term vulnerability. The Sol could, thus, remain under pressure even if sentiment towards emerging markets were to improve.
Outside Latin America, Canada has also been impacted by declines in both oil and lumber prices. The currency has been depreciating for several years though, as the country's manufacturing base has been undermined by competition from Mexico and as the country has more recently seen a drop in investment activity in the oil sector. This caused the Bank of Canada to reduce interest rates twice in 2015, reducing interest rates from 1.0% to 0.5%. The currency has moved into undervalued territory but is not at the same levels of undervaluation seen in other markets; so, many forecasters continue to look for further weakness at this stage. Elections to be held on October 19th could create a more positive political backdrop, though, with some competition breaking out as to who will be prepared to implement the largest tax cuts in order to boost growth. A stronger US recovery and a new government taking measures to boost growth could be key to Canada's turnaround, although oil prices will be as important. It is likely that the undervaluation in the currency will become more extreme before we see a bottom, though.
EMEA: Norway / Russia / South Africa
Within EMEA, South Africa was the first market to see its currency trend lower and the Rand has now been in a downtrend since 2011, taking it to extremely undervalued levels. Despite the currency depreciating over many years, there has so far been little progress in terms of reforms, with the political dominance of the ANC meaning that there is only limited pressure to act. One positive factor is that there is now more propitious news on trade, with the trade balance moving into a small surplus in Q2, but the current account deficit remains significant (albeit improved) at 3.1% of GDP as the country has a large services and income deficit. The economy remains under pressure, but the central bank is hamstrung, forced to maintain a tight monetary policy to stop further erosion of the currency. Critically for South Africa, unemployment remains extremely high at 25% and there are major problems in terms of under-education, making it difficult to push the unemployment rate down. The fact that the Rand is so undervalued makes it interesting, but it is still difficult to see a positive story in South Africa, given the country's significant vulnerabilities.
JP Morgan REER South Africa (CPI Based)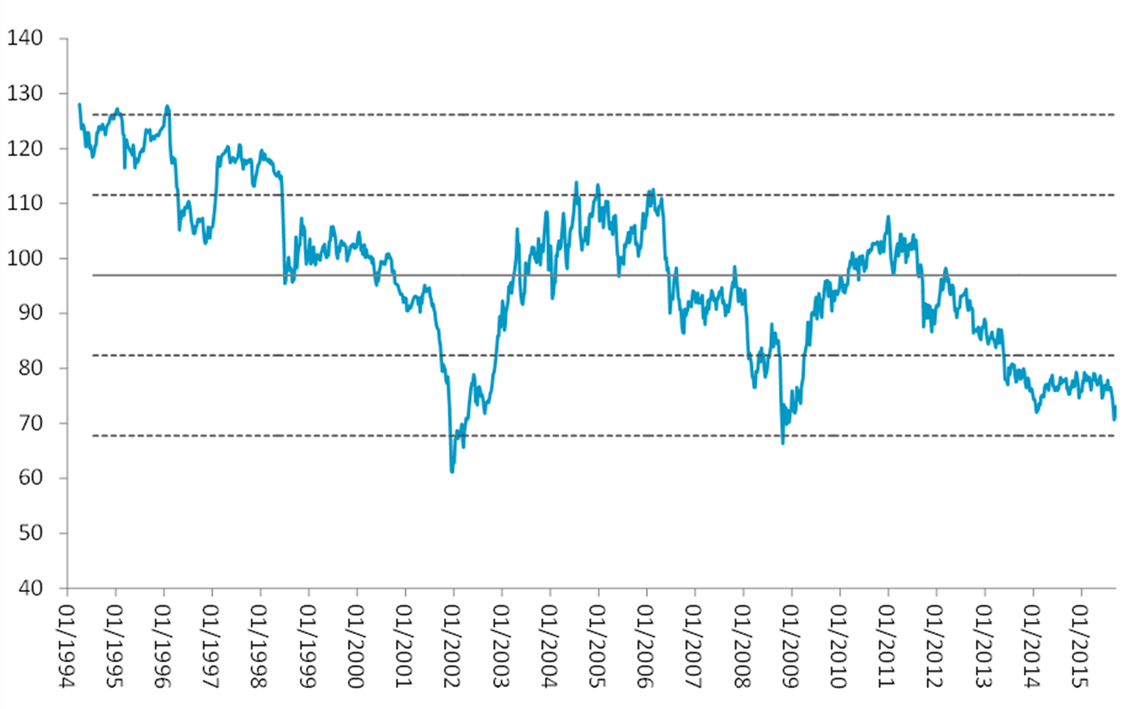 Source: Bloomberg; REER vs. Average and +/- 1 and 2 Standard Deviations
Both Norway and Russia have seen more dramatic declines in their currencies, both as a result of the sharp drop in global oil prices in late 2014. Russia has also experienced a sharp increase in political risk following their actions in the Ukraine and the resulting sanctions. More recently, as the very weak domestic economy has positively impacted the current account position via lower imports, the currency started to strengthen. This was, however, met with central bank intervention as the Russian authorities need a weak currency to sustain their fiscal position and also want to rebuild their US dollar reserves. Russia is now reported to have troops on the ground in Syria in support of President Assad which creates another potential flash point and we foresee continued flare-ups in Ukraine. Financial sanctions at this point remain a significant risk, which for now leaves us wary of investing in Russia even though the market appears to offer some value.
Finally Norway, where growth has deteriorated as oil investment plans have plummeted and the fiscal balance has worsened. The central bank has reacted to this by reducing interest rates, which combined with the oil outlook, has pushed the Krone to extremely undervalued levels. In the short term, the economic outlook in Norway should continue to be under pressure and a further interest rate cut is possible this year, but the country is underpinned by its huge sovereign wealth fund and highly developed economy. So once investors are more confident that oil prices have bottomed, the Krone will likely retrace some of its large undervaluation.
JP Morgan REER Norway (CPI Based)
Source: Bloomberg; REER vs. Average and +/- 1 and 2 Standard Deviations
In sum, within EMEA there is abundant value on a REER basis for these selected currencies, but often for clear reasons. Russia, especially, remains surrounded by significant uncertainties whilst Norway at least has solid fundamentals that should support a recovery if oil prices start to improve. South Africa at this stage is attractive only on valuation grounds and movements in the Rand are likely to be driven primarily by general sentiment towards emerging markets globally.
Conclusion
There is value in commodity currencies globally, with many now at or close to multi decade lows on a REER basis. However, the outlook for most commodities remains highly uncertain as this is an unusual commodity cycle, driven largely by oversupply even though demand is growing reasonably strongly. In Nikko Asset Management's recent Global Investment Committee we concluded that oil prices will remain at current levels over coming quarters as demand growth continues to be overwhelmed by the level of oversupply. So although there is value in many of these currencies, we expect a continued period of stress that will likely keep them at undervalued levels. The longer that period continues, the greater the potential that several countries will experience deeper problems, so it is critical that investors separate the stronger commodity plays from those contaminated with political risk. Russia and Malaysia are two countries with clearly elevated political risks but we would also be cautious of Peru where social unrest is growing, including new protests against new projects in the commodity sector.
Emerging markets currencies will likely provide the greater returns at some stage but will also be more volatile and carry higher political risks. In our view, Colombia is the cleanest in terms of political risks at this point but its currency will be highly correlated with oil prices in the medium term.
For those looking to invest with a longer-term perspective and prepared to ride through further volatility, the developed market commodity currencies are the safest way to "dip a toe into the water." Australia and New Zealand both offer value at these levels and in both countries the exchange rate decline has seen tourism start to become a much more important driver of economic growth. Norway stands out as being extremely undervalued at current levels but will need support from higher oil prices to turn around. Although it seems now that commodity prices will never recover, such does not seem a safe conclusion in the intermediate term, especially given the dovishness of major central banks' leadership globally. This should over time support demand and erode the current oversupply in markets.